'The Modi regime, after experimenting with its own versions of neighbourhood policy for 18 months, has now reached the exact stage where the Manmohan Singh government had left it in so far as our Pakistan policy is concerned,' says former senior RA&W officer Vappala Balachandran.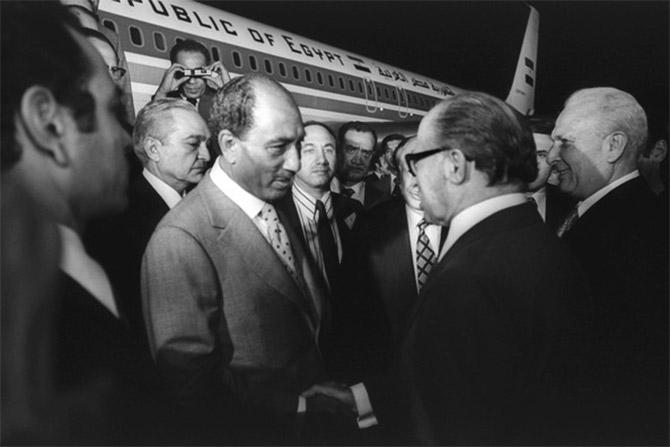 IMAGE: Egyptian President Anwar Sadat is greeted by Israeli Prime Minister Menachem Begin at Jerusalem airport, November 19, 1977.
Quite often a diplomatic impasse is broken by surprise events. One such event was Egyptian President Anwar Sadat's 'Electric Shock' visit to Jerusalem in 1977 which ultimately led to the pathbreaking Camp David Accord on September 17, 1978. It ended 29 years of hostilities.
Prime Minister Narendra Modi's sudden detour to Lahore on December 25 to break our Pakistan policy deadlock could be considered in this light. Great moments in history are not made through 'advance preparatory work' by the staff of feuding nations or by a 'structured agenda' which would only make their respective positions harder. At times, somebody has to cut the Gordian knot and come out of the gridlock.
It is speculated that the person who facilitated this Lahore detour meeting was an Indian businessman. Even if this is true, I do not find anything inappropriate if the intention was normalising bilateral relations. During the Cold War both America and the then Soviet Union used oil tycoon Armand Hammer to communicate with each other.
The catalyst for the Sadat visit to Jerusalem was US media icon Walter Cronkite, the legendary CBS anchor. He had described these events in his memoir A Reporter's Life (1996) with astonishing modesty. Cronkite said Sadat was in the habit of talking about peace with Israel in his interviews, but journalists took it only as a 'metaphor for his optimism.' He heard him saying that again on November 11, 1977 while addressing the Egyptian parliament. This time he interviewed him to amplify his ideas.
Sadat said he was prepared to address the Knesset to 'put the full picture and detail of the situation from our point of view.' He said he had no other conditions. Cronkite nudged him to say 'how soon' he could go.
Not satisfied with Sadat's reply 'in the earliest time possible,' he suggested 'within a week?' Sadat said: 'You can say that, yes.' Cronkite beamed this 'breaking news' to a startled world.
Soon thereafter, Cronkite interviewed Prime Minister Menachem Begin in Tel Aviv. Contrary to public perception, Begin showed his readiness to receive Sadat by postponing his impending London visit. Not many at that time knew that Begin, who had won power in May 1977 and was known to be a hawk, was already in touch with President Jimmy Carter about a 'peace plan' with Egypt. This was known only through declassified Israeli documents later.
Things moved at a frenetic pace -- the Israeli invitation through the American embassy was delivered immediately. Sadat was on Israeli soil on November 19, 1977. Cronkite accompanied him on his plane.
Both countries were still suspicious of each other. Ezer Weizman, who was then the Israeli defence minister, recalled his army chief Mordechai Gur's warning that the visit was a trap to lull their defences, just as Sadat had surprised Israel during the 1973 Yom Kippur prayers. It was not to be so.
This process finally ended with the March 1979 peace treaty, although it did not usher in comprehensive peace or settle the Palestinian question.
It was a partial peace favouring Egypt, abandoning the Palestinians. Yet the Jerusalem visit and the Camp David I Accord were epoch making achievements of statesmanship to indicate to the world that perpetually feuding nations could achieve at least a limited regional peace and stability.
At the same time it is not very clear why Prime Minister Modi had done this dramatic turn around in his Pakistan policy, indications of which were suddenly visible only after his visit to Paris. Till then his security team had all along been very strongly against any talks with Pakistan. That was not the case with Sadat and Begin.
According to declassified Israeli records, Sadat met Syrian President Hafez al-Assad before the Jerusalem visit. Assad tried to dissuade him from visiting Jerusalem as he would be isolated from the Arabs. 'Sadat said that economic difficulties in Egypt and the state of the army left him no choice.'
Begin was also very forthcoming when Cronkite spoke to him: 'Tell him he has got an invitation.'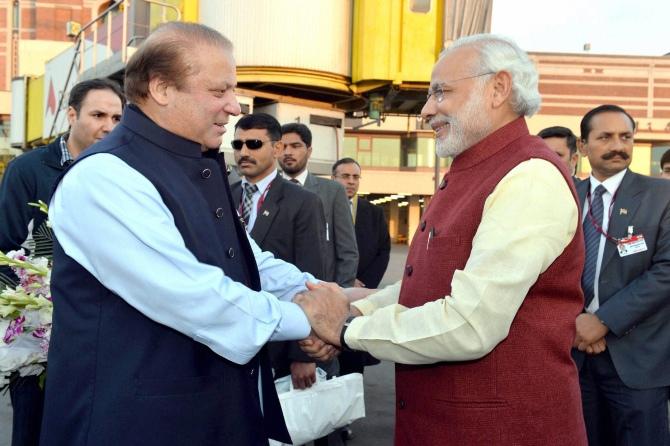 IMAGE: 'The Modi government needs to realise that a country's foreign policy is evolved more on long-term bipartisan national interests,' says Vappala Balachandran.
Thus, it will not be wrong to say that Modi's Pakistan policy has no logic with its quirks and turns. At times he seems to be following his September 29, 2013 rhetoric when he addressed a huge gathering in New Delhi while launching his election campaign.
He had then strongly criticised Prime Minister Manmohan Singh's talks with Prime Minister Nawaz Sharif instead of taking a tough stand on cross-border terrorism. He suddenly reversed this policy by inviting all SAARC heads, including Nawaz Sharif, on May 26, 2014 when he was sworn in.
Then from August 18, 2014 onwards, he deliberately decided to traverse through a thorny path by calling off foreign secretary-level talks. Since then we saw only hostile rhetoric from both sides.
His aides trumpeted this 'strong' policy repeatedly. In December 2014, Defence Minister Manohar Parrikar issued an unprecedented warning to Pakistan that strong action would be taken in six months for abetting terrorism. Why the defence minister said six months was not explained since he also added in his statement that India was already giving a 'strong response' to Pakistan.
In January 2015, Parrikar complained that 'Pakistan has not learnt its lesson.' In June it was his turn to claim that 'those who fear India's new posture have already started reacting.' He was alluding to an alleged Indian cross-border raid into Myanmar in 'hot pursuit' of Naga rebels who killed 18 Indian soldiers in Manipur.
Even retired Colonel Rajyavardhan Singh Rathore, the minister of state for information and broadcasting, who was in no way connected with our security, joined the debate, saying that military action in Myanmar was a 'message to other countries.'
This provoked Pakistan to warn India against undertaking such a strike on its territory. 'India should not mistake Pakistan for Myanmar and our army is fully capable of responding to any adventurism,' Pakistan Interior Minister Chaudhry Nisar Ali Khan said.
In July 2015, both PMs met at Ufa on the sidelines of the Shanghai Cooperation Summit. Interpretations on what was agreed upon differed. It was clear that Pakistan's military was disappointed as they received no assurance from India of 'keeping peace' on Pakistan's eastern borders when they were busy against militants in Waziristan. Relationship nosedived after the Gurudaspur terrorist attack on July 27.
The proposed national security adviser talks were aborted on August 22 when Pakistan NSA Sartaj Aziz cancelled his Delhi visit. Meanwhile Pakistan named a general as the new NSA, which was interpreted as a more assertive role by the army. Talks were resumed only after the Modi-Sharif meeting in Paris on November 30 after which a surprise NSA-level meeting was held at Bangkok on December 6. Then came the Lahore meeting on December 25.
Such a kaleidoscopic relationship with our immediate neighbour adversely affects every organ of our administrative structure and immediate security of our states.
History records that even permanently feuding neighbours do manage to establish some sort of normal working relationship. If needed, hostility in a bilateral relationship is practiced and escalated within diplomatic norms. It is not exercised through empty oratory by everybody, thereby losing its value.
One wonders why the Modi government is practicing this kind of relationship. Is this because the senior security leaders in his government are more comfortable in adopting a law and order approach to meet even external problems as they are used to while ruling the states? We cannot hurl our armed forces to meet every foreign policy situation like how we deploy the police in our states to meet every crisis.
The Modi government needs to realise that a country's foreign policy is evolved more on long-term bipartisan national interests. Successive governments usually do only fine tuning to suit immediate interests. President Harry S Truman, who steered America through the post World War II crisis, deliberately chose to exercise a bipartisan foreign policy.
This was done by then prime minister Atal Bihari Vajpayee too who mostly followed Nehruvian foreign policy. As President Carter had observed in 1976, no such policy should be made without a Parliament and people being kept informed 'because major international decisions greatly affect the daily lives of the American people, energy, commodity shortages, as well as foreign crises.'
Thus it will not be too wrong to say that the Modi regime, after experimenting with its own versions of neighbourhood policy for 18 months, has now reached the exact stage where the Manmohan Singh government had left it in so far as our Pakistan policy is concerned.
Vappala Balachandran is a former Special Secretary, Cabinet Secretariat, and a member of the high-level committee which enquired into the police performance during the 26/11 Mumbai attacks.