The Chabahar message is a reality check for China, which has made deep political and strategic inroads into Iran, says Rajeev Sharma.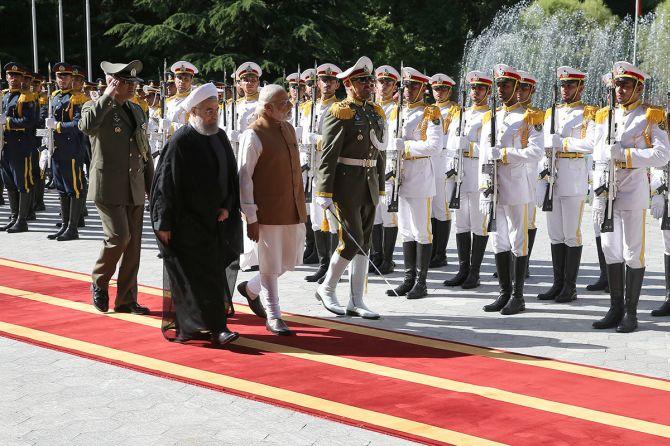 Prime Minister Narendra Modi has just completed his maiden visit to Iran, a game-changer visit to a swing State in today's international politics.
The most vital part of Modi's Iran visit was the signing of a three-nation agreement -- involving Iran, India and Afghanistan -- to develop the southern Iranian port of Chabahar, which will enable India to reach out to Afghanistan and push its trade to the land-locked South Asian country via Iran, bypassing Pakistan. It will also provide India an alternative trade route to resource-rich Central Asia.
The signing of the Chabahar agreement is the culmination of a tortuous diplomatic process that began in 2003. But those were the days when Iran was reeling under crippling Western sanctions.
Today's Iran is much different, as it has successfully smoked the peace pipe with the United States-led Western community, and come out of the international sanctions regime four months ago. India has moved in quickly after the international power matrix changed substantively.
The development will have huge strategic implications for India, while powers like Pakistan and China will inevitably be feeling the heat.
Pakistan's discomfiture is understandable as the development of the port weakens the import of its iron grip over Afghanistan. Once the Chabahar link becomes fully operational, it will put a huge dent in Pakistan's traditional leverage over Afghanistan, denying India a trade route to the country.
Moreover, the Chabahar deal deepens the relations between Iran, a home to the world's largest Shia population, and India, which has the second largest Shia population in the world. India is a home to 45 million Shias, second only to Iran.
The Chabahar message is also a reality check for China, which has made deep political and strategic inroads into Iran. The Chabahar port is only 100 km from Pakistan's Gwadar port which has been developed by China.
Though China continues to be way ahead, as usual, in having a strategic presence in Iran, the development means that India has arrived in the Iranian strategic space in a big way.
The very fact that Iran has allowed this leverage to India shows that it is hungry for more and more strategic and trade partners. This obviously takes the sheen off China's strategic influence over Iran.
Take the statements by Iranian President Hassan Rouhani and Modi in this context:
'With our joint investments in Chabahar,' Rouhani said, 'we can connect India through a reliable route to Afghanistan and countries in Central Asia. The agreement today is not only an economic document; it is also a political and a regional one.'
'Agreement to develop (the) Chabahar port and related infra and availability of about $500 million (Rs 338 crore/Rs 3.38 billion) from India for this is an important milestone,' Modi remarked. '...It is a historic occasion. It will open new routes for India, Iran and Afghanistan to connect among themselves.'
In the larger sense, India's Chabahar moment is a moment of glory as it conveys that it is catching up with the Chinese presence in an important Muslim majority country.
It also demonstrates how Indian foreign policy is maturing while being independent of the mutual relations between its startegic partners. Modi was in Saudi Arabia recently, a country highly inimical with Iran. Saudi Arabia and Iran have been engaged in an intense diplomatic game of one upmanship for years.
India not only steered clear of Saudi-Iranian rivalries, but has also shown an elan for balancing its relations with the two archrivals.
Clearly, Modi's Iran visit has sent powerful reverberations in Pakistan, China and Saudi Arabia.
IMAGE: Prime Minister Narendra Modi, with Iran's President Hassan Rouhani, reviews the guard of honour during the welcome ceremony in Tehran. Photograph President.ir/Reuters