'What has hit me between the eyes is Modi's seeming utter contempt for public perception of the yogi being an unrepentant bigot who also carries the baggage of many criminal cases against him,' says B S Raghavan, the distinguished civil servant.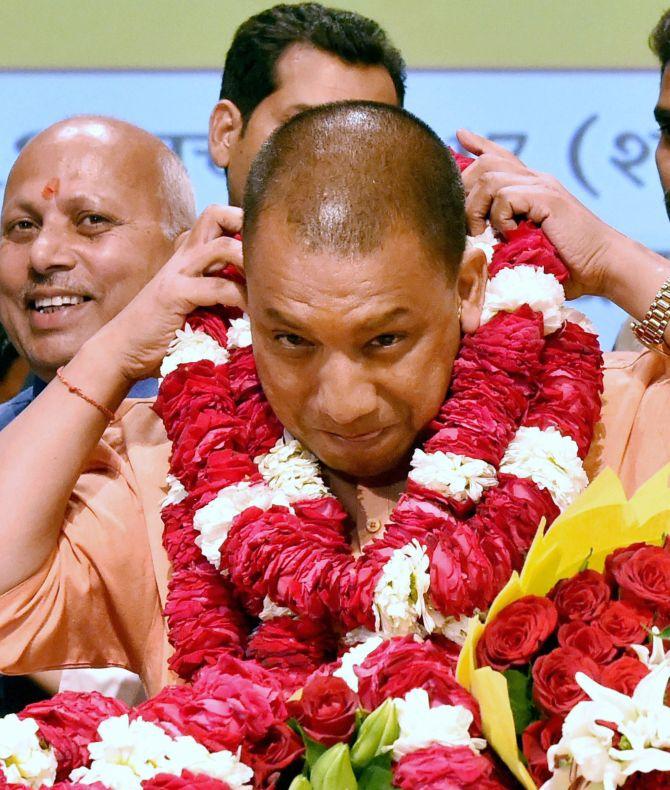 When Narendra Modi led the Bharatiya Janata Party to a spectacular victory in 2014, I, as an independent political analyst and commentator, was one of the first to celebrate it in these columns as a golden opportunity for the country to try out an alternative national mainstream governing model after nearly 40 years of hotchpotch coalitions, the last of which, between 2004 and 2014, misnamed the United Progressive Alliance, spread the sickening stink of corruption and downright loot and plunder all over India.
I was in near raptures listening to Modi's first speech in the Lok Sabha which I described as a tour d' force and his first address to the nation from the ramparts of the Red Fort on August 15, 2014.
Ever since, I had paid high tributes to him in my columns as an inspiring leader and expressed my admiration for the new vision that he has placed before the country in tune with the spirit of the ongoing revolutions in knowledge, communications, technology and social engineering driving the world.
I heavily discounted the way he was portrayed by his opponents and detractors.
For instance, I took the side of those who dismissed as unfounded or unproven allegations that he slyly fanned the 2002 riots in Gujarat though I expressed my unease in articles over his unwillingness to rebut them convincingly in public.
I was equally intrigued over his determined silence when rabble rousers belonging to what was regarded as the rabid fringe of the BJP membership indulged in outrageous manifestations of religious fanaticism, including lynchings and killings, but somehow consoled myself thinking that Modi was doing something behind the scenes to rid the party of such malignant viruses.
I believed, and still want to believe, that he was genuinely against criminality in politics, and the ills and evils plaguing public life.
I thought he had succeeded in imparting a new inclusive and healthy meaning to nationalism.
I found his 'minimum government, maximum governance' uplifting and his 'sabka saath, sabka vikas' soul-stirring.
To let you in on a secret longing, I was even hoping that Modi would provide the right antidote to the Dravidian cult politics in Tamil Nadu, and generally the ravages of ragtag splintered groups in the South, by capitalising on the momentum in respect of the UP results.
At one stroke, by throwing his weight behind Yogi Adityanath's selection as chief minister of Uttar Pradesh, he has dashed to the ground all the romantic notions I have been nurturing about his leadership.
I have begun doubting my own capacity for good judgment and wondering whether all those who had been painting him as a spin master and at heart as much of a supremacist as the extreme elements of his party are after all correct, and whether I had made a fool of myself.
Mark you, I am not saying this because I have hang-ups about Hindutva or secularism or communalism, or saffron versus any other colour; as a matter of fact, I hold such debates to be puerile.
I am prepared to accept the famous 1995 Supreme Court judgment on Hindutva. Minorityism and majorityism are anathema to me in an equal measure.
What has hit me between the eyes in regard to Yogi Adityanath being selected UP chief minister is Modi's seeming utter contempt for public perception of the yogi being an unrepentant bigot who also carries the malodorous baggage of many criminal cases against him for incitement of riots, murders and the like.
Those who, like me, are unable to stomach it are not swayed by any prejudice or antipathy to anything the BJP stands for.
What they find inexplicable is Modi being so devoid of sensitivity to the widespread revulsion to the kind of ugly credentials that Yogi Adityanath brings to his exalted position.
How can such a sharply intelligent and aware person like Modi, with the vision of building a new India, be so very blind to the fact that in taking the nation in the right direction in terms of values and precepts, perception counts far more than reality, even assuming that they can be different, as perhaps Modi believes it to be in the yogi's case?
Aren't there dozens of other acceptable, and credible, an suitable choices that Modi could have had for the asking from within the party?
Not one special, or distinguishing, or redeeming, feature in the yogi's personality is visible to me which made him the only choice at this juncture.
Modi, you have broken my heart.
MUST READ features in the RELATED LINKS below...
B S Raghavan, a member of the Indian Administrative Service, was director of political and security policy planning in the Union ministry of home affairs, secretary, National Integration Council during the time of the first three prime ministers, chief secretary of a state, US Congressional Fellow and policy adviser to the UN (FAO), besides being chancellor of the Jharkhand ICFAI university.
IMAGE: Yogi Adityanath after his election as leader of the BJP legislature party in Lucknow, March 18, 2017. Photograph: Nand Kumar/PTI Photo