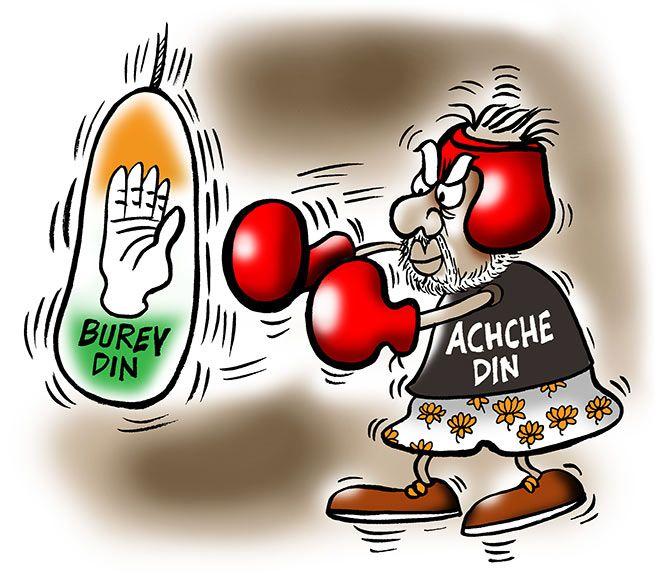 For the past, blame the Congress. For the present, blame the Congress. For everything, blame the Congress. But for your future, vote BJP.
Syed Firdaus Ashraf lists 10 things he has learned in this one year of the Modi Sarkar.
Illustration: Uttam Ghosh/Rediff.com
1. The first thing I learnt this past year is that everything that is wrong in India after Independence is because of the Congress party.
Poverty is because of the Congress.
Unemployment is because of the Congress.
If the roads are bad, it was because of Congress misrule.
Everything that sucks about India, remember, the Congress is to be blamed.
Not just the Congress, Jawaharlal Nehru was a disaster as prime minister. He was a national catastrophe.
So abuse him and his Idea of India non-stop on television, in the newspapers, on social media and from every platform you can get.
Wasn't it Nehru who created all this mess we face today? His 'sickular' policies made Hindus second-class citizens in India.
2. I learn that Hindus are never aggressors or invaders. That they never force their will or religion on any community. Look at our history: Hindus never traveled out of India to conquer any country, as Christianity and Islam did. Is that true? Did India even exist as a nation in its present form before the British came along?
Don't ask the Modi bhakts such questions. They don't read history and don't care about history either. If you question their version of history, you are branded a traitor.
3. I learnt that Hinduism = Secularism. So that the Modi Sarkar or its branches in states like Haryana can thrust yoga etc on government institutions. They will make children of other faiths who study in government schools read the Bhagwad Gita, do the Surya Namaskar which, they will insist, is only a form of physical exercise anyway. Hinduism, you see, is never about forceful conversions like Islam and Christianity.
4. The Modi Sarkar and its state branches, I learnt, will decide what the minorities and Dalits should eat. And if there are upper caste Hindus who eat beef, they aren't Hindus! Hindus, I learnt, never force their will on other communities. This is an issue of sentiment, so don't refer to the beef ban as 'appeasement of Hindus' please.
Moreover, in a secular society one has to respect the sentiments of the majority community. Didn't you read Amit Shah's interview (external link)?
5. Does the Modi Sarkar care about Muslims and Christians? They are not going to vote for the BJP anyway, I learnt, so what is the point in talking to them?
And please don't ask Modiji to visit some mausoleum or wear a skull cap to prove his secularism. He doesn't believe in fake secularism.
6. If BJP leaders like Yogi Adityanath and Sadhvi Niranjan Jyoti abuse Muslims, I learnt, Modiji can't do anything about it. He is the prime minister of India, for swarg's sakes! He can't be expected to clarify every remark his ministers and party MPs make.
7. Buddhism is an extended version of Hinduism, I learnt. Why does a party like the BSP even exist? What good does it do to Dalits? Dr Ambedkar is a national icon. Forget about what Dr Ambedkar said about the Gita or Ramayan. The BJP can always re-write history as the Congress did with its Marxist historians.
8. Don't you know what NGO stands for? Not Going Organisations, I was told. NGOs are full of five-star armchair activists who only denounce the government. These NGOs are anti-development and give India a bad name, I learnt. They need to be banned.
Be warned. A case has been filed against Teesta Setalvad. And Greenpeace has its funds blocked. Don't you dare to oppose Modiji!
9. If Modiji shakes hands with Nawaz Sharif, I was told those Pakistanis fire on our people and send terrorists across the LoC. If he doesn't shake hands with Nawaz, the Pakis still do that.
Modiji doesn't know what to do except regret that the Pakis are our neighbours.
10. The Press. Oh, you mean presstitutes? Modiji used to call them news traders before the election. But Generalsaab coined a more apt term.
The media -- especially those Angrezi fellows -- never see any good in the Modi Sarkar or Modiji.
And why does the Sarkar need the media anyway? We bhakts pass on info about all the wonderful things Modiji does.
If the price of food grain, vegetables, milk and other stuff is high, don't blame Modiji. The Congress created a mess for the last 60 years.
If there are no jobs, if the economy is not growing, if exports fell by 14% in April and has fallen for five consecutive months, don't hold Modiji responsible.
If farmers commit suicide, pray, what can Modiji do? Like that wise Haryana agriculture minister O P Dhankar declared: 'Farmers committing suicide are cowards.' Brave words, eh?
If the prices of homes don't drop for home-buyers and neither do interest rates, don't blame Modiji, blame Raghu Rajan.
And be patient for a better tomorrow.
Remember, you must vote for Modiji in 2019. Five years is too short for anyone -- even someone with a 56 inch chest -- to deliver.
Why is Modiji in travel mode, you ask? Because some Indians have stopped chanting 'Modi! Modi! Modi!' So he travels around the world to hear people chant his name. He is so used to it now that he can't sleep without hearing those chants!
REDIFF RECOMMENDS