It would be a chance lost if India cannot learn from and lean more on China to kick-start trade, infrastructure programmes, and increased ties, says Ravi Agrawal.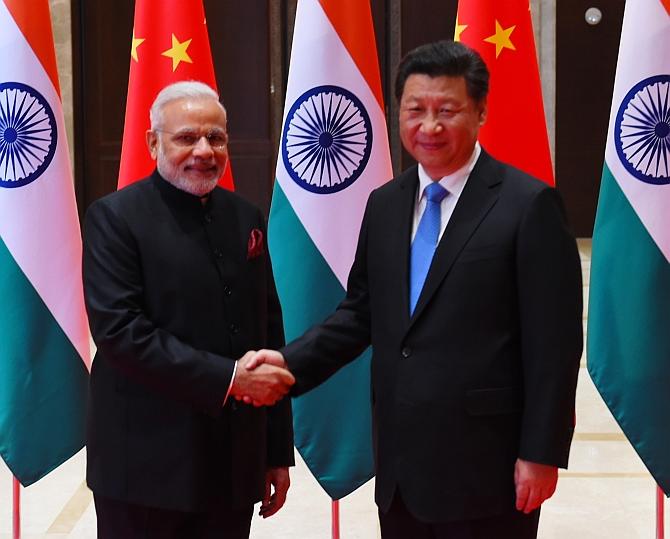 Commentators and pundits often declare that the 21st century will belong to China and India.
The math suggests this makes sense: They are the world's two largest nations, forming a third of the world's population, and will one day be the world's two biggest economies.
It is, however, less clear what kind of relationship China and India will share, and whether they can be the sum of their parts. In much of global discourse they are seen not as collaborators but as two great future rivals.
China -- admittedly a couple decades ahead of India -- is seen competing with its junior rival for resources in Africa.
The two are jostling for influence in neighboring Nepal, Sri Lanka, Myanmar, Mauritius, and Pakistan and sparring over the world's largest border dispute.
Sounds like a troubled 21st century.
Countries and companies
If only the two countries acted like companies.
That's the argument the eminent Singaporean academic and former diplomat Kishore Mahbubani put forward in a Times of India essay last November, right after Chinese President Xi Jinping visited India's Prime Minister Narendra Modi.
At the time, a promised $100 billion in expected deals turned out to be only $20 billion.
Why? Mahbubani points to a Chinese incursion into Indian territory, which then led to the Indian media going "berserk.'' Modi was forced to follow up with a stern statement, spoiling the mood of Xi's visit.
I find it difficult to point to territorial issues as the only reason why China and India disappointed on signing deals. But Mahbubani's analogy with companies is very insightful, explaining why so many are frustrated with the India-China relationship.
He points out that if the two countries were companies with Modi and Xi as CEOs, then the 7,770 square kilometers they disagreed over would have been a minor flap, representing only 0.08% of Chinese land and 0.2% of Indian territory.
In company-land, the deals and other business would have gone ahead as usual -- nationalism, patriotism, sovereignty, and the media be damned.
Company-land, sadly, is purely theoretical.
Modi in China
This week Modi and Xi will meet once more, this time in China. The media focus will once again be on numbers and deliverables, with a wary eye out for border spats. When I caught up this week with Mahbubani, he asserted that these were all distractions.
"The key missing commodity in the China-India relationship is trust," he said, alluding to the unused potential of the countries to tie up. "Both sides need to speak very frankly with each other."
And there are fresh reasons for a lack of trust.
Just last month China's Xi visited Pakistan bearing tens of billions of dollars' worth of deals in infrastructure and energy.
There is no topic that is as sensitive for Indians than Pakistan, a state whose creation cleaved the Indian subcontinent in 1947.
Add to that China's virtual "encirclement" of India, with massive investments in Sri Lanka, Nepal, and Myanmar, and you can get some idea of why New Delhi is mistrustful.
Mahbubani sees the geostrategic rivalry as one that is hyped up by the media, with the danger of it becoming a self-fulfilling prophesy.
"Do you want to get involved in zero-sum competition, or win-win competition?" he asks. "It is in both India and China's interests that Pakistan not be a failed state, so why not cooperate there?"
Even on business, there has been a historic deficit of trust.
In a recent book The Grandmaster, Singapore's late founder Lee Kuan Yew pointed out that China had offered a free-trade agreement to India on numerous occasions only to be rebuffed.
"India is scared of the competition... because Chinese goods will go into India and compete," said Lee.
Modi and Xi
Despite the lack of trust -- perhaps mostly on the Indian side of the border -- the two countries have managed to broadly get along since fighting a brief war in 1962.
Trade between the two lagged in the 1970s with both countries maintaining restrictive trade regimes.
It is only in the last decade that trade has really begun to grow -- from $5 billion in the early 2000s to some $70 billion today.
And yet, it is only a fraction of the possibilities: China and the U.S. share trade worth 10 times that of China and India, despite being separated by oceans and thousands of miles.
For anyone who has ever been to India, it is clear that the country needs a complete overhaul of its infrastructure: roads, ports, urban centers, toilets, connectivity.
China, on the other hand, is the world's infrastructure superpower. Why can't the two collaborate?
Or consider this: China is getting old and may soon face a labour shortage, while India is overwhelmingly young and needs to create more jobs. Again, why can't the two join forces?
Modi and Xi are said to see these synergies clearly.
Modi seems to realize how much India can learn from China. He visited four times when he was chief minister of the state of Gujarat; 31% of Chinese investment in India now flows to Gujarat.
Five decades since 1962 India and China have in place traditionally 'strong' leaders who see the synergies between their countries and have the political bandwidth to sell a partnership to their people.
Walk and chew?
The question is whether Modi can "walk and chew" at the same time -- that is to say, can he treat geopolitics on one plane while pushing ahead with trade on another?
In an interview with TIME magazine last week, Modi spoke about this dual relationship.
"I think it is a very natural tendency for the nations to increase their influence on the international stage." India and China "have shown great maturity in the last couple of decades to ensure and commit to economic cooperation."
And there is so much more to cooperate on.
When Modi travels to China on a three-day trip beginning Thursday, he will be accompanied by an entourage of more than 50 Indian business leaders, from diverse sectors like IT, mobile, e-commerce, autos, and pharmaceuticals.
These CEOs will travel to China looking to build ties, strike deals, and perhaps most importantly for the long term, talk and build trust.
Yoga and social media
Modi and Xi's meetings in China will be projected as a big meeting of the leaders of the two biggest countries in the world.
The visit is also an opportunity for civilians on both sides to interact and understand each other -- in the media, in business, culture and sport.
One of the key drivers in India's increasingly positive relations with the United States and the United Kingdom has been people-to-people exchanges, and the immense growth of the Indian diaspora in those countries.
Despite sharing a large border -- and history -- with China, the Indian diaspora has hardly been a presence in China.
On my last visit to Beijing, I was taken out for a dinner by some other Indians. They lamented at how few South Asians ventured to China to live and work, complaints one would never hear in London or New York.
Things are beginning to change.
In Shanghai, Modi will inaugurate a centre for studies dedicated to Mahatma Gandhi, the man considered to be the father of modern India. Modi will also inaugurate a center for the study of yoga in Beijing.
People-to-people exchanges and soft power are intangibles, impossible to really measure. And yet their advantages can be immense.
Modi is one of the world's most followed people on Twitter. Last week, he opened an account on Sina Weibo, a Chinese variant of the micro-blogging site. It is a step forward in engaging with the regular Chinese.
India cannot copy China... but it can learn
China's rapid rise in the last 30 years is unprecedented in history. India simply cannot replicate it.
It has too many internal checks and balances to put in place sweeping course changes. While 90% of Chinese speak one language, only a fifth of Indians speak either Hindi or English. India is bound to be fractured and disjointed in its growth.
But it would be a chance lost if India cannot unleash its advantages of youth, growth potential, and technological advances. And it would be a chance lost if it cannot learn from, and lean more on China to kick-start trade, infrastructure programmes, and increased ties.
Only if that happens is there a more realistic chance that the 21st century will belong not only to China but also to India.
Perhaps in a very Indian way, these changes may be less top-down than we imagine, and more bottom-up, driven over time by people and institutions.
Ravi Agrawal is CNN's New Delhi Bureau Chief