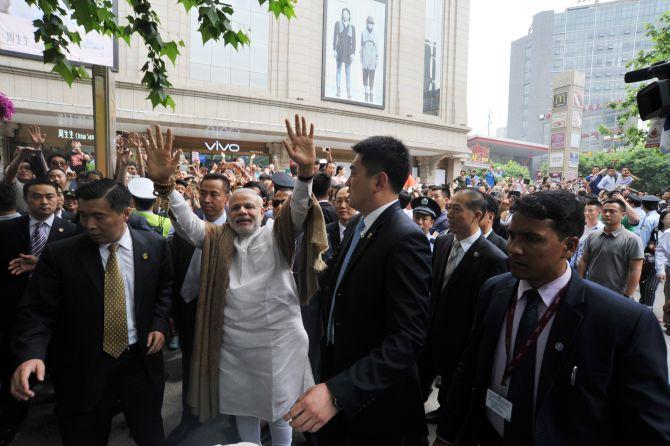 Unlike in the past, Narendra Modi made candid, frank and direct remarks about his hosts by suggesting that the Chinese side is holding back on further improving relations, says Srikanth Kondapalli.
A few innovative features characterised Prime Minister Narendra Modi's visit to China. First was, setting aside the universally known protocols of meeting the counterparts in the capital city, and continuing his recent practice of visiting other major cities like Kyoto, New York, Sydney, Toulouse, Hannover and others, Modi visited Xian, which used to the ancient capital city of China.
Breaking protocol for the first time, the Chinese side as well organised the official deliberations in Xian when President Xi Jinping held discussions with the visiting Indian delegation. Relatively new to New Delhi and its political establishment -- much like Barack Obama to Washington -- Modi once remarked of shifting focus to regional places for holding international events.
Also, Modi's body language in China and 'selfies' with Premier Li Keqiang must have impressed his hosts known for their stiff public appearance.
Secondly, unlike in the past when -- even where no substantial outcomes are forthcoming -- the two leaders sing paeans to each other, Modi made candid, frank and direct remarks on his hosts -- unlike his predecessors -- by suggesting that the Chinese side is holding back on further improving bilateral relations.
Modi told the media after the talks, 'I stressed the need for China to reconsider its approach on some of the issues that hold us back from realising full potential of our partnership.' Modi was referring to the perennial problems in bilateral relations, continuing cooperation between China and Pakistan specifically in Pakistan occupied Kashmir, the unresolved territorial dispute and others.
Thirdly, unlike his predecessors, Modi is trying to approach the Chinese people directly through two methods. One is opening a Weibo social networking account to reach out to Chinese netizens directly and the other is showcasing an Indian tradition that has recent resonance in China, yoga. For the first time, an Indian prime minister was present at a yoga demonstration ceremony at one of the main icons of China, the Temple of Heaven.
While both of these unconventional methods of reaching out to the Chinese public are fraught with limitations given the deep penetration of the Communist Party organs in every walk of life of the country, including in the cyber and religious domains through surveillance or party organs in addition to rising nationalism, Modi is trying to touch the hearts of the common people in the hopes of expanding Indian soft power.
To what extent these measures will deflect the ire of the Chinese youth -- now targeting Japan -- is difficult to fathom, but a beginning is now being made by Modi.
Fourthly, a new forum was inaugurated with the participation of states/provinces. While most of the decisions were made by the Union government in New Delhi, and while in the recent times many states like Tamil Nadu, Andhra Pradesh, Karnataka, Bihar, Gujarat and others took the lead in attracting investments from abroad, this is the first time a formal forum has been established by India.
As a number of issues under the Indian Constitution are allocated as state subjects -- land, environment, taxes, labour, education, etc -- have become contentious, the states/provinces forum could acquire more significance and decentralisation in the coming years.
Fifthly, while previous Indian leaders did approach Chinese business communities, Modi made a big push in this direction during his Shanghai meeting with business tycoons. While under China's law, most business firms of the country should have a Communist Party cell, they generally operate under market principles.
Modi assured the Chinese business executives that he will personally pay attention to their Indian entry and operations, although it is not clear if the Prime Minister's Office will have a separate country office for China, as has been agreed for Japan and other countries' investors in India.
With labour charges increasing in China, in addition to the economic slow-down, Chinese businesses are looking at greener pastures, including to the growing Indian market. Nevertheless, it is not known how influential these Chinese businesses communities are in China's overall decision-making process in de-escalating any tensions in the bilateral relations.
The Depsang Plains and Chumar troop build-up by China that rattled the Indian side in 2013-2014 were in the main resolved through institutional arrangements rather than the pressures of the chambers of commerce.
As China earned more than $48 billion in trade deficit from India in the last one year (and cumulatively about $250 billion since 2007), the business deals (of $10 billion signed at Beijing and $22 billion at Shanghai, in addition to $20 billion announced by President Xi Jinping in 2014 for the next five years) do not appear to match the ledgers, although this is a major effort by China to address the trade deficit issue.
Sixthly, previous visiting Indian leaders have addressed the Chinese youth at Beijing University and other institutions. Modi as well held interactions with the students at Tsinghua University in Beijing which sends many a Politburo member, in addition to opening a Gandhian Studies centre at Fudan University in Shanghai.
Yet, unlike the previous such engagements, these have generated much space in the Chinese blogosphere. With an agreement to double the youth delegation visits to each other, it is expected, as Modi remarked in Shanghai while interacting with the Indian community, the youth of both countries could witness more interactions in future.
Finally, after much dillydallying Modi made an impromptu announcement -- not as a part of the formal talks -- on granting e-visas to Chinese visitors. This has been a contentious issue both at the bilateral level with China which refuses visas to Arunachal Pradesh or Kashmir residents and at the domestic level with different ministries differing on the issue. Visa issues will keep testing these two levels in the coming years both on Chinese responses as well as domestic decision makers assessments.
Image: Prime Minister Narendra Modi greets Chinese citizens near the Daxingshan Temple in Xian, China, on May 14. Courtesy: MEA/Flickr
Srikanth Kondapalli is Professor in Chinese Studies at the Jawaharlal Nehru University, New Delhi.