'Will Modi at least visit the victims of the Gujarat genocide, apologise for the massacre, wipe their tears which may never dry, extend State help to rehabilitate them, and give them the dignity they deserve?' asks Najid Hussain.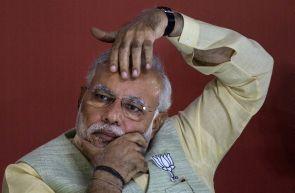 'Of all the liars in the world, sometimes the worst are our own fears,' I was told. And I believed.
Secular people all over the world were afraid that despite the Gujarat massacre of 2002, or an autocratic style of functioning, or his glaring lack of knowledge and sophistication in public and private discourses, Narendra Modi will become India's next prime minister.
That fear did not lie. It came true.
For the victims of the Gujarat massacre, and their team of lawyers pursuing cases against Modi, this win is especially hard. If riot victims were denied justice under Gujarat Chief Minister Modi, one could only imagine what he will do as the prime minister!
With a majority of younger Indians willing to disregard fascistic tendencies in a 'strong' leader, the Congress party's inability to stand up and enforce its founding principles of equality, justice, and fairness, the hope of bringing Modi to justice only recedes by the day.
Since Modi is already India's prime minister, his past is a smaller issue. The larger issue is the future of the nation -- how will he change India, its history, and its Ganga-Jamuni tehzeeb (mixed-culture).
Over 65 years of independence, India's institutions -- built on the principles of secularism, equality, and justice -- have been made so strong that no one can destroy these completely in a hurry. Thus regardless of Modi's ideological leanings, or a history of his using communal polarisation for self-propulsion, he may not succeed in changing India's pluralistic culture to any significant extent.
India owes this to the majority community which is mostly secular and will not support the saffronisation of India.
Having reached the pinnacle of power, it is also more than likely that instead of trying to change the system, we may see Modi change himself.
My guess is he will start speaking the language of inclusion, tolerance, and shared progress, just like Atal Bihari Vajpayee or L K Advani did in their later years.
After all, once at the top, priorities change. Appetite for retribution subsides. Legacy gains importance.
We already saw the signs of such a change. Since being nominated for the top job, Modi did not bring in Mian Musharraf, or Mian Sharif in his campaign. Nor did he teach 'hum paanch hamare pachchees (we five, ours 25)' theorem. The issue of terrorism was also missing from his public discourses. The entire focus was the economy, corruption, and, of course, the outrage on the long dynastic rule.
In going about fulfilling this new agenda, I 'fear' Modi will do well. In fact, he will do very well. He is shrewd, decisive, diligent, incorruptible -- compared with many other politicians -- and has China's model of growth and progress to emulate and compete. Intelligence doesn't matter. Intelligence and power don't often go together.
What will this new Modi avatar bode for the victims of the Gujarat genocide?
Will they need to put a curtain on his crimes and unilaterally forgive him in order to 'move on'?
A lot of Muslims, especially those who personally have not been affected by the Gujarat genocide, have been preaching this for some time. Such voices will grow louder and more persistent now.
In an article in The Indian Express headlined 'Sorry world, we tried,' Javed Anand cited the example of the independence of Israeli courts, which do not spare even its presidents and prime ministers but duly punish them for their wrongful acts including those committed while in office. Our politicians, to the contrary, routinely escape accountability for their crimes committed while in office.
The very fact that more than 30 percent of our legislators get elected despite their criminal records and criminal cases pending against them, expecting India making an 'Israel' on bringing powerful politicians to justice is only wishful thinking.
Tormented by the killing of Jaspal Singh by the Taliban during his tenure, Pakistan's former deputy attorney general Mohammad Khurshid Khan polished thousands of devotees' shoes outside a gurdwara in Peshawar, and later in Amritsar. It was towards atonement for a crime in which although he had played no part, he shared responsibility as the head of the law enforcement agency.
Such is the power of our conscience, when it is awakened.
Will Modi at least visit the victims of the Gujarat genocide, apologise for the massacre, wipe their tears which may never dry, extend State help to rehabilitate them, and give them the dignity they deserve?
Will he help the community, that has suffered so much in his power pursuit, grow stronger and stand up again to equally share the progress he promises to bring in India?
I am afraid not. But, I still wish my rational fear is a liar too.
Dr Najid Hussain, a marine scientist working at the University of Delaware, is the son-in-law of Zakia Jafri, whose appeal against the Special Investigation Team's absolving Narendra Modi of responsibility in the Gujarat riots is pending in the high court.
Image: Prime Minister Narendra Modi. Photograph: Kevin Frayer/Getty Images