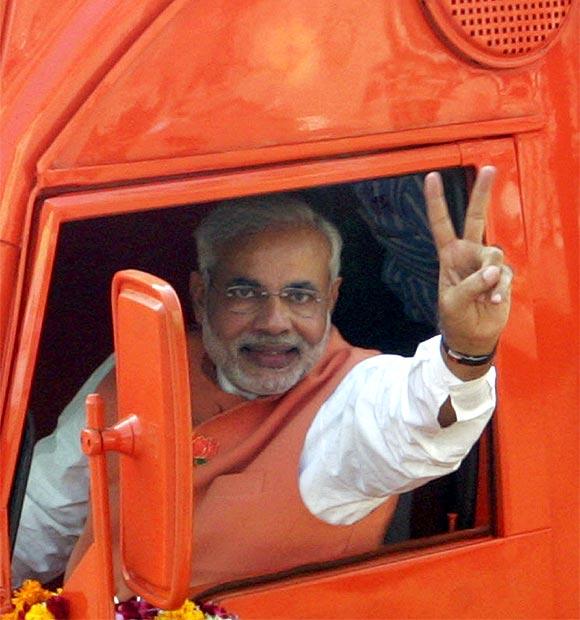 The consolidation of the Muslim vote behind Lalu Yadav in Bihar and Mulayam Singh Yadav in Uttar Pradesh may have forced Modi to spin Priyanka Gandhi's neech rajniti statement as a insult to his OBC status, says Dharmendra Singh.
Narendra Modi is taking no chances in the last leg of the Lok Sabha election campaign.
The Bharatiya Janata Party's prime ministerial candidate gave a caste spin to Priyanka Gandhi's comment, to woo Other Backward Caste votes. Attacking Priyanka Gandhi's neech rajniti (low level politics) remark, he said, 'You can insult Modi as much as you like, you can hang him. But do not insult the lower caste.'
His comments came after Priyanka attacked him, saying Modi had insulted her martyred father Rajiv Gandhi, and that Congress workers in Amethi would give a befitting reply to his 'neech raajniti'.
Modi picked up the issue and strategically invoked his OBC background to attract backward caste votes to his party. There seem to be two reasons behind playing the backward caste card.
First, the polarisation of Muslim voters against Modi in Uttar Pradesh and Bihar forced him to spin the caste angle in the last two phases of the election. The BJP was expecting 50 seats in Uttar Pradesh and more than 25 seats in Bihar, but the ground realities give no indication of this.
The political developments of the last few weeks are there for anybody including Modi to see.
Lalu Yadav has emerged as the rallying point for Yadav-Muslim voters in Bihar. This combination is deemed an advantage in Bihar. Even in some parts of Uttar Pradesh, this makes for good electoral arithmetic.
Second, Modi does not want to leave any stone unturned which may prove to be a hurdle in formation of his government at the Centre. One must understand the politics of Uttar Pradesh and Bihar -- the politics of caste combinations.
Mulayam Singh Yadav too depends heavily on the tried and tested MY (Muslim-Yadav) formula like Lalu Yadav. Similarly the Dalit politics of Mayawati in Uttar Pradesh more or less resembles the politics of identity of Ram Vilas Paswan, a BJP ally, in Bihar.
The emergence of the OBC castes as a decisive factor in both states has marginalised the forward castes. The Rajnath Singh-led BJP government in Uttar Pradesh unsuccessfully tried to split the OBC as a voting group. He tried to implement the MBC (Most Backward Castes) reservation to woo some castes from the OBC while Nitish Kumar in Bihar adopted same method to create a separate vote bank of Extremely Backward Castes (EBCs) to strengthen his clout in Bihar politics.
Sensing an opportunity, the BJP decided to get into the game. It allied with Nitish Kumar and tried to develop its OBC leaders like Kalyan Singh, Sushil Kumar Modi and Nand Kishore Yadav.
In this Lok Sabha election, Modi is giving non-BJP OBC leaders sleepless nights because he has projected himself as belonging to an OBC caste.
One can understand why he is playing the OBC card. He knows the OBC population of Bihar is around 54 percent while it is 39 percent in UP. The Yadavs (10 percent) of Uttar Pradesh prefer to support Mulayam while the Yadavs (12 percent) of Bihar opt for Lalu.
The BJP launched a blistering attack on friend-turned-foe Nitish Kumar with an eye on the OBC and EBC voters. Bihar consists of nearly 26 percent of OBCs and 28 percent EBC voters.
Due to caste politics, Bihar's voters seem to be in a conflict situation. The Yadavs prefer Lalu while the Kurmis like Nitish.
Nitish, a master of social engineering, has given reservations to the EBCs and MahaDalits. The BJP stitched an alliance with backward class leader Upendra Kushwaha to counter Lalu and Nitish.
All political parties have given importance to the OBC/EBC castes. The Janata Dal-United alliance has given 19 out of Bihar's 40 seats to OBCs/EBCs, while Lalu's Rashtriya Janata Dal has 16 candidates from this category. Even the BJP selected around 14 candidates from this category.
There are reports that Muslims prefer Lalu to Nitish to prevent the split of Muslim votes, so Modi has smartly tried to consolidate OBC votes.
In UP, the BJP alliance has fielded 27 OBC candidates. It has given 2 seats to the Apna Dal. Mayawati has given 15 tickets to the OBCs, while Mulayam has given 30 and the Congress 9. The BJP entered into an alliance with the Apna Dal to woo Kurmi votes in Uttar Pradesh.
The Congress alleges that Modi is deliberately misinterpreting facts, but he is strategically playing a calculative game to get the support of the OBCs. That is why he tried to spin Priyanka Gandhi's neech raajneeti statement.
Dharmendra Singh is a political analyst.