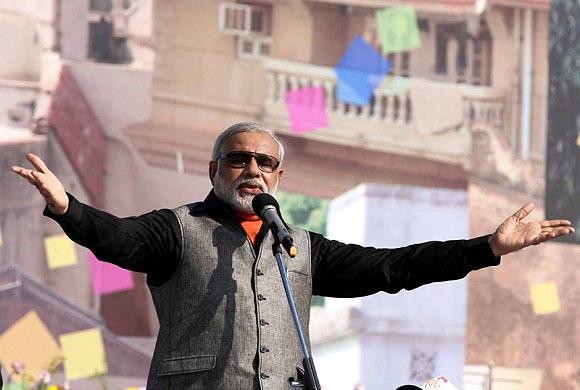 For one, the prime minister's residence will go vegetarian.
Amitabh Bachchan, deservingly, will be conferred the Bharat Ratna.
The people can expect a lot of emotion-loaded communication from the prime minister, feels Sheela Bhatt/Rediff.com
These predictions are based on what Narendra Modi did in Gujarat after becoming chief minister in 2001: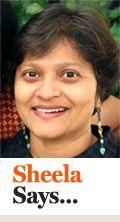 His tenure and everything about Modi will depend on who his political allies are and how much he depends on them.
He will understand Manmohan Singh's plight if he were to depend on truant allies as Dr Singh has been forced to during his years as prime minister.
President Pranab Mukherjee will remain very important in the coming days, especially for Modi if he were to come to power.
Modi will take care of the colour of his kurtas and the fabric of his attire much more than what he does now.
In the first week he will invest a lot of time in fixing his official portrait. After all, this portrait will adorn government offices and our diplomatic missions abroad.
He will have a difficult relationship with the media in general. He won't speak much to the media. His Prime Minister's Office will not be transparent and will be almost inaccessible.
In the first few days he will get a lot of bad press as he will crush the egos of many BJP leaders while forming his Cabinet.
The BJP doesn't have much of a brains trust of intellectuals and retired officials for the posts of 'advisors' in ministries and in the PMO. So there will be mixed opinion on his selection for the National Security Adviser's office and other sensitive posts.
Few Gujarat cadre officers will be a part of his core team and just a handful of Gujaratis will be part of his private team. Behind closed doors, Modi is a good listener and he collects many people around him to give him fact-based inputs.
7, Racecourse Road -- the prime minister's residence -- will turn vegetarian! And the PMO will be spic and span -- better than it is now.
From day one he will start worrying about how to win the assembly elections in Maharashtra, Uttar Pradesh and wherever it is due.
He will go on a pilgrimage to a few shrines, including the Ma Amba temple in Ambaji to say 'thank you'.
Roads, power and improving the railways will be his priority.
He will not ditch the middle class and their aspirations.
On the issues of Kashmir, Pakistan, China and America, there won't be any dramatic surprise, but there will surely be some dramatic media movements.
He will wear a mukhota (mask), portraying an Atal Bihari Vajpayee-like public face, and will sit pretty. His politics will be acted upon by his party.
BJP MPs will lose their actual value. In fact, non-BJP MPs will find Modi maintaining good relations with them.
Modi will seeks counsel from the babus to see how they work. He is humble enough, even now, to learn the tricks of governance. In no time, he will select his trusted men and form a coterie. His babus will track cables and files to ensure that files don't lose their way, meaning what he wants, he will get it done in time.
Modi's English may not rival the British queen's, but his confidence and pride will ensure that it doesn't matter. If the political leaders of France, Germany, Japan, Russia and China can excel in their jobs despite a weak knowledge of English, Modi can also manage well. Why not?
Sooner than later, he will give Amitabh Bachchan a Bharat Ratna, a highly deserving one. If Sachin Tendulkar can get it, then Amitabh surely is a better choice any day.
Badrinath, Kedarnath, Varanasi, Mathura will all see a change in their landscape. All the concerned departments will be coordinated to improve their facilities, making them a huge tourist attraction.
He is unlikely to show his bias towards Gujarat. He will give more funds to states where the BJP wants to spread its influence. Gujarat is not one of them -- the BJP has reached a saturation point in the state.
State governments in Bihar, Jharkhand and even Uttar Pradesh will see instability. Amit Shah will most likely continue to be in charge of UP, and will be asked to concentrate on West Bengal and Tamil Nadu. Regional parties will be Modi's sharp target since he is most comfortable with the Congress as his opponent.
Modi will keep issuing 'emotion-loaded' messages for the people, unlike Dr Singh. This will be a culture shock for all of us. Modi identifies with and behaves as the middle class does. He was never elitist, but intelligent enough to defy New Delhi's elitism and make his point.
In China, Hong Kong, London and elsewhere, he has participated in five-star dinners and knows table etiquette, an important part of being a global leader. He knows 'money speaks' on Wall Street and in the Western world. He will play his 'business card' well. He is so image-conscious that he will quickly learn what is needed to be learnt. Very soon, Modi will realise the nuances of the decisions made by Dr Singh, in dealing with the economy, Pakistan, China and the US.
He will start building a global image with innovative ideas, since marketing is his forte. Under him, the information and broadcasting ministry and the Press Information Bureau, which disseminate the government's achievements, will be the most crucial on his watch.
He has clearly said what his diplomacy will be like. 'Aankh uthakar nahin, aankh jhuka kar nahin, lekin ankho main ankh milkar bat karenge ('We will not intimidate anyone, nor will we be cowed down by anyone. We will look them in the eye).' In diplomacy, such play of words works -- for some time at least.