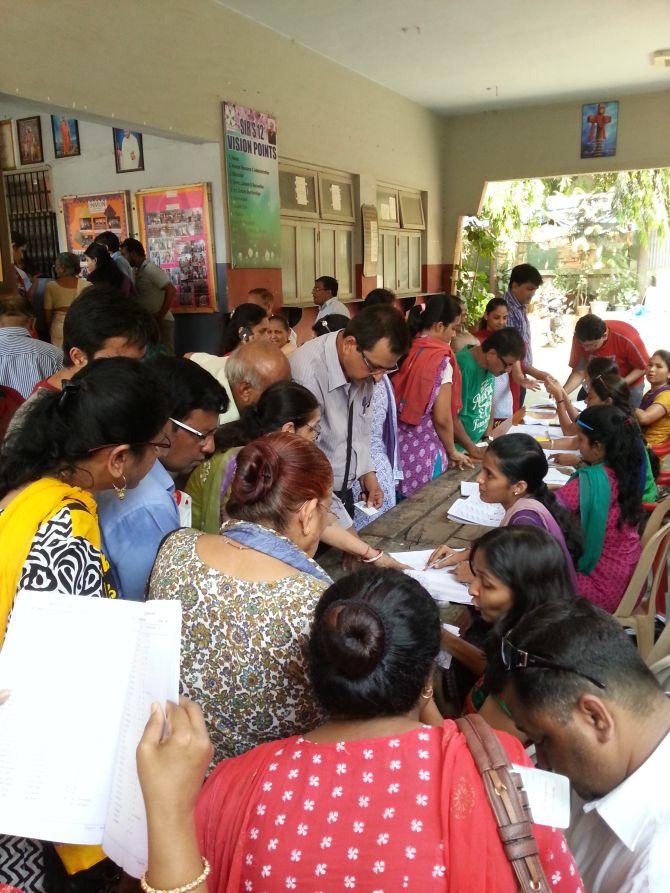 'With the exception of a few cases where it was a mistake, in most cases it was the lackadaisical approach of voters which resulted in them not being on the electoral lists,' says Neeta Kolhatkar.
Election Day in Mumbai ended with an estimated 600,000 voters complaining that their names were missing from the electoral lists. In Pune, we heard that nearly 200,000 names went missing.
These were people who have voted in previous elections. Thousands were frustrated at being denied their right to vote.
Most say they had voted previously and how is it that this time their names were missing. Some spread conspiracy theories, many were just resigned and say nothing would improve.
The exclusion of names is due to various reasons. There is the possibility that when the Election Commission representative came for verification, no one was at home or s/he was told that people had moved or there was redevelopment of the building, or someone had shifted residence and hence the electoral list was not updated.
We need to make an effort to ensure that our names are on the electoral rolls.
With the exception of a few cases, where it really was a mistake, in most cases it was the lackadaisical approach of voters which resulted in them not being on the electoral lists. But most blamed the government, then the Election Commission and most made it look like it was some sort of scam.
We need to get a grip on ourselves. As journalists, every alternate day we reported the efforts by the Election Commmission and its drives till the last minute to enroll voters. Numerous non-government organisations too had undertaken enrollment drives.
Why didn't people check if their names were on the voters's lists?
Why didn't people go with their identity proof? No harm in double-checking.
In 1993, when I missed two rounds of the Election Commission drive, I was pushed by my parents to visit the nearest centre. "Else, you will be debarred from voting," they told me. I walked in with a frown, saw the set-up and was impressed. It changed my opinion forever.
The Election Commission has come a long way. A voter can choose her/his best photograph, sit at home and upload the image. Yet many complained on voting day that they had given it to some agent and that work was not done.
Now, here is the catch, not everyone will have the same experience. For some, it could be a five-minute procedure, while for some it may take some time.
Instead of complaining we need to move ahead. I always welcomed the old system, wherein representatives of political parties came to our door step to check. Many months before elections they would come in groups, jabbering non-stop, but check all names.
If anyone had shifted residence, any one was deceased or married in another area or city, it was noted. This helped the Election Commission to update its records. They never had the resources or human power then to undertake this on their own.
Now people have become less tolerant of politics and feel everything smells of a conspiracy. So even political parties have stopped going door-to-door and handing out slips.
I strongly feel this needs to be revived. Maybe they need to outsource it to some legit NGO since we have such low trust in political efforts. But it is time we got it done.
Mumbai city and its suburbs once had Area Locality Management groups. These ALMs need to be revived. The community link is missing in this city and it is badly needed. People need to know that civic issues are for corporators, some extend to legislators, policies and larger national issues to the MPs.
The meet your candidate programme can be revived. The candidates too will be forced to visit the localities, interact with people and a more reasonable understanding of the process can take place.
It is not just about voting and getting selfies. The Maharashtra assembly election is in October, very soon the civic elections will be held. Even if one was denied the right to exercise one's franchise this election, don't let anyone deny you the next time. That decision is in your hand.
Image: Voters check for their names on voter lists in Mumbai. Photograph: Paloma Sharma/Rediff.com