'In Kejriwal's re-election, we are finally seeing someone who has successfully bridged his Hindu identity with ground-level development triumphing over the BJP,' notes Saisuresh Sivaswamy.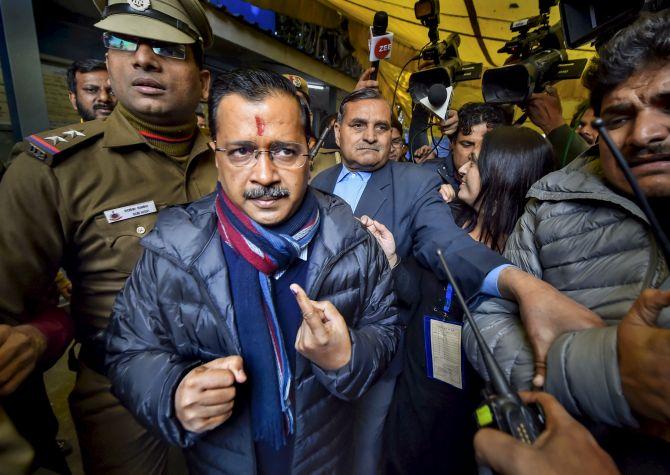 Since May 2014, when Narendra Damodardas Modi stormed to power vanquishing the Congress party and relegating it to the netherworld, the Opposition has tied itself into knots over how to stop him in his tracks.
Six years later, with Modi winning a second term as prime minister with a larger number and bigger vote share, and a swathe of assembly elections in between in the company of his trust commander in chief Amit Anilchandra Shah, the Opposition has still not found a magic bullet to stop Modi electorally.
Five years ago I wrote on Arvind Kejriwal and the art of stopping Modi-Shah in the aftermath of the unprecedented 67 seats won by an alumnus, both of an IIT and the Kisan Baburao 'Anna' Hazare movement, and it is now time to write of how the Grand Opposition needs to learn its lessons from Arvind Kejriwal.
The Delhi chief minister's tactic of not engaging the BJP on its home turf -- which meant that polarising issues like Shaheen Bagh, Hindu versus others, responding to hate speech etc were out -- worked wonders for him.
The BJP threw everything it had at Kejriwal because its leadership, unlike that of the somnolent Opposition parties, saw clearly what a win for their bete noire actually means.
Kejriwal's win, second time on the trot, in the face of a rejuvenated, resilient Bharatiya Janata Party, has the potential to reverberate across polling booths in the country and he has provided a nucleus to the still fragmented Opposition.
The BJP could lure Nitish Kumar over to its side, but how do you deal with his politician who is really not a politician?
Which is why the saffron brigade was so desperate to deny him another chance at power.
We hacks have a short shelf life, what we say is often drowned out in tweetstorms and Facebook outrage, but it is heartening to see -- while laying no claim to or credit for actual strategy -- that Kejriwal's electoral tactic closely followed what I wrote three years ago on how to defeat Modi in elections.
There's no brainwave to it, really, just some basic ground rules.
Primary one being not to engage the BJP on its terms and to move the debate away from issues that are to its benefit.
Which is what Kejriwal did so successfully in the face of extreme provocation, which included being called a 'terrorist' by no less than a Union minister!
In the Delhi election the BJP has exposed itself as a party that wants to fight elections on non-issues.
It wants the voters to enter the polling booth in an emotive state, and not use their logic or reasoning to exercise their franchise.
Because, both its vaunted Gujarat Model on the back of which it won the 2014 election, and the government's abysmal record in governance and development -- which it promised in 2014 but conveniently forgot in 2019 -- are non-starters.
On what basis can a government that has presided over the highest unemployment figures in 45 years, or the lowest economic growth in a decade, seek votes in the name of development?
Ergo, forgotten, or irrelevant, issues like Pakistan, Partition, Hindutva etc became its calling card.
Alas, it may have worked for it in the Lok Sabha election, but to expect a regional election to be swung by emotive issues is to downgrade the voters's sense as well as sensibilities.
If 'Kaam bolta hai (work speaks for itself)' did not work for Akhilesh Yadav in the 2017 Uttar Pradesh assembly election, perhaps the mistake was in the nature of the kaam done.
In Delhi, in contrast, Kejriwal was sure about the quality of work his government would accomplish -- grassroots stuff that touches people's lives at the bottom of the pyramid as well, so the model of development is not a skewed one.
Apart from ensuring that the message of his work reached all around, Kejriwal was also careful that at no time did he target the prime minister in retaliation for the barbs thrown at him.
This Kejriwal is a contrast to what he used to be, a shoot and scoot artiste. Maybe power has made him more responsible, perhaps he has realised that Modi cannot be taken on by a Modi V2.0.
So his careful eschewing of issues the BJP would have loved to spin the election on. Like his staying away from Shaheen Bagh, for instance.
His recital of the Hanuman Chalisa was also part of this carefully constructed persona; like Rahul Gandhi earlier, Kejriwal has realised that only a 'Hinduised' Hindu can take on Modi. But unlike Rahul whose temple runs in the absence of any work to show have proved popular only as memes, Kejriwal had a bank of developmental work to showcase his government's achievements.
In that sense, this election is a triumph of the Delhi Model over the Gujarat Model.
But the real interesting stuff begins now.
The Delhi rout, while an embarrassment for the BJP's new president Jagat Prakash Nadda, is really no skin off Modi-Shah's back. It is a non-state election, never mind the high profile they themselves lent it with their high-octane campaign. They have lost worse, and the real focus is on 2024 anyway.
It is here that Kejriwal's win poses problems for the Grand Opposition.
Elections, as much as they are about bread and butter issues, are also about personalities. Witness Kejriwal taunting the BJP about the lack of its chief ministerial face for Delhi.
Voters would like to see a face attached to the cause they are voting on. Thus, Modi's face is firmly etched with nationalism, Hindu consolidation, cultural regeneration etc (sorry, not Vikas, not anymore).
The Opposition's weakness has been the absence of someone who can take Modi on over these issues and to project someone credible to challenge him.
In Kejriwal's re-election, we are seeing someone who has successfully bridged being a Hindu with ground-level development triumphing over the BJP. There is no one else in the Opposition camp with these qualities. Yet.
In Bengal, Mamata Banerjee no doubt will weather a bruising electoral battle to retain control over Nabanna. But her over-dependence on the Muslim vote rules her out as a viable contestant against Modi. She is dead on arrival, as the film industry patois says.
The Opposition has no dearth of satraps who can hold on to their fort by hook or by crook -- as Sharad Pawar engineered things in Maharashtra -- but there is no one with a working game plan that can be replicated across the nation.
An IIT-Kharagpur alumnus has now shown that he has the blueprint, but with him as the fulcrum.
The rest of the Opposition now need to decide if they want to defeat Modi, or Kejriwal.