The foundations of the army's own peculiar secularism are potentially being destabilised, says Ajai Shukla.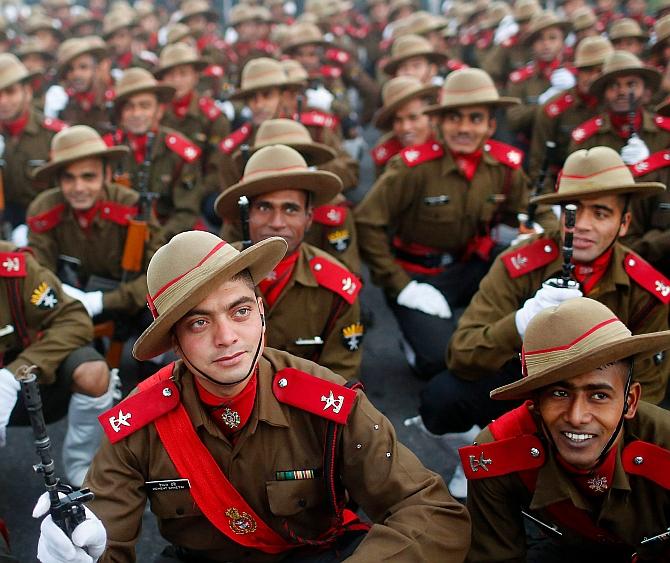 As anyone who has served in the Indian Army knows, it is refreshingly free from religious and political ideology.
Unlike the Pakistan Army, which heavily spices up nationalism with religious fervour, our men and women in olive green are clear about whom they serve -- the Union of India.
The India they defend is not a Hindu state and the "Bharat Maata ki jai" that is often chorused at army functions is an invocation to nationalism rather than religiosity.
While the army's soldiers are overwhelmingly Hindu, it has never been -- ideologically speaking -- a Hindu army.
Post-Independence politicians of various stripes have opportunistically polarised the public along communal lines, but have so far shrunk from meddling with the army's apolitical, secular structure.
The broad-based acceptability this has given the army amongst our diverse castes and creeds has made it India's most trusted national institution, respected for impartiality in even bitterly polarised environments.
Deployed in conflicts in Assam, Nagaland, Manipur and Kashmir, the army has been criticised for human rights abuses, but never for siding along religious or caste lines.
This renown extends beyond India's borders; in South Lebanon, Indian battalions have functioned impartially between Israeli and Hezbollah forces, trusted by both.
This is nothing short of astonishing, given that religion features prominently in army life.
Most soldiers are deeply religious, drawn as they are from villages and small towns where religion and spirituality are essential notes in the rhythms of daily life.
Most army combat units are organised along the lines of region (Dogra, Punjab, Garhwal, Kumaon regiments, etc); community (Jats, Ahirs, Mahars, etc); and even religion (Sikhs, Muslims).
The army's post-Independence policy is to raise new units on a mixed basis, incorporating soldiers from all regions, communities and religions, but the old "class composition" units remain a majority.
Depending upon the religious composition of a unit (battalion or regiment), they are posted with religious teachers -- pandits, maulvis, granthis or padres -- who look after the unit temple, mosque, gurudwara or church, and organise daily prayer services and religious festivals.
Given the hazardous conditions in which many army units function, these institutions provide soldiers the spiritual framework they need. Occasionally, especially in combat, they discharge the last rites of soldiers whose luck ran out.
This powerful religious framework is infused with a unique secularism.
Much of this stems from the army's officers, who have displayed a remarkable institutional ability to adapt to the religion of their troops.
To cite my own case, I was a Hindu Brahmin (albeit non-practising) officer who was commissioned into a Sikh sub-unit. Over years of attending prayers with my Sikh troops, celebrating festivals with them and invoking the Waheguru before and after every important event, my Brahmin identity (such as it was!) was effectively immersed into a new Sikh one.
To this day, 15 years after leaving my sardars, I am as much Sikh as Hindu in religious observance and ceremony. This is true for tens of thousands of officers who have, over the decades, subordinated their original Hindu, Sikh, Muslim, Christian, Buddhist and animist identities to the religion of their troops.
The spiritual outlook of the army's rank and file could not but have been moulded by this conspicuous, on-going demonstration by their officers of a community identity that over-rides personal faith. This unique, amalgamated faith might well be called Armyism.
Worryingly, the foundations of this peculiar Indian Army secularism are being potentially destabilised -- by a series of events that I would dearly like to believe are accidental.
Last fortnight, the army was asked to build bridges over the Yamuna in Delhi for the so-called World Cultural Festival, organised by Art of Living guru, Sri Sri Ravi Shankar, who is known to be close to the Bharatiya Janata Party leadership.
But well before that, the BJP-led government had begun involving the army in activities that were labelled "cultural", but viewed by minority communities as symbolically Hindu.
On June 21, the Indian armed forces were shoehorned into celebrating International Yoga Day, with tens of thousands of soldiers filling up the numbers in an event that overtly aimed to establish a world record.
True, the UN General Assembly had adopted this event through a resolution in December 2014, but that was at India's behest.
Furthermore, it was scheduled on the death anniversary of Rashtriya Swayamsewak Sangh ideologue, K B Hedgewar.
The military chiefs were aware, or should have been, that Muslim organisations, including the moderate Muslim Personal Law Board, had expressed alarm at what they considered right-wing Hindutva sponsorship of yoga, the singing of Vande Mataram in schools, and the performance of Surya Namaskar -- also a yoga asana.
There are powerful arguments on both sides about whether these activities are a part of Indian culture, or Hindu, or both, since these are not mutually exclusive.
That is not the point.
What is crucial is that the three service chiefs (who dutifully performed their asanas behind Prime Minister Narendra Modi) allowed their services to be sucked into controversy.
Having opened the gates, it becomes that much harder to guard them.
And so, in January, 250 army troopers were despatched to Baba Ramdev's Patanjali Yogpeeth in Haridwar, to train as yoga teachers who would spread the culture across the barracks.
This was harder to pass off as apolitical, since Ramdev -- an undisguised Narendra Modi acolyte -- had hosted a convention for the RSS in the same location in 2014.
It is nobody's argument that the army should remain at a remove from anything even faintly religious, particularly if it is Hindu. Over the years, army engineers have built pontoon bridges over the Ganga and the Yamuna for the once-in-12-years Kumbh Mela in Allahabad; and the army provides security for the Amarnath Yatra in south Kashmir every year, despite its daunting counter-insurgency responsibilities.
These are truly public, cultural events worthy of the army's attention; not attention-grabbing jamborees like International Yoga Day or the World Cultural Festival.
Dismissing these concerns is easy, but that would be immensely damaging to the army and its reputation as an honest broker.

Ali Ahmed, a staunchly secular former army officer, in an article for the Economic and Political Weekly, has invoked the troubling prospect of a country in which the military has been insidiously "reset" by infusing it with the ethos of majoritarian nationalism.
With the right wing forces anticipating that their "makeover of India" would not be a peaceful exercise, they would like a placid military that watches from the sidelines as the storm troopers of Hindutva reshape the political and social landscape. These fears are growing.