'India's real concern is that cash-strapped Pakistan is keeping its military hardware well oiled on American money,' says Rajeev Sharma.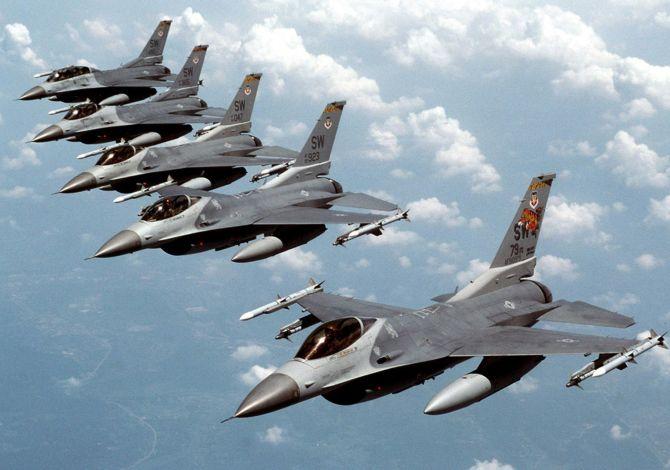 India may have lodged a strong protest with the United States on Saturday morning over the Obama administration's move to sell eight F-16 planes to Pakistan in a deal worth over $700 million, but Foreign Secretary S Jaishankar's remonstrations with US Ambassador Richard Verma won't change the American decision. More importantly, Indian protests won't change America's Pakistan policy.
But that doesn't mean that India shouldn't have lodged its protest with the Americans. India has done well by conveying its concerns to the American envoy and must take it further.
It is just a notification, not the actual sale of fighter planes to Pakistan. Technically, the Obama administration's move can still be aborted as the United States Congress has 30 days' time to veto the move.
But it is a mere technicality only as Congress vetoes are quite a rarity. However, it does provide India an opportunity to try its lobbying skills with the American lawmakers.
Prime Minister Narendra Modi himself may lead this diplomatic offensive and culminate the Indian lobbying process when he meets US President Barack Obama in Washington on the sidelines of the Nuclear Security Summit next month end.
India's real concern is not the eight F-16 planes which the Americans intend to sell to Pakistan. The US State Department is right in its observation that this sale won't alter the military balance in the region.
India's real concern is that cash-strapped Pakistan is keeping its military hardware well oiled on American money.
American civil and military aid to Pakistan from 2002 to 2015 (14 years) exceeds $31.3 billion, averaging about $2.3 billion per annum. Of this, almost $17 billion was for the weapons Coalition Support Fund which Pakistan diverts to its bolster its military capabilities.
These are official US government figures. A detailed account and nature of American military and civilian aid to Pakistan can be accessed here: https://www.fas.org/sgp/crs/row/pakaid.pdf (external link)
The impact of massive American military aid to Pakistan is not just in military terms. Such regular and sustained huge aid emboldens Pakistan diplomatically too which is even more dangerous.
While the Opposition parties in India, particularly the Congress, have criticised the Modi government of having a confused and confusing Pakistan policy, the Obama administration is even more guilty of this.
Just a few months ago, the Obama administration had threatened Pakistan with cancellation of military aid, but now things are back to square one. Suddenly, the Obama administration has discovered new virtues in Pakistan.
Just about 51 months ago, President Obama's top diplomat, then secretary of state Hillary Clinton, had this to say to Pakistan: 'You can't keep snakes in your backyard and expect them only to bite your neighbours. Eventually, those snakes are going to turn on whoever has them in their backyard.'
Hillary made this remark from Pakistani soil at a press conference in Islamabad in October 2011. The immediate trigger for this was US displeasure over the Pakistani military establishment's hobnobbing with the Haqqani Network.
Her remark came after an even more damning observation by Admiral Mike Mullen, the then head of the US joint chiefs of staff, who described the Haqqani Network as the 'veritable arm' of the Pakistani spy agency, the Inter Services Intelligence.
Obviously, the Obama administration has once again turned its Pakistan policy on its head with its decision to sell F-16 planes to Pakistan. However, no amount of huffing and puffing and fretting and fuming by India will help.
The Modi government will have to launch a lobbying blitzkrieg to woo American lawmakers. Besides, it will have to loosen its purse strings and unleash a pro-active campaign through its two major Prasar Bharti vehicles, Doordarshan and All India Radio, to put its points across about Pakistan's track record in keeping snakes in its backyard. The sooner this is done, the better.