India is worried about Pakistan getting the Taliban to ignite trouble in Kashmir, observes Ramesh Menon.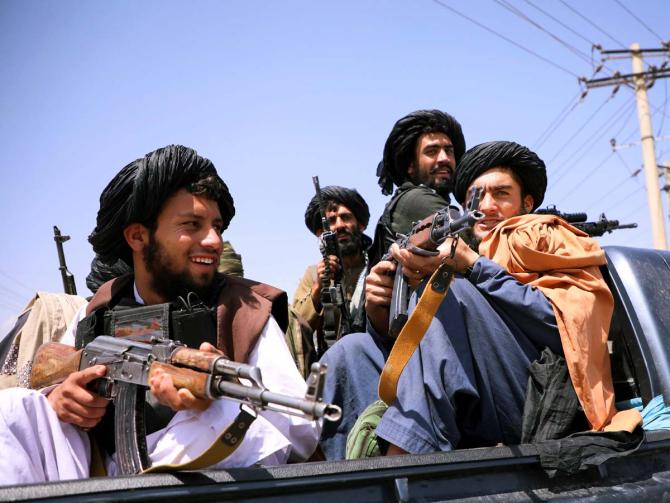 The anxiety about Afghanistan increases by notches every day.
What are the signals that the new government is sending?
Hardliners are heading the State. Nearly 70 percent of them are designated terrorists by the US or the UN.
Prime Minister Mullah Mohammad Hassan, who is on the UN terror list, was one of the founders of the Taliban.
He is the one who ordered the destruction of the Bamiyan Buddhas twenty years ago.
He is clearly ISI chief Lieutentant General Faiz Hameed's choice.
Hameed flew into Kabul to ensure Pakistan's interests were safeguarded.
Predictably, the new PM is not well disposed towards India.
Moderates who seemingly spoke a different language in the Qatar capital of Doha like Mullah Abdul Ghani Baradar, while peace talks were on between the United States and the Taliban, have been sidelined.
A Pakistani imprint on the new government is more than clear.
Sirajuddin Haqqani, a designated global terrorist with the US offering a reward of $5 million, is now Afghanistan's interior minister.
Sirajuddin is the son of warlord Jalaluddin Haqqani and was reportedly responsible for the attack on the Indian embassy in Kabul in 2008. He is close to Pakistan's Inter-Services Intelligence.
Information Minister Khairollah Said Wali Khairkhwa, who is known to have been close to al-Qaeda and Osama bin Laden, was a detainee at Guantanamo Bay. The US was forced to release him to rescue one of its abducted soldiers, Bowe Bergdahl.
Finance Minister Maulvi Hidayatullah Badri is another UN-designated terrorist. He is known to have close connections with drug cartels. Drugs bring in huge revenue to Afghanistan. There are no indications that this will change.
There are no women ministers.
That eloquently spoke of how the earlier talk of ensuring proper representation and inclusivity was just hot air to pander to immediate international sentiment.
Twenty years of war should have ended lighting up a new road to prosperity, peace, and a new history.
But, after over 300,000 casualties and inexplicable collateral damage, both physically and mentally, Afghanistan today is is caught in the tentacles of chaos, fear, and pain.
Every citizen sees question marks before them as the future is uncertain.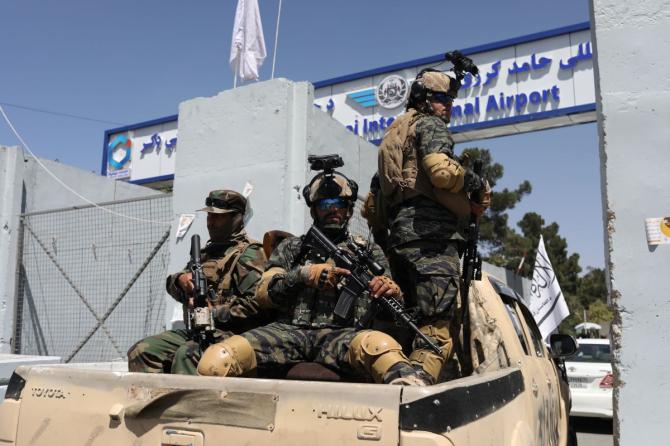 The world's most powerful nations watch helplessly as never before as the Taliban armed militia has taken complete control.
This, after the US sunk in two trillion dollars fighting them for twenty years.
America also lost over 2,450 soldiers in one of the bloodiest wars it has fought.
Do you remember the attire of Taliban fighters in early August? They had loose flowing clothes, scraggy long beards, and a turban.
Now, look at them. Many have smart camouflaged green uniforms strapped with modern technological aids and helmets.
No prizes for guessing where they got it from. It was abandoned by the Americans and the fleeing Afghan army.
It is not just uniforms. Billions of dollars that the Americans poured in for arms and ammunition that was later used to arm the Afghan army as they were to secure the country after the US exited is now with the Taliban.
They have got hold of millions of bullets, M-14 and M-16 rifles, Humvees, trucks, armoured vehicles that could resist mines, and even helicopters.
As many as 46 military aircraft were smashed beyond repair by American forces before they flew out of Kabul airport.
Nearly 46 military planes were flown to Uzbekistan and some to the Panjshir valley by some pilots of the Afghan air force.
The Taliban is militarily better equipped today than they were 20 years ago when they were driven out by the US army and NATO forces.
India has reason to be worried.
Many years ago, when the Russians abandoned the war in Afghanistan and retreated, India had backed the Northern Alliance to fight the Taliban.
India also sunk in over three billion dollars in the last two decades to rebuild the tattered infrastructure that included a dam and a building to house the country's elected parliament.
India is worried about Pakistan now getting the Taliban it trained and sheltered all these years to ignite trouble in Kashmir triggering off aggressive and brutal militancy.
The success of the Taliban might also encourage other jihadi groups in Pakistan to foment trouble in Kashmir.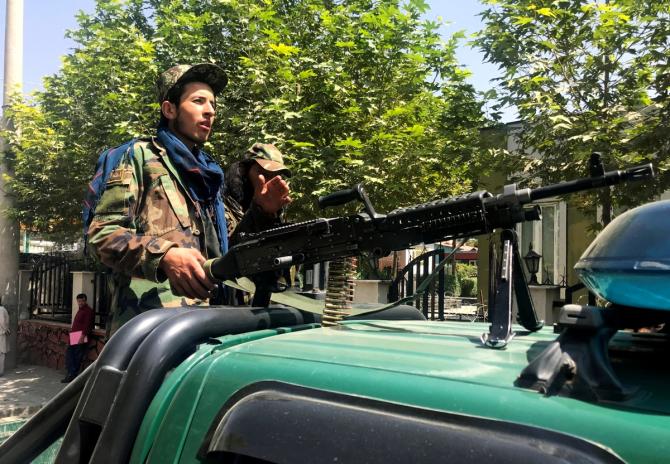 India has to be open to this reality and quickly draw a blueprint in restoring the democratic process in troubled Jammu and Kashmir, do all it can to show the political will to fix the alienation that has set in and revive normal life and give a fillip to rebuild its battered economy.
India has just one option now to get the Taliban to forget the past, set up a reasonable governance system, and encourage an inclusive system of governance.
This anyone will tell you is easier said than done.
There is no evidence at the moment that will ever happen under their watch.
India is one of the largest trading partners of Afghanistan as exports were around $835 million last year and imports were around $510 million.
India also is involved in nearly 400 ongoing projects.
There are lessons to learn for global powers who want to police the world.
See what happened to Russia after it invaded Afghanistan and destroyed its peace, probably forever.
See what happened after the US waged a protracted war. Their arms are now being used to wage another war within the country.
Think of what it will do to other neighbouring countries like India and Pakistan.
Clearly, it is not going to be a democracy where the will of the people will matter.
Nor will women or minorities matter. We will see a typical Islamic Emirate where Sharia laws will dominate.
In the end, what we will always remember is how desperate Afghans were trying to flee in any aircraft they could find space in with some clinging to a moving aircraft and falling off when it took off.
We will remember images of closed schools for girls and how women disappeared from the streets of the country.
We will remember how many citizens were taken to task or killed for aiding the US forces in some way or the other.
We will remember how some brave Afghans included a lot of women who came out on the streets to protest against the Taliban takeover, but were driven back by gun-toting Taliban.
For the Taliban, it is not going to be an easy run. The country is in tatters.
The coffers are almost empty. Apart from a serious financial crisis, there is a shortage of food, medicines, and essential supplies.
Pakistan may be exultant with what has happened in Afghanistan, but it is strapped for funds and dependent on IMF loans to survive.
Helping Afghanistan financially in these circumstances is almost impossible.
Pakistan should worry that groups like Tehreek-e-Taliban can trigger off attacks in Pakistan given its past history of how it has been one group that cannot be reigned in.
China is watching the situation and would be clearly wanting to play a bigger role in Afghanistan given its copper and lithium deposits.
The Taliban would have to avoid taking an extremist stand as it would then alienate it from the rest of the world.
It needs help to survive and feed its people.
India just has to sit back and watch how things move in the weeks and months ahead to assess if it can do business with the Taliban and secure its interests.
Ramesh Menon -- author, award-winning journalist, educator, corporate trainer, and documentary film-maker -- is the author of Modi Demystified: The Making of a Prime Minister.
Feature Presentation: Aslam Hunani/Rediff.com