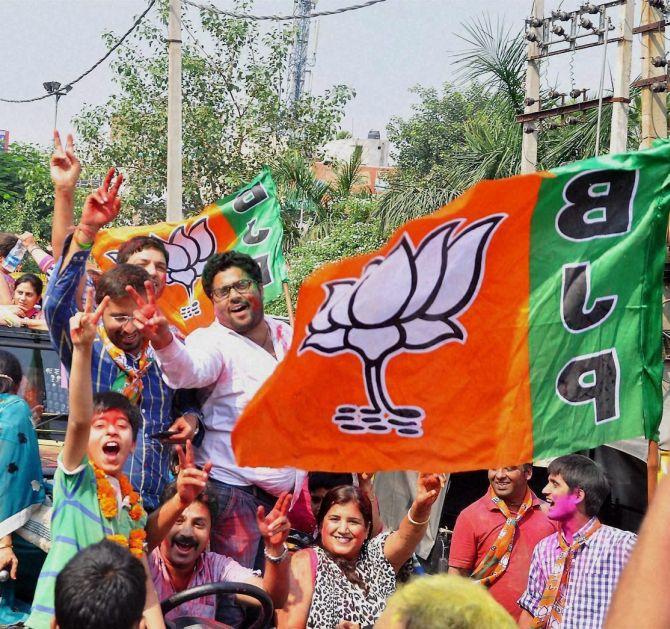 BJP supporters celebrate the party's victory in the Maharashtra and Haryana elections. Photograph: PTI photo
The Bharatiya Janata Party's solid solo performance in Maharashtra and Haryana assembly elections confirms continuation of some of the trends that emerged in the Lok Sabha elections in May this year.

The saffron party has won a majority of seats in Haryana and has emerged as the single-largest formation in Maharashtra. It has done so with the help of a coalition of Dalits, upper castes and some sections of other backward classes votes — a trend which was very much visible in May too. Here are five messages that have emanated out of the verdict in the two states:

BJP's Dalit-OBC-upper caste coalition

There are as many as 21 assembly seats in Haryana, where Dalit voters have a decisive say on the electoral outcome. They constitute nearly 20 per cent of the voting population in the state. The BJP would not have got the mandate it did in Haryana without large support from the Dalits. "But for expansion of its social base, the BJP would not have done so well in Haryana. It would have got a fair share of Dalit votes," says Sanjay Kumar, director of the Centre for the Study of Developing Societies.

What has perhaps worked in the BJP's favour is growing animosity between Jats, the dominant social group in Haryana, and the Dalits. The BJP's rivals in the state, the Congress and the Indian National Lok Dal, were seen to be courting Jats, say political observers.
This confirms continuation of the trend that was witnessed in the Lok Sabha elections. The CSDS surveys showed that the BJP got a sizeable chunk of Dalit votes (almost 26 per cent, up from mere 10 per cent in 2009) and nearly 50 per cent of lower OBC votes in the Lok Sabha elections. It got a majority of upper caste votes also.

In Maharashtra, too, the BJP seems to have managed a sizeable chunk of Dalit votes. "Urban Dalits seem to have voted for the BJP in Maharashtra. In addition to that, the party has retained its hold among upper castes, some sections of OBCs and Maratha voters as well," says Nitin Birmal of Dr Ambedkar College of Arts & Commerce, Yerawada, Pune. He happens to be Maharashtra coordinator for CSDS surveys and has written extensively on state elections.

What it essentially means is that the BJP seems to have forged a grand coalition of Dalits, upper castes and some sections of the OBCs. The Congress dominated the electoral politics till the 1980s on the back of its support base among Dalits, upper castes and the Muslims. The BJP seems to have taken over the same base minus the Muslims, who have been replaced by sections of OBCs.

Strong performance in Lok Sabha elections not replicated in assembly elections

In the last assembly elections in Maharashtra, the coalition that did well in the Lok Sabha elections improved its performance in the assembly polls that followed. In 2004, for instance, the two major coalitions — the Congress and Nationalist Congress Party, and BJP and Shiv Sena polled the same percentage of votes at 42 per cent. But in the assembly elections that followed five months later, the Congress-NCP took a lead of nearly six per cent votes over the BJP-Sena combine.

The same trend was visible in 2009 as well; the difference between the two coalitions was 3.5 per cent in the Lok Sabha elections, but it increased to 7.1 per cent in the subsequent assembly elections. The trend seems to have reversed this time. The BJP was ahead in 145 assembly segments in the last Lok Sabha elections. But it has fallen short of that number now.

Similarly, the Shiv Sena too has come down from its Lok Sabha polls' performance when it was ahead of its rivals in 99 assembly segments. The Congress and the NCP, on the other hand, have improved their performance since the Lok Sabha elections.

Strong central leadership can overcome organisational handicap

In the last 25 years, the BJP never contested elections in nearly 150 assembly seats in Maharashtra and reports suggest that the party did not have functional organisation in large parts of the state. The party suffered from a similar handicap in Haryana as well.

But the fact that it won a majority of seats in Haryana and emerged as the single-largest party by quite a distance in Maharashtra shows that the positive momentum generated by a strong leader like Prime Minister Narendra Modi can make up for the lack of organisational support. "It used to happen during Indira Gandhi's days. People would vote in her name in all elections. Same thing is happening in Modi's name now. While it is a source of strength in the short-term, it might be a potential source of weakness in the medium and long-term," observes Kumar.

Congress touches new low

Both Maharashtra and Haryana have been a Congress stronghold for many years. In the former, it has been part of the ruling coalition for the last 15 years.

However, its vote share has now dropped below the psychologically important mark of 20 per cent, despite contesting many more seats than what it did in the last elections. Prominent psephologist and Aam Aadmi Party leader Yogendra Yadav told a news channel that the Congress has found it difficult to regain its strength in states where its vote share has fallen below 20 per cent.

In Haryana, on the other hand, not only has the Congress been the ruling party for the last 10 years, but it has always done well in the absence of a coalition of parties coming together against it in the last 20 years. "It is going to be an uphill task for the Congress to recover its ground now. In its bastions, it has been relegated to number three or four slot," says Kumar.

Coalition politics faces temporary halt

The BJP's solid solo act this time and the party winning a majority on its own in the earlier Lok Sabha elections are perceived as the beginning of the end of the coalition era that entrenched itself in the 1990s. However, the fact that Maharashtra is likely to continue its long tradition of coalition government suggests that the politics of coalition is down, but might not be completely out, say observers. "I will say it is a temporary blip. The conditions that have given rise to the politics of coalition have remained intact. With the next round of elections due in Jammu and Kashmir, Jharkhand and Bihar, parties are bound to pursue alliances, bringing the focus back to coalit