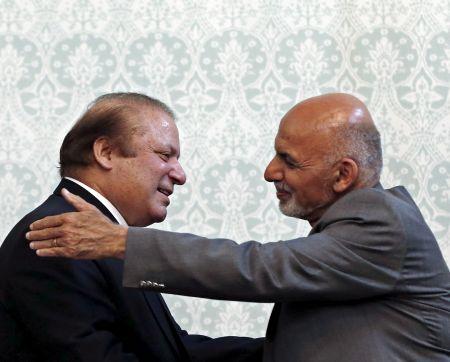 New Delhi must indicate to Afghan President Ashraf Ghani that it has a long-term strategy for his country. It should point out that Pakistan's present Afgan policy will destabilise Afghanistan and help Islamic State, says Gautam Sen.
Pakistan's Prime Minister Nawaz Sharif has just concluded a visit to Afghanistan accompanied by a high-powered delegation. India will obviously be monitoring the immediate outcome of the visit and its long-term implications.
A perceptible new power equation between Pakistan and Afghanistan seems to have emerged with the advent of the Ashraf Ghani regime in Afghanistan, and its manifest acceptance of Pakistan as a key stakeholder in Afghan affairs. Ghani, on assuming the presidency of Afghanistan in the latter part of last year, chose to visit China and Pakistan, before visiting India in April. The significance of this sequencing cannot be missed by India.
There have been other developments also like the new Afghan government reconsidering and putting on hold its earlier request (extended by the Hamid Karzai government) for material military assistance. It may be appropriate at this stage to assess the outcome of the substantial investment of India's resources over the past few years on building up of Afghanistan's infrastructure, its social sector and on humanitarian assistance, when the US military involvement towards the stabilising the country's security milieu was at a significant threshold and gradually drawing down.
It now appears that India has not been able to adequately underscore its commitment towards Afghanistan's polity under the new regime and its desired autonomy in the context of the interplay of policies of its immediately neighbouring countries -- Pakistan, China, Russia and bordering Central Asian countries like Uzbekistan, Turkmenistan and Tajikistan.
Though the personal backdrop and political inclinations of Ghani may be different from that of former president Karzai, and the US influence on the former looms large as evident during his recent visit to that country (Ghani was able to obtain US assurance of retention of the latter's 10,000 combat personnel till the end of 2015).
But it cannot be denied that the present Afghan regime does not feel assured of international and also of India's support -- however limited it may be -- in retaining its hold on the present Afghan security apparatus and the provinces vis-a-vis its internal political opponents, and the Taliban of both Afghan and Pakistan hues.
Ghani's efforts to involve Pakistan to a larger explicit extent in Afghan affairs may be viewed in this backdrop as an effort to reduce Pakistani pressure on the government in Kabul through the Taliban. It may also be reckoned that Ghani has not evinced any intention to reduce India's role in the areas where the latter has been involved till now.
But the fact of the matter is that Pakistan was already engaged in a significant way in its eastern peripheral areas through the Taliban -- particularly the Afghan Taliban -- to maintain a viciously influencing hold on the policies and activities of the Afghan government.
In any policy on Afghanistan, India should realistically factor in the military-security dimension, as a major variable. However, India's direct involvement by way of deployment of combat resources in that country may not be realistic and there are logistical capacity constraints in this respect.
Indian assistance -- based on military resources -- like the medical missions undertaken earlier in Kabul, Jalalabad, Herat and Mazar-i-Sharif for approximately 300,000 patients may have had an immediate impact on the Afghan populace, but may not lead to long-term political and strategic gains without a concomitant political strategy.
The accompanying political strategy should necessarily entail some understanding with whichever regime is in power in Kabul to support India's core interests in the region without detriment to Afghan sovereignty. Ghani's apprehensions on Islamic State's ingress in Afghanistan as an important future threat factor rather than the anti-regime Taliban seems to be a red herring.
India should firmly impress upon the Afghan president that IS's footprints are still to be established, and radicalisation within his country and in its immediate periphery through the Taliban has adverse implications for India's sensitive regions like Jammu & Kashmir and has to be contended with on priority.
As a long-term option, India should work out an arrangement with Iran, as early as possible, for substantial trilateral commerce using the India-constructed 218 kilometre Zaranj-Delarum highway. This highway -- virtually the outcome of the trilateral India-Iran-Afghanistan agreement of 2003 -- opened to traffic in 2009, has the potential to enable movement of infrastructural material, agro-based products and industrial goods necessary for Afghanistan's economy from India to Afghanistan through a connecting south-western road linkage in Iran terminating at the latter's Chabahar port in the Persian Gulf.
India's success in this respect will ensure Iran's commitment to the new regime in Afghanistan, a joint approach of India and Iran vis-a-vis Afghanistan, without affecting Iran's overall interests in the region.
Indian assistance flowing through the Chabahar port-Zaranj-Delarum route is expected to impact the western provinces of Afghanistan like Nimruz, Faryab, Bagdhis and Herat, besides shortening transit distance from these areas to the seaports on the Arabian Sea coast, by nearly 600 km.
This trilateral cooperation is likely to be harmonious with the interests of the Central Asian countries also. With economic development in these targeted areas, the Ghani regime's political support in the non-Pushtu areas is also likely improve.
The latent possibility of Indian military assistance in a selective way on requirement, to some destinations in Afghanistan, through logistical arrangements as above, will also give a new edge to New Delhi in its policy towards the government in Kabul.
India should not hesitate to articulate its concerns and needs to Iran, as there are no fundamental conflict of interest between the two countries at the strategic level vis-a-vis Afghanistan.
As the present situation seems to be evolving, Pakistan is likely to gain an ascendancy in Afghan affairs with all consequent possibilities of the Taliban groups functioning with a stronger nexus with Pakistan's foreign policy objectives, and past Indian contribution to Afghanistan's development being nullified.
Pakistan is unlikely to allow an environment to develop in Afghanistan wherein, its internal infrastructure is allowed to function showcasing India's contribution like the Indira Gandhi Institute of Child Health in Kabul, the various power facilities like 220 KV Pul-e-Khrumri transmission line, some sub-stations built with India's assistance, the 42 MW Salma Dam in Herat province, the telecom set-up in 11 provinces, an expanded television network with uplink from Kabul and downlink in all the 34 provinces, etc.
India should clearly indicate to the Ghani government that New Delhi will necessarily have a long-term stake in Afghanistan's unity and political stability which is pertinent for a conducive South Asian environment.
Radicalisation of the milieu in Afghanistan -- which will be the consequence of Pakistan's present policy, will not only destabilise Afghanistan eventually, but also vitiate the extended environment around Afghanistan, and help organisations like IS.
India should not be cagey of indicating to Ghani that it has a long-term strategy on his country which can work in concert with neighbours like Iran. Economic assistance to Afghanistan will be assured and latent security support can be developed in a mutually beneficial manner, without curtailing that country's aspirations and sovereignty.
Image: Afghan President Ashraf Ghani, right, with Pakistan Prime Minister Nawaz Sharif in Kabul, May 12. Photograph: Omar Sobhani/Reuters
Gautam Sen is a retired Indian Defence Accounts Service officer who has served with the home and defence ministries in different capacities.