'Sonia's term as Congress president -- which was 20 years -- was the longest in the party's history.'
'It will also go down as the period in which the Congress transformed in the way Indians viewed it,' says Aakar Patel.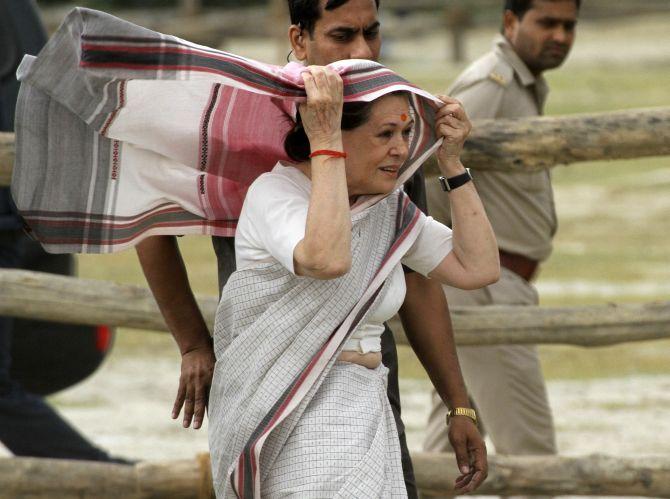 Rahul Gandhi is the sixth person from his family to be president of the Indian National Congress.
The first was Motilal Nehru, who was followed by his son Jawaharlal, and then came Indira, Rajiv and Sonia.
Motilal Nehru became president in 1919 and so next year it will be a century since the Nehru-Gandhis have held the post.
Of course, others have also held the presidency in the middle, but after Motilal's son took the office a decade after him the idea of India's first political dynasty was already being formed.
Initially, the Congress presidency was only held by an individual for one year, but I think it was after Jawaharlal became prime minister that he held on to the post for longer periods.
With Indira's ascendancy the tradition set in of a more or less permanent party presidency by one individual.
Sonia's term, which was 20 years, was the longest in the party's history. It will also go down as the period in which the Congress transformed in the way Indians viewed it.
Many younger readers may be surprised to know that the Congress was seen as a Hindu party for most of its history. Its leadership included deeply conservative figures who are today associated with the BJP, but were actually from the Congress, like the founder of Banaras Hindu University, Pandit Madan Mohan Malaviya.
The Muslim League of Jinnah felt that India's minorities could not get justice under the Congress and that is what led to the division of India.
It is to Sonia Gandhi's credit that she brought the party away from this image to the extent that today many see it as anti-Hindu, which, of course, it is not.
Her 20 years as the party president saw one of the most interesting periods in India's history. The Congress after Rajiv's death was headed by P V Narasimha Rao, an enigmatic and intelligent political figure who had to rule in the shadow of Sonia Gandhi.
In those years, she was a private figure, even more so than today. So rarely was she seen and so rarely did she speak that her every gesture was subjected to interpretation by newspapers.
People were convinced, rightly or wrongly, that though she had no position and no real connection with the government, that she was the locus of power in the country.
If the Congress had a chance to become a non-dynastic party, this was the time when its senior leadership could have done the job. However, the trauma of the Babri movement and the violence it brought in our society and our politics, made the Congress insecure and the party turned to the family.
When Sonia actually did attempt to take the leadership, she could do so easily, brushing aside the incumbent leader Sitaram Kesri.
She had always worn saris, but now made it a uniform. Discerning Indians will notice that she picked them and wore them with an elegance that is unusual in our politics.
She started to speak only in Hindi. She was ridiculed for her speeches which were written in Roman Hindi (in the English alphabet) as a newspaper photo revealed. But a later photograph showed that she was now reading them in Devanagari, and later she dispensed with reading altogether.
She was not a charismatic public speaker, and she did not pretend to be.
She had two outstanding moments in public life. The first in 2004, when she declined to become prime minister though she was Constitutionally qualified to do so. Sushma Swaraj threatened to tonsure her head if this happened, insisting that Sonia was a foreigner.
Sonia was attacked for having taken some time in giving up her European citizenship. To me this is strange. In this nation of Green Card-lovers, how many of us give up our US and European citizenships out of a burning patriotic love? I don't know any such Indian.
This was a woman who went the other way, but still was attacked. Akshay Kumar gave up his Indian citizenship for Canadian (External link) but can still appear on television pushing patriotism.
The second thing Sonia did was to bring in Manmohan Singh, who had earlier under Narasimha Rao introduced the theme of economic reform. His two terms, which are today remembered wrongly mostly for corruption, were truly transformative.
The Right to Information Act and NREGA and other humane laws gave the government a 'left' and 'socialist' image. However, as Singh has pointed out, his 10 years in power in a coalition where his actions were restricted, produced an average rate of GDP growth which this government for all its bombast cannot match.
Her last general election produced the Congress' worst result, but history will view Sonia Gandhi positively for her character and her achievements.
Photograph: Pawan Kumar/Reuters
Aakar Patel is Executive Director, Amnesty International India. The views expressed here are his own.