India isn't Israel, nor can it, or should be, says Shekhar Gupta.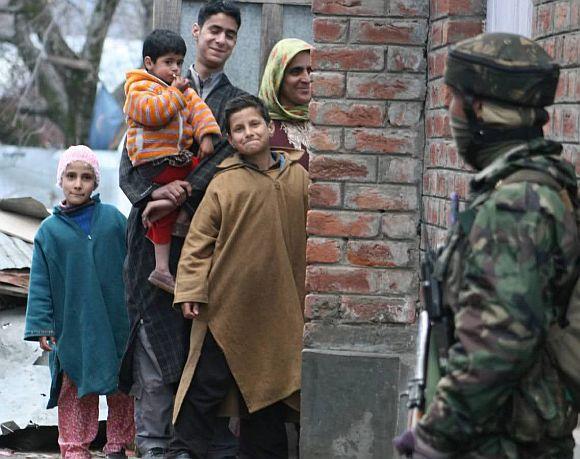 Have we lost Kashmir? The answer is no. But qualifications and caveats must follow.
We have 'lost' Kashmir many times since 1947. The first time, when Pakistani raiders were about to storm Srinagar airport when Lieutenant General (then Lieutenant Colonel) Harbakhsh Singh's troops landed there, one Dakota at a time.
How hopeless that situation was, go back to a decent library and read Lieutenant General Lionel Protip ('Bogey') Sen's Slender Was The Thread.
The second time we 'lost' Kashmir was in 1965, as the logical culmination of a grand design launched by Pakistan in 1962 (India's China debacle) onwards.
Mass upsurge in the valley following the 'theft' of the Holy Relic at Hazratbal, a weakening New Delhi in the years of Nehru's decline and finally Ayub Khan's ambitious assault of Operation Gibraltar, involving thousands of Pakistan army regulars infiltrating in the valley, followed by Operation Grand Slam in Chhamb that nearly succeeded.
How nearly lost Kashmir was then read General Harbakhsh Singh's War Despatches.
We had professional, clinical, soldierly, scholarly and reflective generals then. That other talent much in evidence now, prime-time television warfare, wasn't much seen.
Generals of those dangerous decades had spent lifetimes fighting real wars against real enemies and not merely some 'Greenland' on sand models.
This, 1965, was the last time India could conceivably have lost Kashmir militarily. Fifty-two years have passed since. So what do we need to worry about?
We should worry about precisely this fact, that 52 years after the last credible military threat was crushed, our thinking on Kashmir has become as militarised as in the past when stirring deshbhakti ditties sung in our school assembly would have lines like 'hoshiyar tumko apne Kashmir ki raksha karni hai' (be on guard, you have to fight and protect your Kashmir).
The difference is, the perception of military threat in the past was real.
Even in our folklore, Kashmiris were then seen as broadly nationalist and trustworthy -- remember the 1965 infiltrators were spurned by local people who reported on them instead.
Today, there is almost no military threat, but we have worked ourselves up into seeing our own people as a 'military' threat. That is the difference.
That is why it might be an arguable point that while Kashmir is territorially secure, we are fast losing it emotionally and psychologically.
Three questions arise here. How do we know this? Do we care? And finally, should we care?
We shall answer the second question first, because it is the shortest. No, we don't care.
The reasoning is short, sharp, and ruthless, as most patriotic arguments are. Why bother trying to win the love of people who hate you, who have been disloyal for decades, who swear by Pakistan and throw stones at your soldiers?
How can this resurgent India put up with open treason when ordinary folk in the mainland could be sent to jail or beaten to a pulp for not standing up in time for the national anthem in a cinema hall? Those Kashmiris who do not like India can go to Pakistan.
The answer to the first is self-evident. For months, Kashmiris have come out in thousands, shedding their fear of lathis, bullets and pellets.
As weeks pass, they will also likely shed their hesitation of 'sacrificing' fellow Kashmiris if used as human shields.
Only 7 per cent voted in a recent Srinagar by-election. You don't need more evidence that while your grip on the land is firm, you are losing its people.
The third question, should we care, is more complex. If you were the usual hyper-nationalist, the answer is, let the 'traitors' go to Pakistan. Then flood the valley with nationalists (Hindus) from other states.
Or, as some responsible ruling party leaders have suggested, move out the Kashmiris and resettle them in camps far, away, say in Tamil Nadu, just relocate the fish and empty the pond.
Or, as some senior retired generals insist, just shoot to kill, a hundred maybe, and it will all calm down.
This is the surest way of losing not just Kashmir, but India.
A country we admire immensely for its strength, courage, focus, talent, military prowess -- and ruthlessness -- has tried this for exactly 50 years, and failed.
Since it conquered large Arab territories in the Six Day War of 1967, Israel has tried in many different ways (barring a few liberal interludes) to keep the lands, but get rid of the people.
Israel has generally had the Western powers' support, overwhelming military superiority, an endless stream of loyal new citizens, Jews migrating from Africa and Eastern Europe.
It has been able to crush many guerrilla movements, an intifada, defy the United Nations, global pressures, shoot-at-sight, build a wall, keep its society militarised.
It has succeeded in keeping the land. But it still has the people.
The strongest military power in West Asia, which has defeated Jordan, Syria, Egypt and Lebanon militarily in the past, is caught in this withering, permanently deadlock.
To imagine that this will work for India is fantasy. It is suicidal too, because, much as we (this writer included) admire Israel for its many national qualities, India isn't Israel, nor can it, or should be.
Israel is an ideological Jewish State, where its sizeable population of native Arabs could vote, but were not equal citizens.
In India, every Muslim, Christian, Buddhist, Parsi and atheist is an equal citizen with the same rights and could rise to hold the most sensitive jobs.
One-country-two-systems is a Constitutional impossibility that can only be sustained in a unique dictatorship such as China, as with Hong Kong.
Last fortnight, I was in New Delhi's Sathya Sai Baba Auditorium at the memorial meeting for the legendary former Research and Analysis Wing chief and Kashmir governor Girish Chandra 'Gary' Saxena.
In the spring of 1991, as infiltration from Pakistan peaked, Edward 'Ned' Desmond, the then bureau chief of Time magazine in Delhi, and I plotted to spend a few days on the Line of Control to possibly see an encounter from close.
We went to the then Union home secretary Naresh Chandra (later Cabinet Secretary, ambassador to Washington and more) for help. He liked the idea and said he would request the defence ministry to help.
But won't we need the governor to help more importantly, I asked. 'No worries, I will tell him,' he said, with a 'gotcha' smile I was to become more familiar with in the course of time, and added, 'He is my elder brother, you see.' Naresh-ji was very much in attendance at the memorial.
It was thanks to his 'brotherly' good offices that we got to spend time around Uri, but an encounter only happened the day we had returned story-less. But we got an audience with Gary Sahib.
Is Kashmir lost, I asked him. Remember, this was the peak of the domestic insurgency, what today's generation may call the Haider (Vishal Bhardwaj's movie) phase of the Kashmiri rebellion.
'No, it isn't,' he said calmly, 'A country has to have it in its guts to stay together, and we have it,' he said.
And then he went on to say how, after the writ of the State is restored (he didn't use soft methods), there will need to be a political plan to convince the people they were better off with India.
The job we do is still the easier one, the real challenge is for the political large-heartedness, he said.
He could as well have spoken the same words again now.
MUST READ features in the RELATED LINKS BELOW...