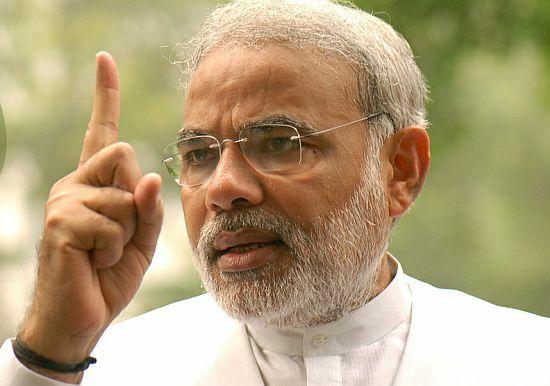 It is a contest between a Modi who is seen as a symbol of Vibrant Gujarat, and a Modi who is deeply resented, says Parakala Prabhakar
In Gujarat Elections 2012, it is essentially Modi Vs Modi. It is not a contest between the Bharatiya Janata Party on the one hand and Congress and Gujarat Parivartan Party on the other. It is not between Narendrabhai and Keshubhai. Nor is it between Modi and Rahul/Sonia.
It is a contest between a Modi who is seen as a symbol of Vibrant Gujarat, and a Modi who is deeply resented.
This is how the pieces are laid out on the Gujarat politics chessboard. Let us first look at Modi who is a symbol of 'Vibrant Gujarat': The white side.
The 'Vibrant Gujarat' Modi is familiar both to his supporters as well as his detractors. Supporters proudly show his exemplary record in office and the transformation that has taken place in the state over the last one decade.
Roads, power supply, industrial growth, efficient and responsive administration, and relatively corruption-free governance have become the hallmarks of Modi's tenure. This excites a lot of people.
There are many even outside Gujarat who are excited about governance in Modi's Gujarat. They are in no way direct beneficiaries of whatever Vibrant Gujarat means. Yet Modi is attractive to them mainly because they see him as a hope quite in contrast to a bunch of discredited, hopelessly inefficient and rapaciously corrupt politicians in the country.
This section is prepared to ignore the 2002 riots and move on because of Modi's development record. This includes not an insignificant number of Muslims. For this section, he would not have been acceptable without his development record. They are prepared to overlook his divisive postures.
Advocates of Hindutva lend a lot of vigour to the projection of this side of Modi. For this section, development record comes in handy to pitch for Modi who is essentially a tough and no-nonsense Hindu leader in their eyes.
And for this section, a mere record of development would not have been exciting without Modi's attempt to redress what they think as the skewed social/communal balance in the state.  It is not uncommon for it to drop a tell-tale line 'usne un logon ko sabak sikhaaya' (he has taught them a lesson).
In other words it is a combination of development and the kind of politics that clearly redefined the social/communal equation in the state that makes the 'Vibrant Gujarat' Modi attractive to them.
While this is the general formulation of the Modi supporters, the socio-economic alliance underpinning it consists of urban educated youth, urban women, big industry, and the conservative elements in society which nurse apprehensions about Muslim political assertion.
The Other Backward Classes who have bitter memories of the Congress's Kshatriya-Harijan-Adivasi-Muslim alliance politics lends weight to this socio-economic alliance. Geographically, the support base is largely drawn from central Gujarat and to a lesser extent from southern part of the state.
This base is reinforced by the larger than life image that Modi has been able to cultivate.
Now let us turn to the other Modi, the Modi who is deeply resented: The black side.
Considerably large numbers of people feel that Modi is haughty, arrogant, autocratic, absolutist, and full of himself with unmistakable signs of megalomania. From every billboard, he alone stares.
His party is dwarfed; his ministerial colleagues are nobodies; the bureaucracy feels it is treated roughly; and there is too much centralisation of power and decision-making. The resentment is not insignificant although it is expressed in hushed tones.
His brashness is seen as more than necessary and as often disproportionate to the purpose. This impression is not limited to those who resent him. It is shared by many who support him too.
While this is a matter of personal style and perhaps immaterial to those who do not come into direct contact with Modi, there are other more material reasons for resentment among many sections.
Small and tiny industry-owning sections and those dependent on this sector nurse a grievance that the Modi government is pro-big industry. The farming community has mixed feelings. Especially the commercial crop growers, mainly cotton farmers, have come under severe strain of late.
Contract employees are very unhappy. They are engaged by the government in various departments such as education, health, and social welfare. They have no job security and are not paid decent wages by the Modi government.
In rural areas, younger people seem to be dissatisfied about the lack of job opportunities. Rural women are largely indifferent and not decisive or enthusiastic about their preference for Modi.
Government employees and higher bureaucracy are uncomfortable with the large-scale CM-centric melas. The middle class is divided in its opinion. The lower middle class looks unhappy over poor public services and feel the pinch of privatisation of higher education.
Pent-up anger and resentment against him within the BJP and the Sangh Parivar organisations are quite considerable. The party is dysfunctional. Sangh shakhas have disappeared. His members of legislative assembly are faceless and feel disempowered. The party leaders and cadre have no clout with the local administration. They resent Modi for this.
They feel it is Modi's election and it is his responsibility to win it for them. In several places, the unpopularity of BJP MLAs is as strong as people's support for Modi.
The socio-economic alliance that resents Modi consists of sections of small and tiny industries, cash crop farmers, the lower middle class, the Dalits, the Adivasis, and of course a majority of the Muslims.
Geographically, it is drawn mainly from Saurashtra, Kutch, southern parts and tribal areas of the state. Leuva Patels, who provided the sharpest point to the anti-KHAM alliance, is divided in its support to the BJP now.
While there are many in the BJP who do not like Modi, it is also true that there are perhaps equal numbers, if not more, who belong to the Congress but admire him on the sly. These are Modi Congressis a la Reagan Democrats.
Those who support the 'Vibrant Gujarat' Modi naturally would like him to win. And those who resent Modi are in despair that there is no force which is strong enough to defeat him. But the point that they miss is, one need not look outside Modi for a force to take him on.
The contest is essentially between these two Modis. Both these Modis are real and live. The results on December 20 will tell us if the 'Vibrant Gujarat' Modi is able to mitigate the electoral implications of the 'resented' Modi.
The 'resented' Modi, even if he doesn't prevail, will in all likelihood extract his pound of flesh from the 'Vibrant Gujarat' Modi. Interestingly, those who oppose Modi are more certain of his victory and its scale than his supporters.
Parakala Prabhakar is a brand consultant and political commentator from Hyderabad