While there is no denying that certain sections of the community deserve aid, the politics of reservation can be suicidal for India, argues Vivek Gumaste.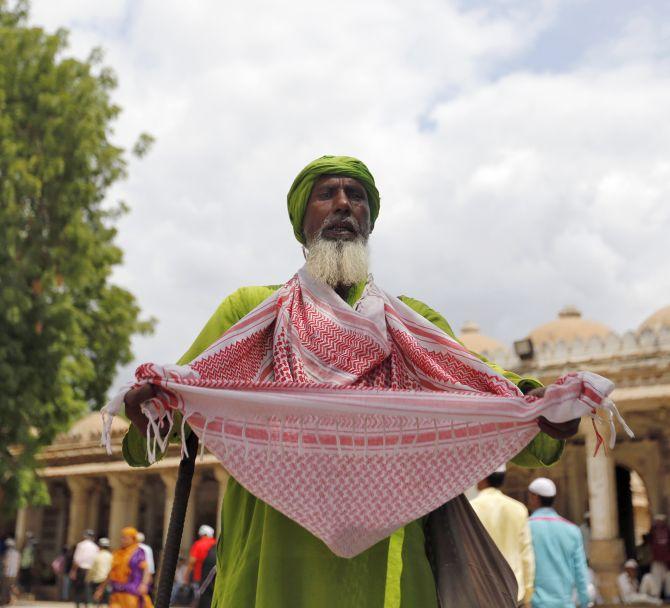 IMAGE: Telangana's move to provide 12 per cent reservation to Muslims raises the question if the community is in need of government upliftment. Photograph: Amit Dave/Reuters
The 12 per cent reservation for Muslims in educational institutions and employment mooted by Telangana Chief Minister K Chandrasekhar Rao is a blatant example of vote bank politics, a shameless quid pro quo that flies in the face of robust socio-economic statistics, makes a mockery of egalitarian governance and arbitrarily favours one community over another and thus accentuating the already existing schisms in our society.
The million dollar question that this controversial decision provokes is whether the Muslim community as a whole is an especially indigent group (vis-a-vis the others) in need of government upliftment.
The stock response to this query emanating from politicians and intellectuals clamouring for Muslim reservation is to point to the 2006 Sachar Report.
The Sachar Report, whose explicit brief was to evaluate the condition of Muslims and propose measures for their betterment, is the biggest red herring to be dragged across the contentious topic of socio-economic inequity and affirmative action in India; an outrageous fraud perpetuated by relentless repetition.
The report itself was methodologically challenged and statistically flawed from a selection bias that culled expedient information from particular states and select groups.
The information was not subject to an objective and clinical analysis; the data was willfully distorted, shoddily analysed and selectively quoted to project a skewed view to match the vested agenda of certain political parties.
In short, the conclusions and its recommendations were not sustained by the actual results.
Similarly, the report of the United Progressive Alliance constituted the post-Sachar Evaluation Committee or the Kundu committee report (September 2014), which is garnering increasing attention in recent times, is likely to be the source of another deceptive disinformation campaign unleashing calls for undeserved reservations like the 12 per cent reservation for Muslims in Telangana.
Therefore, it is imperative that we analyse the data carefully, honestly and intelligently.
Let us focus on three broad areas, namely, employment figures (a proxy for possible discrimination), poverty levels and literacy rates to ascertain the true import of the current report.
Employment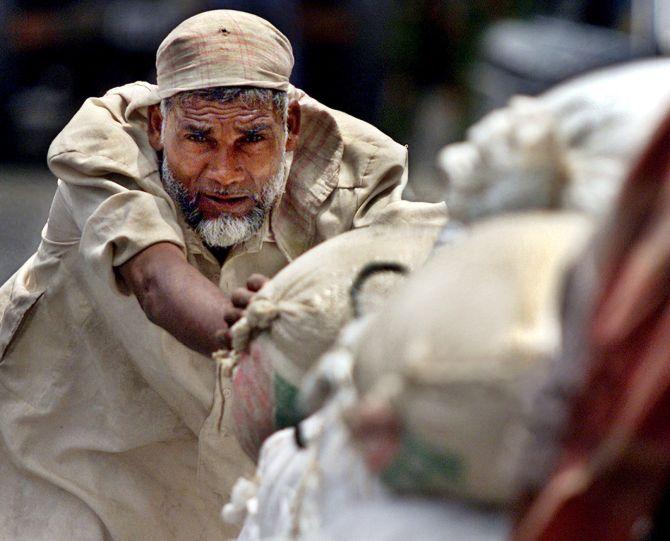 IMAGE: When it comes to employment, Muslims fared better than most groups; only the Muslim-Others category did poorly. Photograph: Arko Datta/Reuters
Employment within each religious community or relevant sub groups (Scheduled Castes, Scheduled Tribes, Other Backward Classes and Others) was ascertained by calculating the Work Participation Rate (percentage of working males (15 years plus) in the specific group) and the Unemployment Rate (percentage of unemployed (age range 15 to 29) in the designated cohort).
The WPR for Muslim males in rural and urban areas in 2011-12 was 80.4 and 77.3 respectively, better than that of Hindus (80 and 73.7) and the national average (80 and 74.1).
The Unemployment Rate corroborates these findings: Overall, Muslims fared better than most other groups; only the Muslim-Others category (urban) did poorly.
The unemployment rates for rural Muslim males in the Muslim-OBC and Muslim-Others category in 2011-2012 were 5.27 and 7.34 compared to 5.61 and 7.92 for similar Hindu groups.
Among urban males the rates were as follows: Muslim OBC -5.98, Hindu OBC- 8.31, Muslim -Others -12 and Hindu Others - 9.81.
With regards to occupational distribution, the post-Sachar report categorically states: 'Their (Muslim) share in the professional category, comprising professionals, legislators, senior officials, managers, service shop-owners and salespersons is marginally higher than not merely the SC/ST but also the general population.'
Attempts to project a false sense of discrimination by highlighting isolated areas of disparity in highly competitive government position like the IAS and IPS (3.32 and 3.19 per cent as per 2016 figures) do not pass muster when analysed objectively.
This inequity cannot be automatically attributed to discrimination: Secular factors may be contributory. An examination of the educational profile of Muslims clears the air.
Literacy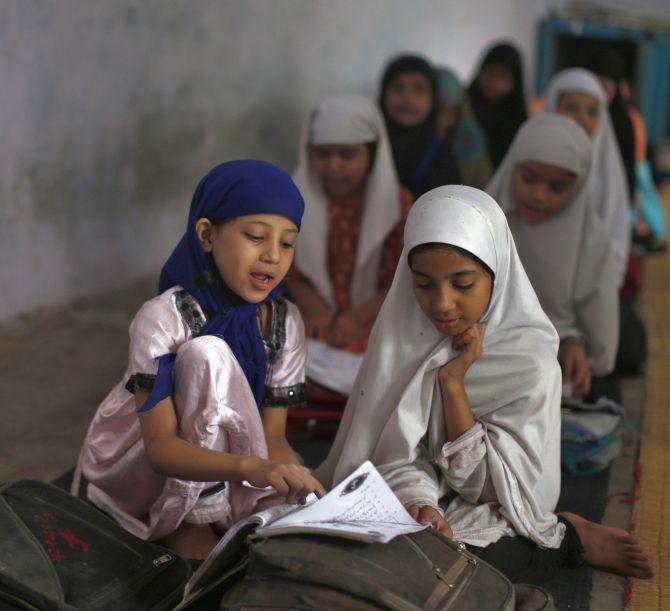 IMAGE: Madrassas, maktabs (religious schools affiliated with mosques) and Urdu medium schools appear to be the dominant forms of schooling. Photograph: Ahmad Masood/Reuters
Literacy rates (individuals of 6 years and above) among Muslims in 2011-2012 was 70 per cent -- only marginally lower than the national average (74 per cent).
Hindu SC/ST groups had the worst literary rates of 66.
However, when we delve deeper, another picture appears.
Completion levels among Muslims begin to decline at higher levels of education.
At the secondary and higher secondary levels Muslims had a completion rate of 18 versus 21 for Hindus.
Hindu SC/ST category registered a completion rate of 15.3.
Five per cent of Muslims (20 years +) are graduates (national average: 9 per cent), which clearly diminishes the appropriately qualified applicant pool, possibly leading to lower representation.
Other factors intrinsic to the Muslim community include parochial schools.
This was extensively addressed in the original Sachar report.
Madrassas, maktabs (religious schools affiliated with mosques) and Urdu medium schools appear to be the dominant forms of schooling.
The exact number of students attending these schools in unclear because of sketchy data.
However, what can be gleaned is that a whopping 30 to 50 per cent students attend Urdu medium schools in some states whose performance at the CBSE exam level is below par, raising questions of the suitability of such schools to provide modern, mainstream education.
This is the crux of the problem.
Instead of pouring in large amounts to modernise these schools as envisioned by then prime minister Manmohan Singh's 15-point programme, which to date appears to have had minimal impact (external link), we need to move towards a more effective solution: Nainstream education for one and all.
Poverty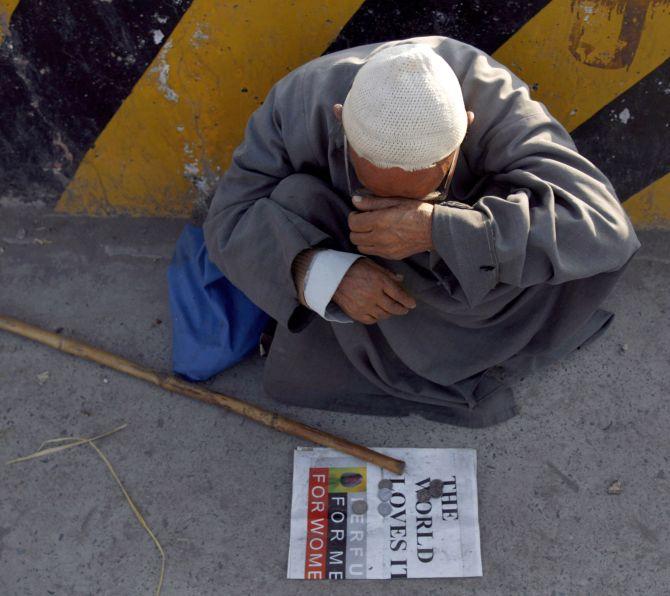 IMAGE: Except for a segment of urban Muslims, Muslims do well overall, consistently faring better than Hindu SC and ST groups. Photograph: Reuters
Poverty indices like the Monthly Per Capita Expenditure (consumption expenditure per individual) and the Head Count Ratio (percentage with consumption below the poverty line), fail to make a strong case for extraordinary Muslim poverty.
Except for a segment of urban Muslims, Muslims do well overall, consistently faring better than Hindu SC and ST groups.
The HCR for rural Muslims in the OBC and Other Category were 30.8 and 25.4 -- better than that of Hindu ST (44.8) and Hindu SC (33.8).
By the criterion of MPCE (in 1987-1988), a similar picture emerges.
Among rural Muslims the MPCE was 207.9 only marginally less than the national average of 221.9, but better than that of Hindu ST at 167 and SC at 192.
Urban Muslims are slightly disadvantaged, with an MPCE of 297 and HCR ratios ranging from 19.3 to 26.5.
However, they compare favourably with Hindu ST (MPCE 320; HCR 27.3) and Hindu SCs (MPCE 305; HCR 21.8)
Poverty in India is a hydra-headed monster which spreads its tentacles erratically clasping one community in one area and a different one in another; even segments of advanced communities are not immune.
Generalisations can therefore be misleading.
The post-Sachar report evaluation provides no new perspective and reiterates the findings of the original report.
The only definitive conclusion that can be drawn is that the Hindu SC/ST as a group continues to be the most disadvantaged lot.
Muslims have the highest WPR, a low unemployment rate and relatively acceptable poverty indices (better than Hindu SC/STs who constitute 25 per cent of Hindus) prompting the authors to rightly conclude: 'This would not entail extending reservation to the Muslim community in general in the country.'
Quotas, while politically expedient, are not the panacea.
With its myriad communities and religions, the politics of reservation can be suicidal for a country like India.
This is not to deny that there are sections in the Muslim community deserving of governmental support: They should be a part of a broader inclusive programme that includes mainstream education for all and is need-based rather than religion-centric.
The 'creamy layer' concept till now confined to OBCs needs to be extended to all categories with appropriate social and economic modifications.
The Sachar report and the appraisal of its recommendations -- the post-Sachar evaluation report -- are classic examples of self-created reality in the 'post-truth' era.
They have little utility value. They need to be rubbished.
All data is from the Amitabh Kundu Committee report or the post Sachar evaluation committee report which was constituted by the UPA government in 2013 and which submittted its report to the ministry of minority affairs in September 2014.