Does Reuters want to cover news at 'all costs' -- even at the cost of human lives? asks Sudhir Bisht.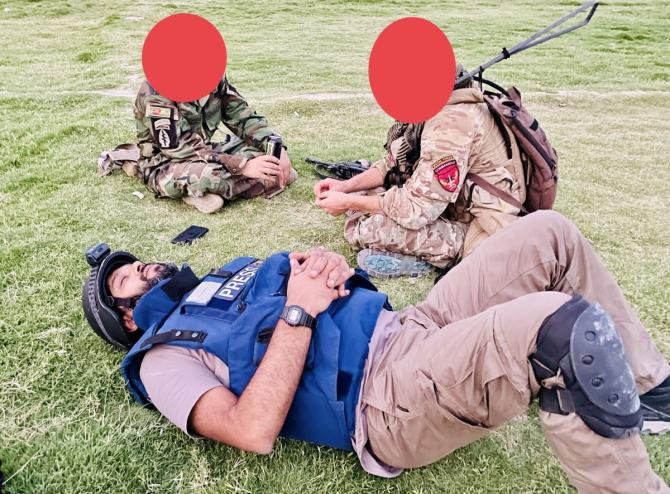 Photojournalist Danish Siddiqui's death on July 15 at the hands of the Taliban in Kandahar, Afghanistan, is devastating for his family, friends and admirers. I had not known Danish, but I am aware of his extraordinary track record in photography. He was a Pulitzer Prize-winning journalist and head of the Reuters multimedia team in India. Alas, he is gone too soon!
Philip Graham, publisher of Washington Post in the early 1960s, once said, 'Journalism is the first rough draft of history.' I think it is a very profound statement. Future historians shall build upon the writings of journalists of today. It is for this reason that the work of journalists is so important. It is often fraught with danger and that is why journalists must be respected, especially journalists in the field.
I am also reminded of a quote by Henry Grunwald, the late editor of Time magazine: 'Journalism can never be silent: That is its greatest virtue and greatest fault.'
I want to pay my tribute to Danish whose photofeatures have given us so many moments of introspection. A good picture is worth a thousand words and indeed, a photograph can say a lot without appearing prejudiced, unlike words that have become the slaves of our ideological moorings.
I would now like to turn my attention to the concept of 'embedded journalism'.
Danish worked for Reuters as a photojournalist, hired by the London-based news agency that employs more than 3,000 journalists, including about 600 photojournalists.
For those readers who may not be aware of what an embedded journalist is, I would like to give a sense of history.
An embedded journalist is a pressman who is placed within the troops of one side that is engaged in a war. The embedded journalist's job is to observe the war events and send periodic dispatches to his agency, in Danish's case Reuters.
Danish was embedded with Afghanistan's special forces engaged in fighting the dangerous Taliban.
Embedded journalists came into prominence in the Iraq war that started in 2003 and persisted for eight long years over many phases.
So Danish, ostensibly secure with the Afghan special forces, was reporting on its many battles with the Taliban. He was hurt in one skirmish that may have served as an early warning sign for Reuters to withdraw its photojournalist. But Reuters persisted with Danish and eventually another attack claimed his life.
In Danish's passing, a few points merit attention.
I want to question the very concept of embedded journalists. A journalist can never be silent, as I quoted earlier. So a journalist who is guarded by one of the two fighting sides runs the risk of reporting or filming something that may not be good for the image of the army that is carrying him along.
Could Danish have reported the fear and stress that may have engulfed Afghan special forces personnel who were at the receiving end of the Taliban onslaught?
Could he have filmed an act of Afghan special forces that was repulsive, inhuman and loathsome?
The obvious answer is, No.
Which is why I question the very purpose of embedded journalists. The journalist's first loyalty is to truth, not to the troops or even the citizens of his nation. So embedded journalists are anathema to the very concept of journalism.
I would also question Reuters on its priorities. Does it want to cover news at 'all costs' -- even at the cost of human lives?
At least 13 Reuters journalists have been killed on dangerous assignments. I am keen to know if Reuters informed all these journalists who were killed in the line of duty (duty towards whom?) about the possible danger to their lives.
Did Reuters train them well enough for them to know that their lives mattered most and a saved life with a botched-up assignment was better than a great photo opportunity that could cut short their life?
I also like to question the need for day-to-day, minute-to-minute, reporting of war. Is it not some kind of voyeurism? Is war a video game being played out in the real world? Does anyone really need to see a war?
I read that Danish's unfortunate father asked the Indian embassy in Afghanistan to help get back his son's body. I would like to know why it was not Reuters's duty to ensure that Danish's remains were transported to his motherland. Why should Reuters, which has huge influence and resources at its disposal, not do its part?
In the end, I would like to question both the right and the left to take Danish Siddiqui out of their ideological war games.
I commiserate with Danish Siddiqui's family and pay my homage.
I also pray for the return of peace to Afghanistan. It may be a pipedream, but a dream well worth dreaming.
Sudhir Bisht, PhD, writes from New Delhi.