Sunil Sethi raises five questions to avoid the pitfalls that ended his ignominious earlier tenure as chief minister exactly a year ago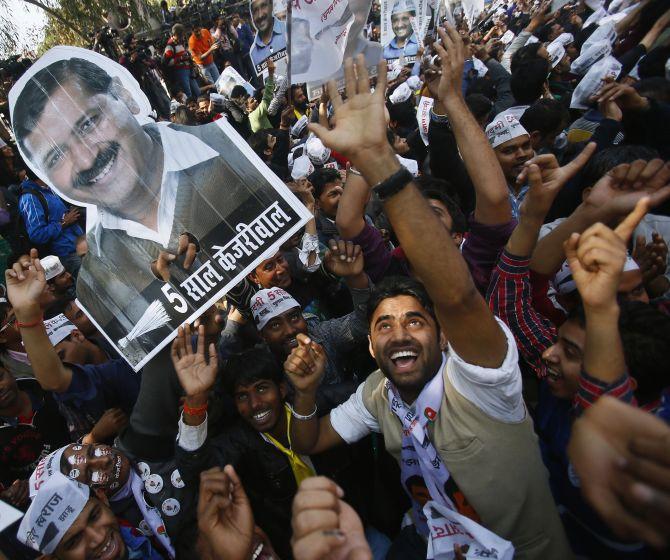 Supporters of AAP celebrate in New Delhi after the election results. Photograph: Anindito Mukherjee/Reuters

Delhi hasn't seen so heady a spring in decades nor have its election-weary denizens handed out a more heartfelt Valentine to a political leader and a recent arrival on the national scene. Arvind Kejriwal's anointing as chief minister at Ramlila Ground on Saturday will be in an entirely different key to Narendra Modi's inaugural at Rashtrapati Bhavan on a sultry afternoon last May, to which the great and the good flocked in a pageant of orchestrated splendour.
That is because no two men could be as different as the city-state's eighth chief minister, in his homespun muffler, and the nation's 15th prime minister, in his personalised pinstripe suit of shame. Yet both are now forced to co-habit the same political space till 2019-20.
Beyond their rallying cries of "Paanch saal Kejriwal" and "Ab ki baar Modi sarkar" lies a joint residency that could be fraught with tension, antagonism and confrontation. On the other hand, like two competitive but opposed chiefs heading the same enterprise, they could master the art of compromise to give back something to a city that has resoundingly voted for both. Here's my admonitory list of paanch sawaal, or five questions, to Arvind Kejriwal to avoid the pitfalls that ended his ignominious earlier tenure as chief minister exactly a year ago:
Look before you leap: Almost every Delhi government in the past has demanded full statehood for the city but failed to achieve it. Wresting control of police, land distribution, and law and order agencies from the Union government will not be easy. You know perfectly that it's a cumbersome procedure requiring parliamentary assent but that's not the only reason: Delhi is too important a prize for any Centre to relinquish its authority. For argument's sake it's worth keeping up the pressure but locking horns on the issue could lead to a head-on collision. Why not focus on more tangible gains -- Swachh Bharat and women's safety, for example -- that are the Bharatiya Janata Party's national campaigns. It will enhance your image for cooperation and earn you street cred for making the capital a safer, cleaner place. Building 10,000 well-managed public toilets and putting in efficient waste management systems will do more for you than the long-drawn out battle for complete autonomy.
Learn to balance your books: Slashing electricity rates and supplying free water are long-standing Aam Aadmi Party promises, but increased subsidies -- when the city's revenues are falling -- will show you up as a floundering householder unable to manage accounts. Quarrelling with the power distribution companies could land your government in a legal labyrinth. Like its municipalities, Delhi's electricity and water suppliers are inefficient, wasteful and corrupt. The scene outside any of their offices may surprise you: hovering at the gates are dozens of touts, some of them two-timing employees, who will accomplish jobs like contested or wrongly paid bills, or something as simple as a name change, for cash bribes. Registering property for homeowners is virtually impossible without engaging intermediaries. If you want to balance the household budget, start with a season of spring cleaning.
Be a good shepherd: Most of your cabinet is made up of political novices with little background in administration or team management. This could be an advantage but, with 67 job-seeking members of Legislative Assembly, you will be constrained by a crew that is both inexperienced and disgruntled. Their degree of success and failure will rest on your shoulders. Overzealous MLAs like Somnath Bharti gave grief last time over the notorious episode of arresting African women on specious grounds. Troublemakers should be held to account. But a good shepherd's job is also to keep his flock together.
Avoid populist gimmicks: Ruling by consensus doesn't mean holding janata durbars with a cast of thousands running amok in a stadium. Don't quibble over the sort of housing, cars or security your colleagues and you need. Excessive expense and trappings of power should be cut back, but don't reduce governance to a serial in populist gimmickry and phoney symbolism.
Don't get too big for your boots: Keep the AAP's political ambitions in check. You over-reached last time -- fielding 440 candidates in the general election and taking on Narendra Modi in Varanasi -- and failed miserably. Delhi is where your remit runs -- and it's a complicated city, with a dual power centre, vociferous middle class and vast underbelly of migrants. It's also home to more VIPs per square inch than anywhere else in the country. Handling these disparate segments -- and their clashing interests -- should be a daunting enough job for any leader for a five-year term. Be mindful of your massive mandate and groundswell of goodwill rather than harbouring delusions of grandeur. Or else the AAP's honeymoon could start evaporating like the BJP's search for a blue moon in Delhi.
Happy Valentine's Day!

Also read:
Kejriwal throws a broom Modi's way

'Kejriwal is poor, he will look after the poor'