'You have to understand the realities of Tamil Nadu politics before you decide if you want to be a politician,' A Ganesh Nadar advises the actor.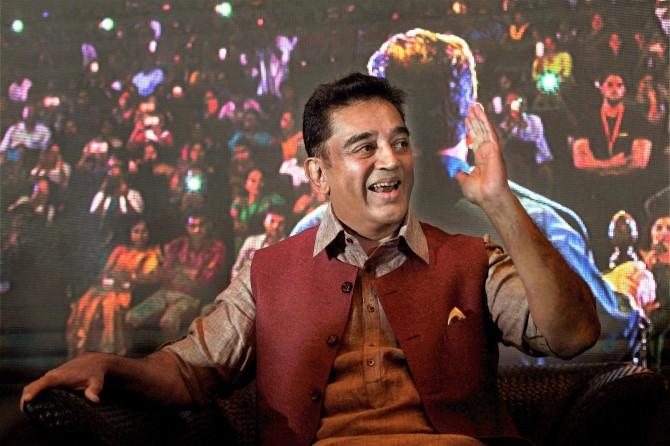 I am writing this letter to you with the best of intentions, so please don't think I don't like you.
I loved you in Sadma, Nayagan, Ek Dujhe Ke Liye and many other movies, too many to list here. But I won't still vote for you and neither do I think will many of my fellow citizens in Tamil Nadu.
History exists for us to learn from it. There was no better Tamil actor than Sivaji Ganesan in his time, but the late thespian could not win a single election. Not only that, every party that he canvassed for lost.
MGR could not act as well as Sivaji, but he had the masses with him. Why? Because his image had been built over time, first by C N Annadurai and M Karunanidhi, and later by those who wrote and directed his movies.
Tamilians saw MGR as a friend of the poor, someone they could always count on.
Vijaykanth, the most recent Tamil movie entrant into politics, acted in a dozen do-gooder movies before taking the political plunge. It took him three elections to go from 1 MLA to 29 MLAs, and just another to go to zero.
In contrast, you have just one movie, Indian, where you play the public-spirited vigilante.
Where does that stand against MGR or even Vijaykanth? Nowhere!
Like Sivaji Ganesan, you must realise that you may be a super actor, but -- no offence meant -- you are no superstar.
In these Kamal-Rajinikanth times you are clearly the better actor, but like MGR Rajini has the masses on his side.
Let me also give you a brief lesson about Tamil voters. Most of us accept that most politicians are corrupt. All we demand at election time is a share of politicians' money.
Come election time, politicians pay us a share of what they have earned in politics. The bigger the share, the more their votes.
Many of us, it seems, vote for whoever pays us the most on polling day. That is the unfortunate tragedy and reality of Tamil politics.
The rest of the country may look down on us, but we feel we are smarter than them. We are getting back what belonged to us in the first place.
Why am I telling you all this? Because I hear you are launching an app to fund your political party. You really expect us to fund your political venture?
Do you really expect us to vote for you without getting any money in return? You are naive!
During an election campaign, 'volunteers' get paid Rs 1,000 a day to go canvassing for votes. They also get food and liquor. I am sure you expect people to campaign for you for free.
Do you know most of these 'volunteers' have families to look after? If they go campaigning with you for free for 15 days, what will their families eat?
You have to understand the realities of Tamil Nadu politics before you decide if you want to be a politician.
Standing at Ennore creek will get you photo-ops, but not votes.
You must also learn that the People love humility in their politicians. Even if humility is as distant from their personalities as the Andromeda galaxy is from our planet, politicians feign humility when they interact with the voting public.
On television, I heard you say, 'I am willing to be the chief minister of Tamil Nadu'. Really!? First win a panchayat election before making such statements please.
Also, to win an election, apart from plenty of money, you need disciplined cadres to get voters to election booths on polling day.
Booth management is inarguably the most difficult skill in Indian politics and the reason why the BJP has done so well in recent elections is because the party's presiding diety Amit A Shah is the nation's best practitioner of this complex abracadabra.
And please don't make the mistake of assuming that your fans are your cadres. That would be a serious political mistake.
Your fans are no match for the DMK or AIADMK's party workers who have been in politics for years and have fought many elections.
'All the world,' Ol' Will declared in one of his plays, 'is a stage, every man his part to play'. Your part, dear Kamal, is acting. Please stick to it.
As for politics, Sivaji Ganesan may have failed, but if any Tamil actor can emulate MGR or Jayalalithaa, I believe his namesake Shivaji Gaekwad* can.
A Ganesh Nadar, raised in Bombay and schooled in Nashik, moved to Tamil Nadu in the 1980s.
*Shivaji Gaekwad is, of course, Rajinikanth's real name.