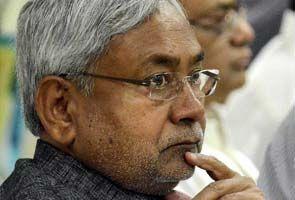 Governance was Nitish Kumar's USP among voters in Bihar -- it is now being appropriated by the Gujarat chief minister, says Aditi Phadnis
The Nitish Kumar-led Bihar government is in unstable equilibrium and in serious danger. Internally, the chatter in the Bharatiya Janata Party, which was in alliance with Kumar till recently, is that the continuance of the current government is in Narendra Modi's hands -- the government can fall when he wants it to fall. As no one else is in a position to form a government, a prolonged spell of President's Rule will follow. Of course, no one knows whether this will happen or not, or indeed, when. But Kumar is in retreat.
First the numbers. The Bihar assembly has 243 members. The halfway point is 122. Kumar has 117 MLAs and is supported by six independents. Add to this four of the Congress and superficially, it seems it will be impossible to dislodge him.
With 91 MLAs, there is no way, the next biggest party, the BJP can form a government unless the Janata Dal-United splits in half. That seems unlikely. But attrition from the JD-U cannot be ruled out.
The signs are already there. Shivanand Tiwari, inveterate party hopper and once the voice of the JD-U in New Delhi, has begun criticising Kumar. Those MLAs who were expecting to get ministerships vacated by the BJP ministers, when they walked out of the alliance a couple of weeks ago, find their hopes dashed and are ready to switch sides -- provided they get a Lok Sabha nomination. The BJP is in clover. The overall feeling is that the BJP ministers were a more performance-oriented lot than the JD-U ones -- who have proved to be extremely slow learners of governance. Now, the seat adjustment that had caused so much heartburn and had resulted in denial of seats to so many, is no longer in force. The BJP is now free to contest all 243-assembly seats and all 40 Lok Sabha seats on its own. For the party, it is a bonanza never seen before
There is no kind way to say this but the comprehensive security mismanagement of Modi's Gandhi Maidan rally has added to the impression that the Kumar government has become administration-deficient.
Actually, it's been happening for some time now. Last year at around this time, special arrangements for chhath puja on the river Ganga were so shoddy that the railing broke leading to a stampede and the death of two people. Before that, the murder of Brahmeshwar Singh, the founder of the Ranveer Sena, a private army of upper castes that is said to responsible in the killing of at least 200 people in caste wars, caused serious tension: especially when the Central Bureau of Investigation, which is now handling the case, questioned a member of the Legislative Council, belonging to the JD-U! Now we are hearing that famous strongman Shahabuddin's wife, Hena Shahab, might get a JD-U nomination.
Kumar is trying valiantly to fight back but looks increasingly like a wounded tiger. His recent speech on Modi was great for rhetoric -- it exposed Modi's lack of history and education. But frankly, no one wants Modi because of his educational attainments. The governance was Kumar's USP among voters -- it is now being appropriated by Modi who says, almost mockingly, how easy it is to please Biharis because they are happy with so little.
How much can Kumar do on his own? It was alleged, by his elected colleagues, that Kumar's friends were entirely from the bureaucracy, that he conducted his politics through them rather than legislators. But sadly, those very bureaucrats are now letting him down. There can be no justification for the series of blasts in Gandhi Maidan except bureaucratic laxity. And yet, no heads have rolled.
There's also the Lalu factor. A wave of sympathy especially among his clansmen is sweeping Bihar. There are still those who say they can never forgive Lalu Prasad for Bihar's wasted years. But then they sigh. A man who's party is keeping the government in Jharkhand afloat is himself in jail! Electorally, this may count for nothing. It seems unlikely that Lalu Prasad's wife and son will be able to turn an emotional advantage into an electoral quotient. But the jury is still out.
How can Kumar reverse this state of affairs? Hard to say, but he has to -- and fast. A bureaucrat says there is no wave for Modi anywhere in India -- except possibly in Bihar. He might be right.