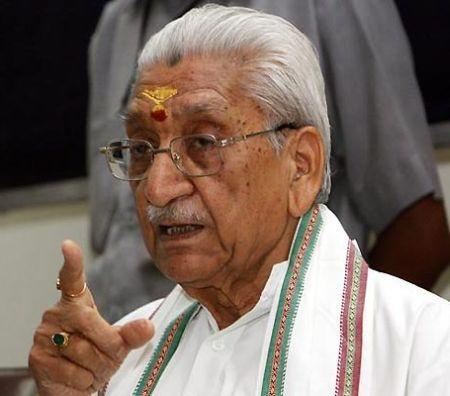 'Ashok Singhal was an amazing missionary, a monk in civil dress. His personal ego evaporated before the national cause.'
Rajya Sabha MP Tarun Vijay pays tribute to the VHP leader who passed away on Tuesday, November 17.
On December 26, 2012, Ashok Singhal and I flew together to Ahmedabad to participate in Narendra Modi's swearing-in as chief minister of Gujarat in Gandhinagar. Ashokji was thrilled to see Modi crossing all hurdles and his path to New Delhi getting more and more cleared.
Those two hours on the flight we spent talking about Modi and why the nation needed him. "Vijayji (as he always called me), it is not the BJP (Bharatiya Janata Party) or any other organisation that is making Modi's path to rule Delhi possible. It is the collective sadhana of the sages and saints who have been praying day in and day out to give this nation a ruler who would take our Bharat to the glorious heights of power and prosperity."
"Centuries of subjugation and mental slavery have resulted in the decay of our national institutions, a rich nation that has the largest number of poor, a high centre of great learned people that has the largest number of illiterates," he told me. "Farmers are dying and people are leaving their homeland to find better avenues. This is not the India of our dreams where the Hindu ethos is humiliated daily and a strong de-nationalised media loves to attack Hindu sentiments."
"I am clearly seeing that Modi will be the leader who would prove the most successful this nation has ever seen," he said.
That was the time when several voices were emerging from Gujarat, indicating a rift within Hindu society on Modi's rise. When I asked Ashokji about it, he said, "I know several people are working to ensure that Modi doesn't reach Delhi. That has always been an unfortunate part of Hindu history."
"That is the reason I am personally going to attend the swearing-in ceremony, to put at rest all such speculation and to tell all that we are fully behind Modi."
I was overwhelmed. "Sir," I told him, "you are the true national leader, a rishi who has crossed all hurdles, personally coming to attend the swearing-in so that nobody is able to spread rumours about Hindu organisational support to Modi."
He smiled and said, "Never forget, the prayers of saints never go unfulfilled."
That was Ashok Singhal, whose personal ego and pride simply evaporated before the national cause. He saw to it that everyone who was working against the rise of Modi cooled down and was sternly told to remain silent.
He toured the country, defying ill health and reached out to Hindu organisations and spiritual leaders, telling them if it did not happen now, it would never happen again.
Forget your personal complaints, he said, forget all that you held against Modi, just remember here is a man who will work selflessly for the nation and end the darkness of decay we see all around.
Ensuring a Modi win is the biggest rashtra sadhna today, he said.
After he succeeded and watching Modi's swearing-in as prime minister, he whispered, "Now I can die peacefully."
He was an amazing missionary, a monk in civil dress, as the Rashtriya Swayamsevak Sangh pracharaks (life workers) are.
I first met him in Delhi in 1979, when he was the prant pracharak (provincial organiser) of the RSS and used to stay at the RSS' Malkaganj office.
Since our salary at Panchjanya was too meagre, I was allowed to stay at the office with my small steel trunk. He would leave early morning for the shakha and other organisational work and return late at night. Often, he would come to me and ask, "Have you taken some food or not?"
That was enough for us to feel secure and well cared for. When he found a little more time, he would tell us his story, how he came in contact with the RSS, how former Sarsanghchalak Rajju Bhayya (Professor Rajendra Singh) met him, how Bhaurao Deoras (another late Sarsanghchalak Balasaheb Deoras' younger brother) inspired him to be a pracharak and his love for music.
He was a good violin player and had a melodious voice. He had learnt classical music at Prayag (Allahabad) and was a devoted follower of the Pandit Omkarnath Thakur gharana.
He belonged to one of the richest and influential families of Prayag. During his studies at Banaras Hindu University, where he was pursuing a bachelor's degree in metallurgical engineering from the university's Institute of Technology in 1950, he came in contact with Bhaurao Deoras, who inspired him to become a pracharak.
He was already friends with Rajju Bhayya. The two highly qualified men (Professor Singh was head of the physics department, Allahabad University, and a close disciple of Professor C V Raman), became full time workers of the RSS.
It was the Meenakshipuram episode in 1981 (where many Dalits converted to Islam) that brought a sea change in the dynamics of the Hindu movement in India.
A Virat Hindu Sammelan was organised and Dr Karan Singh left the Congress to lead it. Ashokji, who was by that time the organising secretary of the Vishwa Hindu Parishad, helped form the Shri Ram Janambhoomi Mukti Yagya Samiti in 1983 in the presence of Ayodhya Mahant Ramchandra Param Hans.
In 1984, an all-India conference was organised and a resolution was passed to free the Ram Janambhoomi in Ayodhya. India was to witness a paradigm shift in its history of movements and mass mobilisation after that.
The unlocking of the Ram Janambhoomi temple, the shilanyas (laying of the foundation stone by a person from the scheduled caste community), creating a Karsewak Puram at Ayodhya to start collecting and preparing building material for the temple began.
The struggle reached its pinnacle from October 30 to November 3, 1990 when a number of kar sewaks were shot dead around Ayodhya and two years later when the Babri Masjid structure fell.
When in 1990, Ayodhya was sealed off, Ashokji took a media identity card from me as a correspondent of Panchjanya and entered Ayodhya to boost the morale of the kar sewaks.
He was like my guardian angel, visiting our home and taking care of our well being. When my mother turned 90, he specially came to Dehradun to felicitate her. I remember when there was a problem between Cambodia and Thailand over a Shiva temple on their border, known as the Preah Vihear temple or Shikhareshwar, and I needed some help, he came forward and did everything to see the trip happened and a report on it was prepared.
He was essentially a fighter, a warrior who led his followers from the front. He wanted to make the VHP the umbrella organisation for all the religious communities in India. He had good relations with the Dalai Lama and other spiritual leaders who held him in high esteem.
With his demise India has lost an extraordinary icon, someone who was behind an unprecedented mass upsurge that India saw for the first time post Independence. It brought titanic changes in our political language, agenda and debates.
He will always be remembered as a rock-like figure, leading Hindus the world over.