'If tempers all over the country are so fragile that they can be lost because a couple of film stars give their child the same name as a 14th-century warlord, exactly what sort of compromises can be palatable?' asks Mihir S Sharma.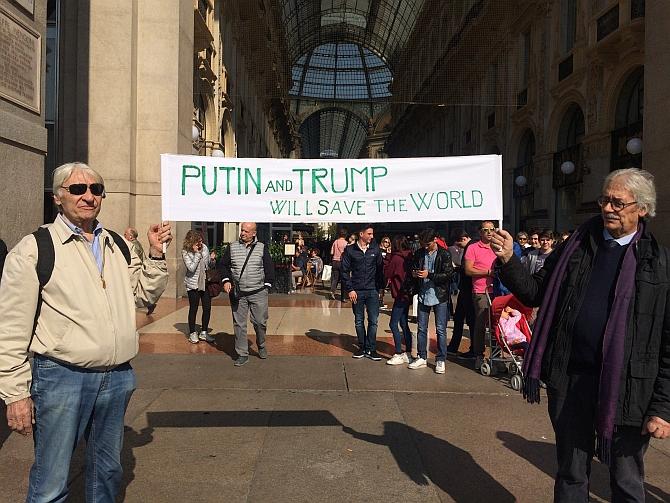 Donald Trump is a sore winner. This has come as something of a surprise. Everyone expected him to be a sore loser, but nobody expected that, were he to win, he would nevertheless declare his own election rigged, constantly grouse about what Hillary Clinton's campaign got wrong, or keep up his assault on the media. He was supposed to be too busy exulting in his success.
But, oddly enough, the angry victimhood that primarily endeared him to his fervent supporters has not ebbed at all since November 9.
Nor has the online venom of Trump supporters been toned down even slightly. If anything, there's a slightly higher pitch to it now.
Less political persuasion and more organised bullying, the online Trump Train is no longer a joke; it's quite clear that it is the one force the president-elect respects, and there's every chance that it will steam him, his country, and the rest of us off a cliff.
We in India are familiar with this phenomenon.
In the years leading up to May 2014, the aggressive young men who pushed Narendra Modi to the forefront of our national story -- and yes, they were mostly young men, and certainly they were mostly aggressive -- don't seem to have moderated in victory at all.
Some might have expected that the scale of Modi's triumph, and the way that his party now dominates the national political scene, would turn their minds to other things.
Mission Accomplished, you might say. But their online demeanour has not improved -- if anything, it's gotten worse.
Nor are things better offline.
Recently, at the Bangalore Literature Festival, I was privileged to see and hear some of them first-hand.
They carried with them enormous amounts of anger; every time a point was made that they sensed they would agree with, they cheered lustily even before the sentence was completed. They jeered their opponents with equal concentration and forcefulness.
When they asked questions, it was with quivering, suppressed rage.
Every now and then one or two of them would stand and shout something, as if too furious to sit and listen. And this was at panels at which their views were fully and ably represented.
It appears there is an assumption we must revisit about the right-wing, populist turn in global politics.
It's generally argued by woolly centrists -- and by many of the anti-'elitist' left -- that if these supposedly excluded voices are 'listened to,' their anger will sap away, and they will be drawn into rational frames of reference.
That if they are granted power, they will calm down, be regular political players.
Indeed, to an extent, that is how Modi himself has behaved.
Other political forces need to reach out and woo these voices -- even if they are tinted with majoritarianism -- if the institutions of politics are to survive.
But what if that's wrong?
What if no amount of reaching out, of delivering power within existing systems, will be enough to propitiate this anger?
If these victories aren't enough, what sort of victories will be sufficient?
In many cases, what is being sought is a wholesale repudiation of the past, and an attempt to roll back the years.
In the US, three decades of social progress are at stake.
Politics, commentary, and entertainment have become increasingly diverse and progressive; the excluded feel excluded not because they are in fact excluded but because they are no longer the only voices.
Compromise may be impossible, because compromise is itself defeat in their eyes.
In India, meanwhile, the anger will reach back even further. If tempers all over the country are so fragile that they can be lost because a couple of film stars give their child the same name as a 14th-century warlord, exactly what sort of compromises can be palatable?
Today, Teen Murti is too much a memorial to Nehru; tomorrow, why have a memorial to Nehru at all?
Today you have to stand for the National Anthem at movies; tomorrow you won't be standing with sufficient respect; day after tomorrow, the anthem still isn't being played in enough places, why not on TV, too; next week, the anthem is too secular and tainted with association with that prominent anti-national, Tagore.
Today, the Modi government is being held back by its 'Delhi insider' components like Arun Jaitley, or its dependence on bureaucrats; tomorrow, anyone who has ever cooperated with a non-BJP government should be purged from decision-making; day after tomorrow, even Modi himself is too respectful of past 'secular' icons and traditions.
What then?
Let us not assume that what we are seeing is a simple swing of the pendulum the other way, and that politics is operating within normal operational parameters.
Other movements -- India Against Corruption, say, or the Tea Party -- could have been accommodated in political structures.
I'm not sure how this inchoate, vast, reactionary anger of the already privileged can be.
IMAGE: Vladimir Putin and Donald Trump supporters in Milan, Italy. Photograph: Vittorio Zunino Celotto/Getty Images