'He was a magnificent looking man -- perhaps the best looking international actor of the 60s, 70s, 80s, 90s, even in the current century. And quite definitely the first actor from Asia to make it big in the West,' says Aseem Chhabra.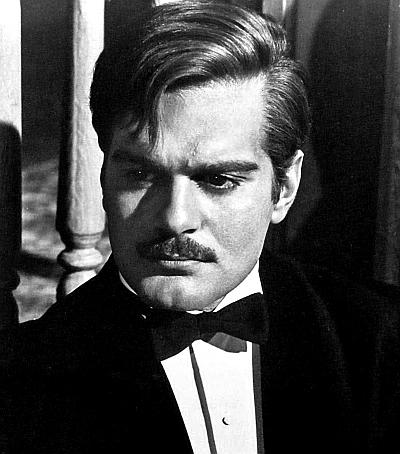 In the late 1970s my brother and I went to the Chanakya Theatre in Delhi -- a large single-screen theatre that often showed new and sometime old classic Hollywood films.
It was around that time that I saw Gone With The Wind for the first time at Chanakya. And the added advantage of the theatre in those days -- ticket price for the first two rows was 65 paise.
This time my brother and I had gone to a classic we had heard about for many years -- British master David Lean's 1962 film Lawrence of Arabia, with a breakout performance by Peter O'Toole. But the film also boasted of the international debut by the handsome Egyptian actor Omar Sharif.
We got the corner seats in the first row of the theatre, the giant 70mm screen looming right in front of us. From our vantage point the picture looked grainy and it was almost impossible to see the entire screen at one time. And so my brother and I would keep pointing to the right or the left side of the screen to see characters as they would enter the frame or pass by from our blind spot.
And that is how my brother pointed to the left side of the screen as a shimmering image appeared from a distance. It was Sharif's character Sherif Ali, dressed in black as he rode his camel and approached the camera.
O'Toole's T E Lawrence was standing in the foreground, by a well and accompanied by another Arab. As Ali approached the two he shot the other Arab. That well belonged to Ali and no other Arab could drink water from it.
That was some convoluted Arab logic that I did not understand, but it sure was a dramatic entrance for Sharif's Ali, who looked very cool and remained smiling while Lawrence panicked in his khaki uniform. And it looked even more dramatic and thrilling as we leaned back on our seats staring at the screen a few feet away from our noses.
Years later in 2002 I watched Lawrence of Arabia with my son in the Abel Gance open-air theatre in the heart of Telluride. The film was shown one day before the start of that year's Telluride Film Festival. My son loved the film and to me it was such a momentous occasion -- sharing a masterpiece of my teenage years with my child.
But I had heard of Omar Sharif long before I first watch Lawrence of Arabia. My mother was a fan of Boris Pasternak's 1957 novel Doctor Zhivago. Banned in the Soviet Union for its portrayal of the hardship the Russians had to undergo during and after the revolution, Doctor Zhivago was an epic scale story set over a couple of decades in the early 20th century.
But what my mother was even more excited about was that the film Doctor Zhivago (1965), again directed by David Lean and starring Omar Sharif in the lead as Yuri Zhivago, a physician and a poet, was about to open in India in the late 1960s.
Doctor Zhivago was rated for adults and obviously my parents did not take me to see the film. I do not know if it happened before she saw the film or after, but even at a young age I could tell that my mother had a crush on Omar Sharif.
Last week when I heard the news of Sharif's death I posted his pictures on Facebook along with a comment that my mother liked him a lot. What I did not expect was that many of my friends would add comments about how their mothers also had crushes on Sharif.
Also on Friday, July 10, Turkish film critic Ali Arikan wrote on Slate about how he feared that his mother would be devastated hearing the news. The same day my New York-based Italian journalist friend Annalisa Merelli tweeted 'All the 80+ ladies in my grandma's little town (my granny included) have been in love with him for 50 years.'
I first saw Doctor Zhivago in 1974 during a summer trip to London. And looking back I can understand why all the grandmas in Italy, and the mothers in Turkey and India fell in love with Omar Sharif.
He was a magnificent looking man -- perhaps the best looking international actor of the 60s, 70s, 80s, 90s and even in the current century, when he acted in a lovely little film Monsieur Ibrahim (2003).
In Doctor Zhivago he had the warmest smile, twinkling eyes and a shy, reserved, but firm way of speaking as he expressed his love for the nurse Lara (Julie Christie) while also unable to abandon his wife Tonya (Geraldine Chaplin).
His Egyptian Arab looks, moustache -- rare for Hollywood actors -- and his beautiful accent made him truly exotic, long before that term was much maligned and looked down upon by politically correct people in Third World countries.
Apparently Lawrence of Arabia was banned for a while in Turkey because it was deemed anti-Turkish. And yet as Arikan writes in his piece: 'It wasn't just that all the girls wanted to be with him, and all the boys wanted to be him. To young people in the Middle East, Omar Sharif was an icon, an ideal: He was the promise of a better world.'
I would perhaps not go that far about my fascination with Sharif. Our very own Shashi Kapoor -- some would call him the best looking Indian movie actor of all times -- had already become an international star in the US and UK with films like The Householder and Shakespeare Wallah. And Kapoor surely made India proud in latter films like Siddhartha and Sammy and Rosie Get Laid.
But Kapoor never acted in huge Hollywood studio productions. With the two masterpieces by Lean and then films like the delightfully romantic Funny Girl (1968) where he co-starred with Barbra Streisand, Sharif was quite definitely the first actor from Asia or the Third World to make it big in the West.
On Friday, the news about Sharif's death made me think a lot about my mother when she was younger and enjoyed reading books and watching films.
For the past several weeks she has been recuperating from a series of medical problems, so I do not know if she has read or heard about Omar Sharif's death. But I know she will be really sad when she hears the news.
Image: Omar Sharif in David Lean's classic Dr Zhivago. Photograph kind courtesy, Wikipedia