'In 2015 I watched films in so many places. I attended several film festivals around the world -- Berlin, Tribeca (New York), Telluride, Toronto, Zurich, Mumbai, Dharamsala and Goa,' says Aseem Chhabra, author of a forthcoming book on Shashi Kapoor.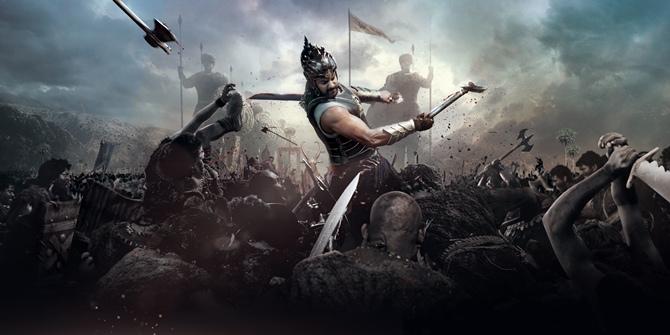 IMAGE: A scene from the epic film, Baahubali.
As a journalist who often writes about films, I end up seeing many, many films -- at festivals, in museums in New York City and sometimes even when I have to buy tickets. But it is impossible to remember all the films one saw in a year, or for that matter even in a month.
So in 2015, inspired by something similar Steven Soderbergh did the previous year, I decided to write down the name of every film I saw, even if I saw it more than once or revisited after many years.
In 2015 I watched films in so many places. I attended several film festivals around the world -- Berlin, Tribeca (New York), Telluride, Toronto, Zurich, Mumbai, Dharamsala and Goa.
My two favorite museums in New York City -- the Museum of Modern Art and the Museum of the Moving Image -- show films year round, on big screens. My museum memberships allow me to see all those films for free.
In addition, I am the programming director of two festivals -- the New York Indian Film Festival and the Silk Screen Asian American Film Festival in Pittsburgh. In 2015 I had to watch a lot of films for those two festivals.
I watched films on airplanes, on Netflix, Amazon, iTunes, Google, Hulu, DVDs and even on YouTube.
And while researching for a book that I recently finished on Shashi Kapoor, I revisited 37 of the star's films -- some classics, others very bad.
It has been a rich year full of memories and film watching experiences. At some festivals I have watched four or five films a day and then fallen asleep for brief moments during a particular screening.
And a few times I watched a particular film again, just to be awake through the entire screening and to appreciate it one more time.
I started the year with Jean-Luc Godard's critically acclaimed 3-D experimental film Goodbye to Language. The film did not speak to me. And I ended the year re-watching Asghar Farhadi's 2009 Berlin winner About Elly, a beautiful take on contemporary Iranian society with engaging characters, and a mystery that leaves them all rattled.
So here is the list of all the films I watched in 2015, some more than once. That is 330 films in 365 days!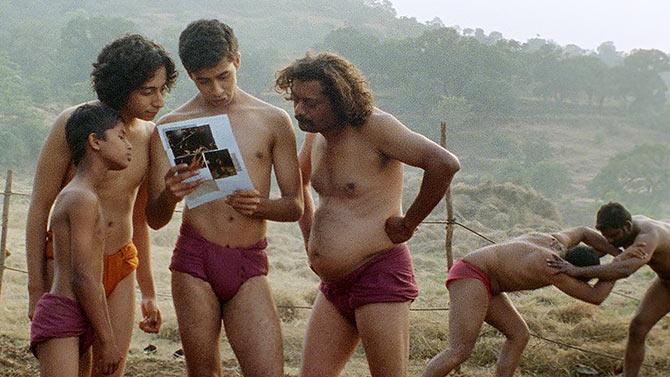 IMAGE: Suraj Sharma, Tony Revolori in Umrika.
January
2/1: Goodbye to Language
3/1; Stranger at the Lake
4/1: Boyhood
7/1: I Am Steve Lopez
8/1: Citizen Four
9/1: Involuntary
12/1: White God; The Normal Heart
14/1: Play; Force Majeure
15/1: Chotedor Chobi
16/1: Gangs of Wasseypur 1 & 2
17/1: Umrika
19/1: American Sniper
21/1: The Human Capital; Eastern Boys
22/1: Umrika
23/1: Placebo; Boogie Nights
25/1: Safe; Far From Heaven
26/1: Being Bhaijaan; Jai Ho; Benegal's New Cinema
27/1: Good Ol Boy
28/1: Citizen Four
29/1: Timbuktu
30/1: Miss India America; Annie Hall
31/1: The Godfather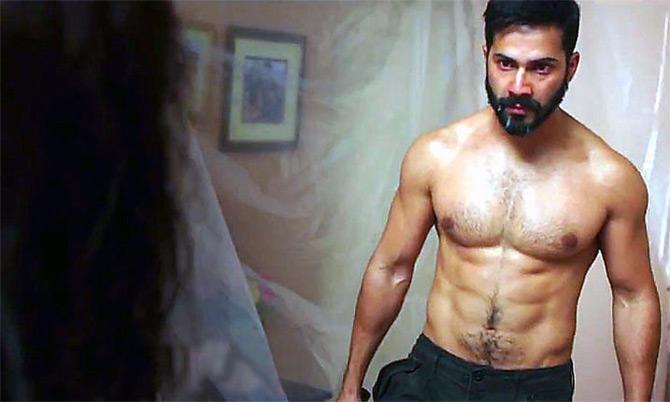 IMAGE: Varun Dhawan in Badlapur.
February
1/2: The Godfather Part 2
2/2: The Hours
4/2: Revolutionary Road
5/2: Blue Blood; Sea Shore
6/2: Taxi; Queen of the Desert; 45 Years
7/2: Atomic Mother; Victoria
8/2: Mr Holmes; Ode to my Father; Love, Theft and Other Entanglements; How to Win in Checkers (Every Time); What Happened, Miss Simone?
9/2: I Am Michael; Dhanak
10/2: Everything Will Be Fine; Nasty Baby; 54
11/2: Ned Rifle; Fifty Shades of Grey
12/2: 13 Minutes; Sworn Virgin; Thanatos Drunk
13/2: Big Father, Small Father and Other Stories; Cinderella; Chasuke's Journey
14/2: Blue Hour; Pina; Tell Spring Not to Come This Year
15/2: City of Dark
22/2: Badlapur
26/2: Premium Rush; Wadjda
27/2/: All The President's Men
28/2: Coffee Bloom; Rough Book; Yeh Hai Bakrapur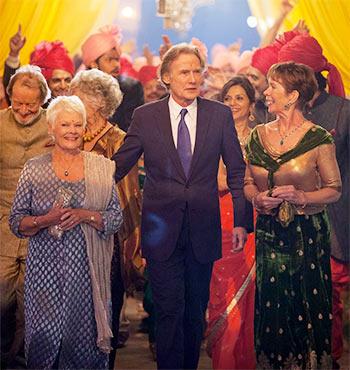 IMAGE: A scene from The Second Marigold Hotel.
March
1/3: Futuro Beach
2/3: The Second Best Marigold Hotel
4/3: The Second Best Marigold Hotel
7/3: Meet the Patels;
12/3: Buena Vista Social Club
15/3: Bey Yaar
16/3: Gour Hari Dastaan
17/3: NH10; Broken
18/3: Broken Horses; Trishul; Unfreedom
19/3: Parinda; A Moment of Mishearing
20/3: Haemoo; Boys
21/3: Kalyug; New Delhi Times
22/3: Oslo, August 31; The Disappearance of Eleanor Rigby; Her
24/3: Crow's Egg
25/3: The Kindergarten Teacher
26/3: Sammy and Rosie Get Laid; Court
27/3: Junoon
28/3: The Nightingale; Tribe
29/3: Song of Lahore
30/3: Theeb; Dum Lagake Haisha
31/3: Man From Reno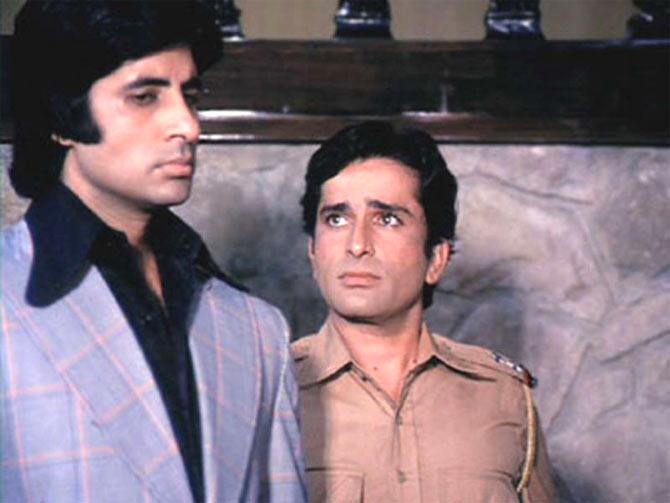 IMAGE: Amitabh Bachchan and Shashi Kapoor in Yash Chopra's Deewar.
April
4/4: Detective Byokmesh Bakshi!
7/4: Ek Hazarachi Note
8/4: Excuse My French; Saari Raat
9/4: Deewar; Tangerines
10/4: Vive L'Amour
11/4: Among the Believers; Bombay Talkie
12/4: Pather Panchali; Aparajito; Apur Sansar
13/4: Kabhi Kabhie
17/4: The Adderall Diaries; Hungry Hearts
18/4: Meadowland; Wednesday 4.45; Viaje
19/4: The Cut; Sunrise
21/4: The Overnight
22/4: Grandma; Dirty Weekend; Stranded in Canton
23/4: Good Kill; Wondrous Boccaccio
24/4: English India; Help Us Find Sunil Tripathi
25/4: Aloft; Virgin Mountain; Bridgend
26/4: Viaje
28/4: Nuoc 2030
29/4: The Last Reel
30/4: Heat and Dust
IMAGE: Bhumi Pednekar and Ayushman Khurana in Dum Laga Ke Haisha.
May
4/5: Margarita, With a Straw
5/5: Maqbool; M Cream
6/5: Omkara; Haraamkhor
7/5: Haider; OK Kanmani
9/5: Labour of Love; Dum Laga Ke Haisha
10/5: Labour of Love
11/5: Izaajat; Futureless Things; Silsila
13/5: Piku; Doosra Aadmi
14/5: Flapping in the Middle of Nowhere
18/5: Namak Halal; Side Streets
24/5: Tanu Weds Manu
25/5: The Japanese Dog
25/5: Kala Patthar
28/5 Pyar Ka Mausum
29/5: Me and Earl and the Dying Girl
31/5: Aa Gale Lag Ja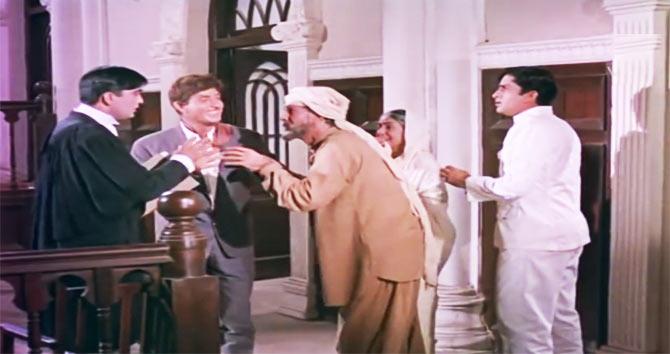 IMAGE: Sunil Dutt, Raaj Kumar, Balraj Sahani, Achala Sachdev and Shashi Kapoor in Waqt.
June
2/6: Jab Jab Phool Khile
3/6: The Wolfpack
4/6: The Householder; Dil Dhadakne Do
5/6: Ex Machina
11/6: In Custody; Dharamputra
12/6: The Deceivers
17/6: Waqt
18/6: Prem Patra; Jinnah
19/6: Immaan Dharam
22/6: Siddhartha
23/6: Roti Kapada Aur Makan
27/6: Labour of Love
28/6: Nobody from Nowhere
30/6: Amy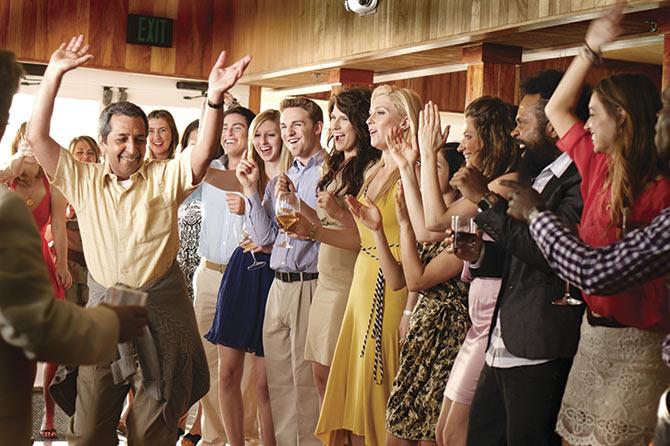 IMAGE: Roshan Seth in Brahmin Bulls.
July
2/7: Haseena Maan Jayegi
4/7: Aamne Saamne; The Third Man; Sharmeelee
5/7: The Fire Within
7/7: Suhana Safar
7/10: Theeb; Darling; Shaan
7/11: Crow's Egg; Tangerines; Benazir
12/7: Brahmin Bulls; How to Win at Checkers (Every Time)
13/7: Melbourne
14/7: Amu; Chor Machaye Shor
17/7: Red Amnesia
18/7: A Picture of You; Live From UB
19/7: The Grandfather of Dogs
23/7: Phoenix
27/7: Mistress America
28/7: Meru
31/7: Roja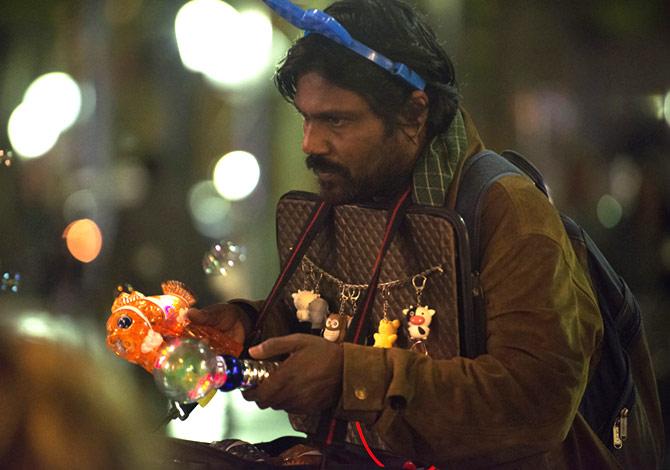 IMAGE: A scene from Dheepan, the award-winning film on Sri Lankan Tamils trying to make for a life for themselves in Paris.
August
1/8 Bombay
2/8 Dil Se
4/8: Mission Impossible: Rogue Nation
5/8: The Second Mother
6/8: Baahubali
7/8: Red Shoes; Black Narcissus; Amar Akbar and Anthony
8/8: Mean Streets; On the Waterfront; One Crazy Thing
10/8: Priest
11/8: Viva Zapata; Sholay
15/8: Queen Margot
16/8: Human Capital
17/8: Learning to Drive
20/8: Leon Morin; Priest
22/8: Lawrence of Arabia
23/8: 36 Chowringhee Lane; Victoria
24/8: Queen of Earth
25/8: Tomorrow We Disappear
26/8: Son of Saul
27/8: Mia Madre
29/8: Casablanca
30/8: Stromboli
31/8: Dheepan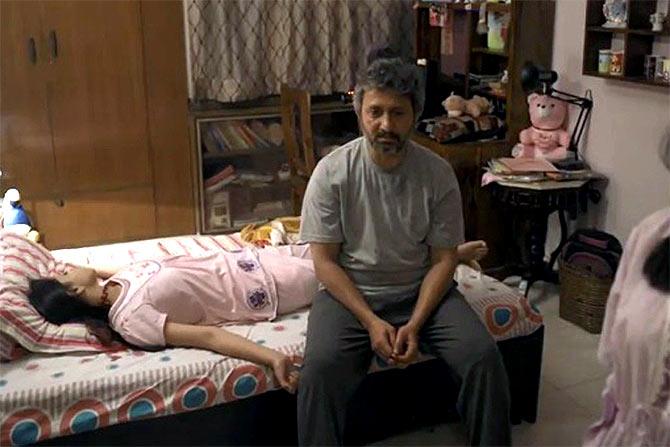 IMAGE: Konkona Sensharma and Neeraj Kabi in a scene from Talvar.
September
1/9: The Assassins
2/9: A Flickering Truth
4/9: Viva; Heart of a Dog; Taj Mahal
5/9: Room; Anomalisa; He Named Me Malala; Steve Jobs
6/9: Black Mass; Ixcanul; Tikkun; Only the Dead
7/9: Beast of no Nation; Spotlight; Suffragette; Rams
10/9: One Floor Below; Sicario
13/9: Trumbo; Beeba Boys
14/9: Talvar; Desierto; Angry Indian Goddesses
15/9: London Fields; Black; Truth
16/9: The Man Who Knew Infinity; The Idol; Parched
17/9: Baba Joon; Desde Alla; The Danish Girl
18/9: Stonewall; The Clan; Youth
22/9: Rocco and His Brothers
23/9: Umberto D
26/9: The Dressmaker; Colonia
27/9: The Dark Side of the Moon; In Jackson Heights; 13
28/9: Carol; The Program; The Club
29/9: 45 Years; Naked
30/9: Mediterranea; Boi Neon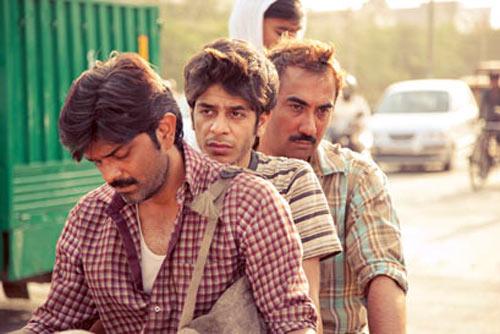 IMAGE: Shashank Arora, center, and Ranvir Sheorey, right, in a scene from Kanu Behl's Titli.
October
5/10: The Walk
9/10: Junoon
18/10: Bridges of Spies
19/10: Mustang
30/10: Land and Shade; Risk of Acid Rain; Aligarh
31/10: Remember; Titli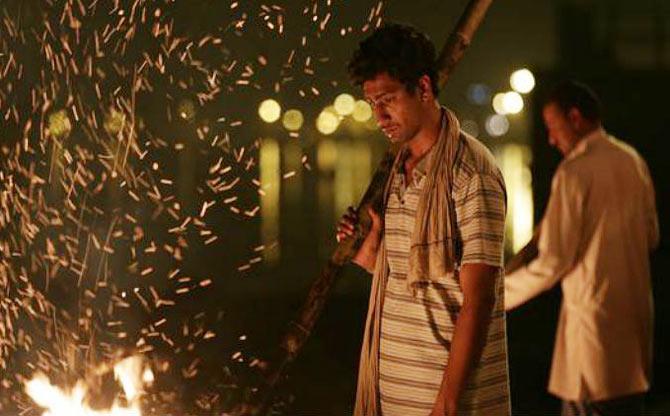 IMAGE: A scene from Masaan.
November
1/11: Pyaasa; X
2/11: Sleeping Giant; Endless River
3/11: Interrogation; Peddlers
5/11: Titli
7/11: Kothanodi; Hope; Placebo
8/11: Island City; Chathi Koot; Masaan
11/11: Main Aur Charles
21/11: G-A Wanton Heart; The Threshold
22/11: Raghu Rai: An Unframed Portrait; Junoon
23/11: Autohead; An Off-Day Game
24/11: Our Little Sister; Lipstick Under My Burkha
IMAGE: Priyanka Chopra as Kashibai in Bajirao Mastani, arguably her finest performance..
December
7/12: Tamasha; For the Love of a Man
19/12: Bajirao Mastani; The Fencer
21/12: Piku; The Gift; Detective Byomkesh Bakshy!
22/12: Steve Jobs
23/12: Tangerines
24/12: Waiting
26/12: Bajirao Mastani; Carol
27/12: The Big Short; The Last Picture Show
28/12: Brooklyn; Anomalisa
30/12: Cartel Land
31/12: About Elly