Going behind the scenes with director Mira Nair.
Monali Sarkar reports.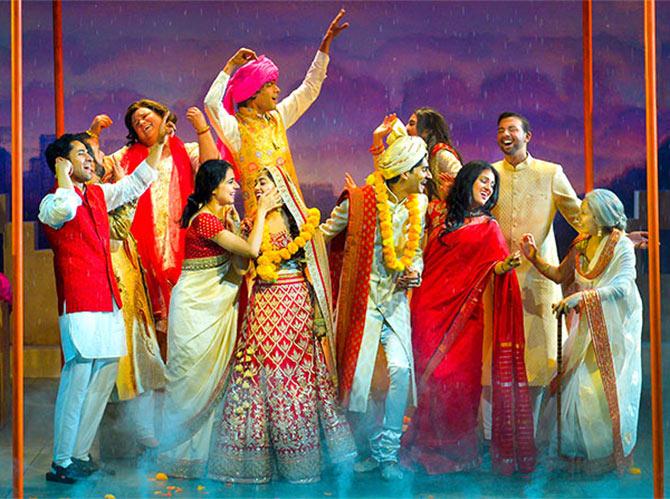 IMAGE: In May 2017, 16 years after its movie release, Monsoon Wedding returned as a musical. Photograph: Kevin Berne/Berkeley Repertory Theatre
It was three years ago, in a very loud restaurant in midtown New York, that filmmaker Mira Nair first discussed her desire to turn Monsoon Wedding into a musical.
It had been a dream for over a decade, she told Tony Taccone, artistic director, Berkeley Repertory.
He remembers her words: 'The clash between classes, between the old traditions and the modern, Western world is only increasing... so the story is still very relevant. And there's so much music at an Indian wedding! It makes perfect sense as a musical.'
Tacone was hooked. Much as the rest of us were in 2001 when Monsoon Wedding released.
The film not only earned Nair the Golden Lion Award at the Venice Film Festival -- making her the second Indian after Satyajit Ray to have won it -- it also charmed the box office.
The film was set in a Punjabi wedding. But it was somewhere all Indians had been, something all of us had seen.
The uncles and aunties who can be annoying yet weirdly loveable.
The plotting, joking, and dancing with cousins.
The increased appetite and reduced filters for lusty jokes.
The burden of past relationships that curiously seem to gain more weight.
The secrets.
And 16 years later, Monsoon Wedding stills works; not for a moment does it seem tired or dated.
Maybe that is why it took only 2 hours for Tacone to want to get his hands on the script.
'But it's a long journey from artistic dreaming to an actual production,' Tacone says. 'Most new plays are developed through a series of workshops, and Monsoon Wedding was no exception.'
Monsoon Wedding -- The Musical had its world premiere at the Berkeley Repertory in California in May and has received warm reviews that translated into extensions.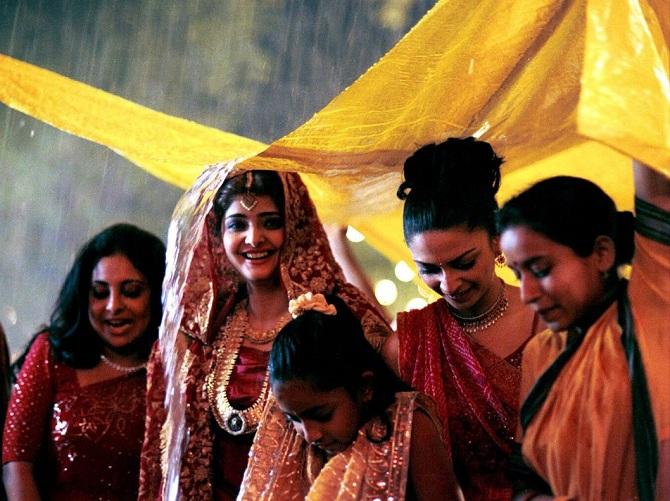 IMAGE: Monsoon Wedding, the movie, won filmmaker Mira Nair the Golden Lion at the Venice Film Festival -- making her the second Indian after Satyajit Ray to have won it.
For Nair, it is a homecoming of sorts.
'I was deeply, intuitively happy as an actor on stage when I first began working,' Nair says in the programme notes. 'From age 16 until 19, I was part of a repertory company -- several actually -- in Calcutta with this radical Bengali playwright called Badal Sircar; we used to take political theatre out into the streets... Theatre is part of my DNA, and it feels comfortable to adapt one of my films into a musical... It is my first musical, and it has been a long time in the making.'
About 15 years long.
The seed of the musical was planted in Nair's mind by her agent Sam Cohn soon after the film released in the United States in 2002.
'Music was already in the bones of the film of Monsoon Wedding' Nair says. 'So, his suggestion to turn it into a musical just seemed right.'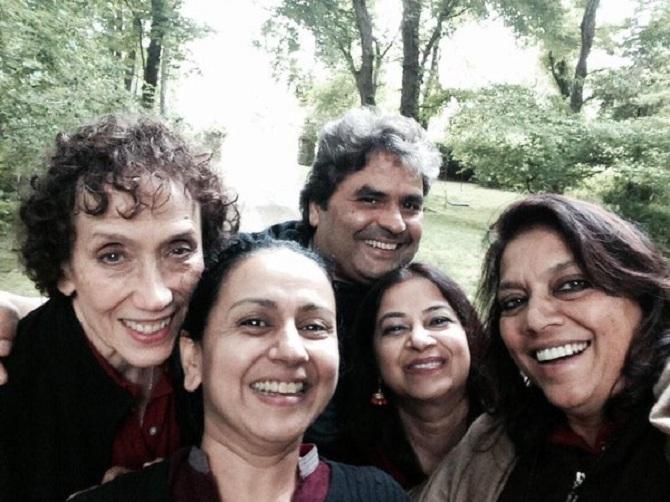 IMAGE: From right, Mira Nair with Rekha Bhardwaj, Vishal Bhardwaj, Sabrina Dhawan and Susan Birkenhead in the early days of the development of the musical.
Photograph: Kind courtesy @MiraPagliNair/Twitter
Though there were films like The Namesake, The Reluctant Fundamentalist and Queen of Katwe to make along the way, the idea of the musical was never quite forgotten.
Nair first roped in her friends Sabrina Dhawan and Vishal Bhardwaj.
Dhawan had written the movie, and in Nair's own words, she 'jumped (her) into learning the completely new form of the book of a musical.'
Though the music for the movie was composed by Mychael Danna, who went onto win an Oscar in 2012 for the music score of Ang Lee's Life of Pi, Nair felt filmmaker-composer Bhardwaj (Maqbool, Omkara, Haider) would be a better fit this time.
'Together we made the first few songs, which are still with us in the play,' Nair says 'And then we found Susan Birkenhead, a veteran Broadway lyricist, who has this amazing talent for entering another culture and completely, sinuously understanding the colloquialisms and language, then translating that into lyrics.'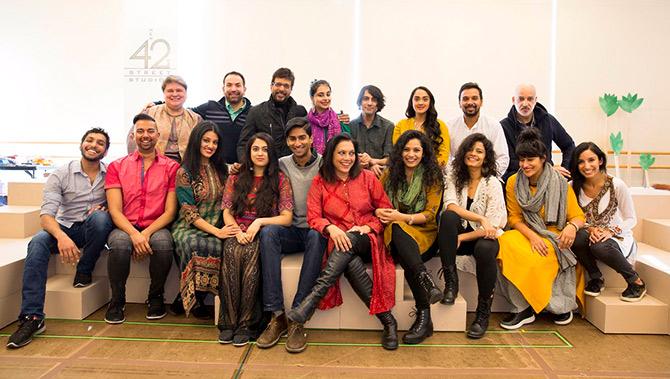 IMAGE: The cast of the musical, which according to Nair, took five years to put together.
Photograph: @dasnamit/Twitter
And then came the casting, which took five years.
'To sing, dance, and act onstage amongst the best is not an opportunity that is given to many South Asian actors, you know?' Nair says. 'We tapped into the world of classical Indian singing and dancing in India, and even within America.'
They assembled one that included well-known Indian faces like Jaaved Jaaferi (Lalit Verma, played by Naseeruddin Shah in the movie), Namit Das (P K Dubey, played by Vijay Raaz in the movie) to Indian-American artists like Mahira Kakkar (Pimmi Verma, played by Lillete Dubey) and Anisha Nagarajan (Alice, played by Tillotama Shome).
Even in 2017, this is a noteworthy point.
Despite mainstream plays featuring the likes of ,strong>Aasif Mandvi (Oklahoma! and Disgraced) and Maulik Pancholy (It's Only a Play), brown protagonists are still a rarity in Western theatre.
No one is more aware of this than Nair: 'The first day of rehearsal for Monsoon Wedding, I got out of the subway in Times Square, and I said, "All brown people follow me!" Because we were heading to rehearsal!'
It really is a gorgeous privilege to bring our talent to a world that needs to know it, and will be enlivened for it.'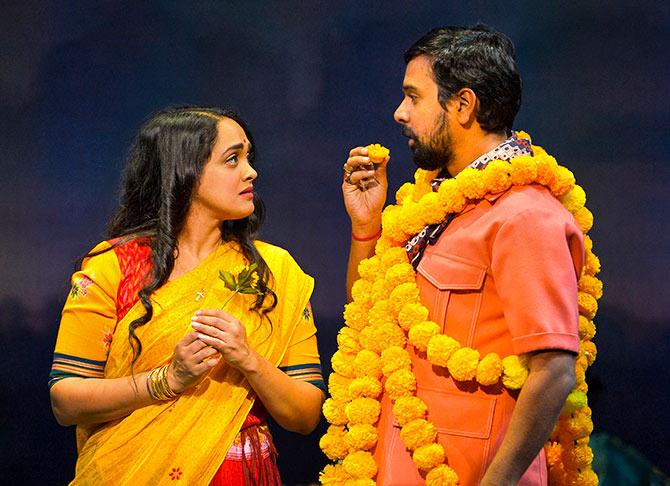 IMAGE: Namit Das (Wake Up Sid) and Anisha Nagarajan (Bombay Dreams) as P K Dubey and Alice.
Photograph: Kevin Berne/Berkeley Repertory Theatre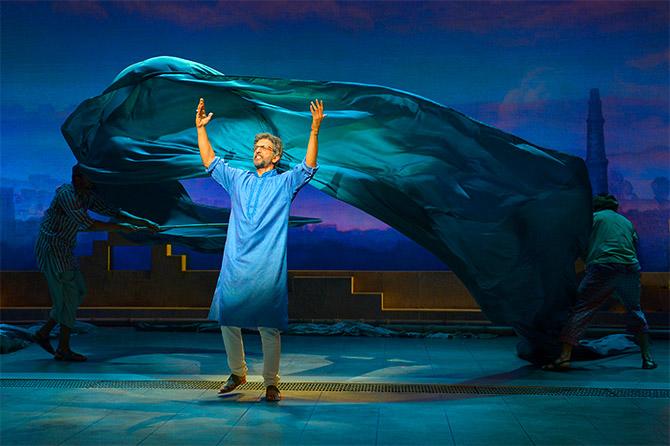 IMAGE: Jaaved Jaaferi as Lalit Verma. Photograph: Kevin Berne/Berkeley Repertory Theatre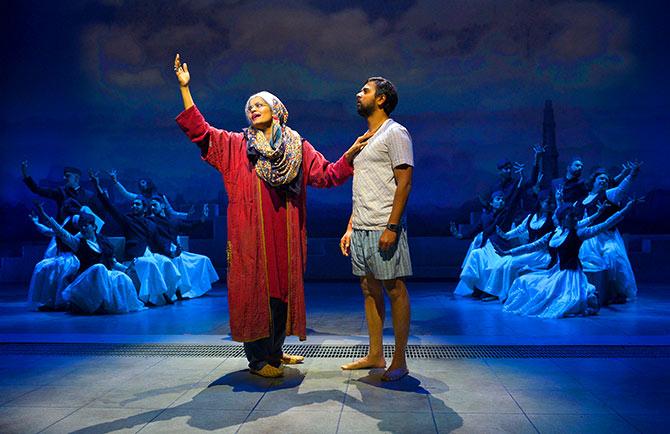 IMAGE: The cast also includes Palomi Ghosh (Nachom-ia Kumpasar), left.
Photograph: Kevin Berne/Berkeley Repertory Theatre
The painstakingly done casting ties into what keeps Monsoon Wedding relevant all these years later.
Nair explains it in the programme notes, 'When we made this film, we were painting a portrait of a globalising India, the India in fact that we now live in. It was a juxtaposition of the ancient and modern in every way: Architecturally, emotionally, sexually.'
'Now, India is almost a superpower -- more known to the world and more confident in its crossover wealth. Now more than ever, there is an enormous division and discrepancy between the rich and the poor. There is actual depravity with the ostentation of wealth. There are all kinds of manifestations of this crazily global yet not always progressing India.'
'So, now in 2017, we've updated the musical to reflect not just the complexity and the madness of today's India, but also what's going on in America.'
'Monsoon Wedding -- The Musical is equally about today's India and today's America.'
After receiving a second extension on May 25, Monsoon Wedding -- The Musical will play at Berkeley through July 9, after which it hopes to head across the US to Broadway.