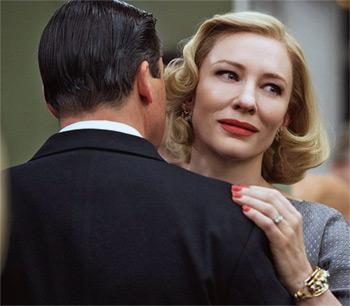 'In Carol, Cate Blanchett reminds us what a real movie star is and why we are enamored by her acting and looks.'
Aseem Chhabra's Top 10 picks from the Zurich Film Festival...
In 11 years the Zurich Film Festival has become one of the major film events in Europe, bringing the best of world cinema (including a section dedicated to Swiss movies).
This year's festival paid tribute two Austrian actors who are now major Hollywood celebrities -- Arnold Schwarzenegger and Christoph Waltz -- and directors Mike Leigh and Todd Haynes.
There were a series of new films from Iran and an Indian film, Angry Indian Goddesses , that premiered last month at the Toronto International Film Festival.
My Top 10 picks from the Zurich festival -- a blend of Hollywood and other foreign films.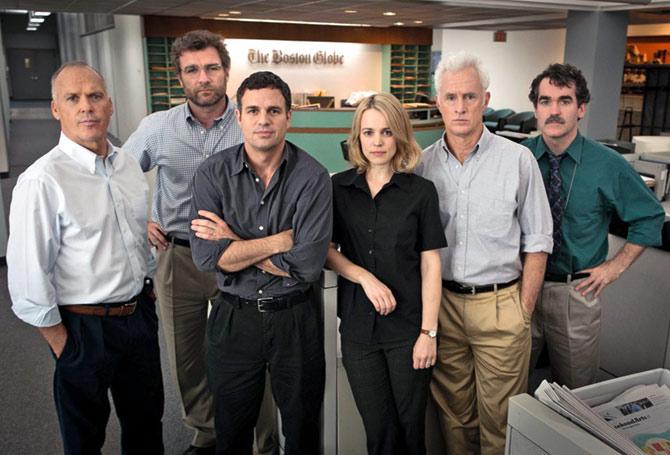 IMAGE: Michael Keaton, Liev Schreiber, Mark Ruffalo, Rachel McAdams, John Slattery and Billy Crudup in Spotlight.
Spotlight
In a year with many standout films that are competing for top Oscars, Tom McCarthy's (The Station Agent, The Visitor) Spotlight stands tall.
The story of The Boston Globe's investigation of child sex abuse by the priests of the city's Catholic church is already being called the front-runner in the Best Picture Oscar race.
A gripping ensemble piece, Spotlight boasts of some of the best Hollywood talents -- Michael Keaton, Mark Ruffalo, Rachel McAdams, Liev Schreiber, Stanley Tucci and John Slattery.
The film is being compared to the Dustin Hoffman, Robert Redford starrer, All The President's Men (1976) in its tone and the reporters' quest for the truth.
Spotlight is a gripping drama, with the right intentions and a very important film. It has been celebrated at major film events before its November 6 opening in the US. It was certainly the strongest film playing Out of Competition at the Zurich festival.
Carol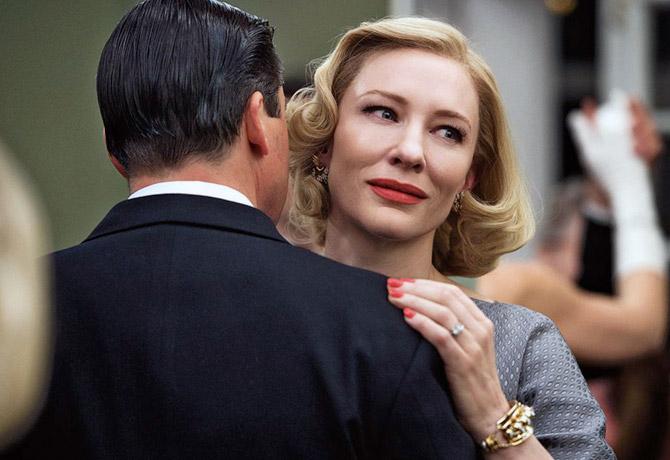 IMAGE: Cate Blanchett in Carol.
Director Todd Haynes has a special affection for Hollywood melodramas of the 1950s, especially those directed by Douglas Sirk.
In his 2002 film Far From Heaven and now with Carol, Haynes does a fine job of recreating America of the 1950s, and the taboos of the time period including race issues and homosexuality.
Carol is a beautifully told heartbreaking story of a lesbian romance between a rich older woman going through a divorce (a radiant Cate Blanchett) and a naive young salesgirl at a department store (played by Rooney Mara who won the best actress award at the Cannes Film Festival).
The film is rich with period details -- the cars, the hairstyles, men and women's clothes, and the interior designs of homes.
Carol belongs to Blanchett who gives a heartfelt performance of a woman struggling with conventions, an unhappy and nearly dissolved marriage, her love for her child and her desire for another woman. Blanchett has such a presence in the film, the way she smiles (the last shot of the film is priceless), speaks, moves her eyes, tilts her head.
Later this season Blanchett will also be seen in Truth -- a film about the 60 Minutes television show controversy, with Robert Redford playing the American newsman Dan Rather.
In Carol, Blanchett reminds us what a real movie star is and why we are enamored by her acting and looks.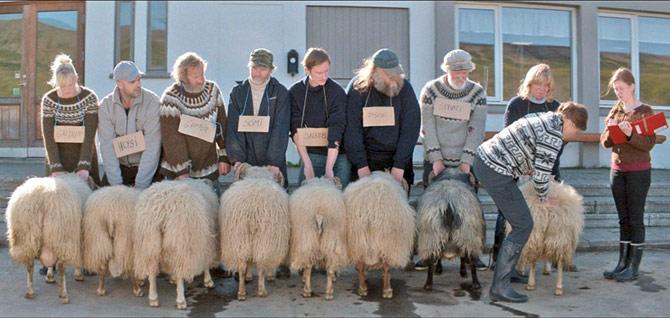 IMAGE: A scene from Rams.
Rams
Icelandic director Grímur Hákonarson's second feature film won the top award in the Un Certain Regard section of this year's Cannes Film Festival.
In Zurich, this heartwarming and unexpected tale of two old brothers who have not spoken to each for 40 plus years, won the top jury award.
Rams is also Iceland's official entry for the foreign language Oscar race.
Sheep farming in a remote village in Iceland is not a subject matter that would necessarily excite someone who is trying to swim in a sea of foreign and art house films. But Rams is so funny, and it has such a unique perspective to life that it is easily one of the darlings of the film festivals season.
Gummi and Kiddi are sheep farmers who live across each other in a sparse landscape. They resemble Santa Claus despite their curmudgeon personalities. Although they are ruthless and competitive, a dangerous disease that could destroy sheep farming in the village will eventually bring them close to each other.
Rams is a lot of fun to watch and it is the reason why sometimes film festival attendees should take the risk and go for a film with a strange premise.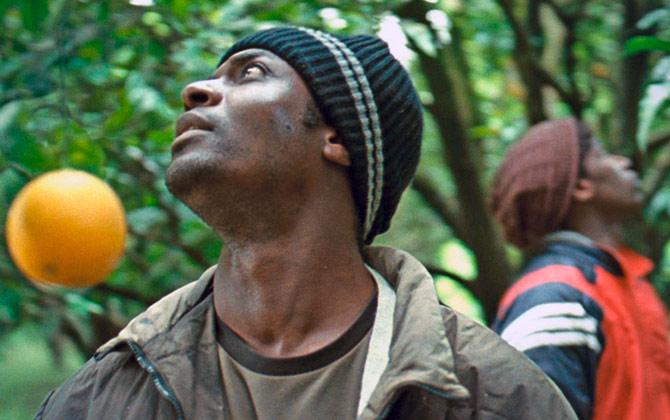 IMAGE: A scene from Mediterranea.
Mediterranea
These days the news is full of harsh stories of refugees from Syria and other war torn areas desperately trying to enter European countries. In Mediterranea, Italian director Jonas Carpignano narrates a harrowing tale of refugees from Burkina Faso and their journey to a remote town in Italy.
The arduous journey through the North African desert, where the guides cheat the poor travelers and the new life in a strange cold land makes Mediterranea a compelling drama.
In Italy the African refugees are received by some warm and good hearted residents. But as one often hears, the refugees also face a share of racism, which raises the question -- how is their life better in the new land?
Carpignano was raised in New York City, with an Italian father and an African-American mother, and he connects very instinctively to a story about people of different ethnicities in less than welcoming lands.
Much of Mediterranea rests on the moving performance by the lead Ayiva, played by Koudous Seihon, a non-professional actor from Ghana who went through a similar journey as a refugee before becoming an activist in Italy.
No surprise that the main jury at Zurich awarded a 'Special Mention' award to Seihon for his performance in the film.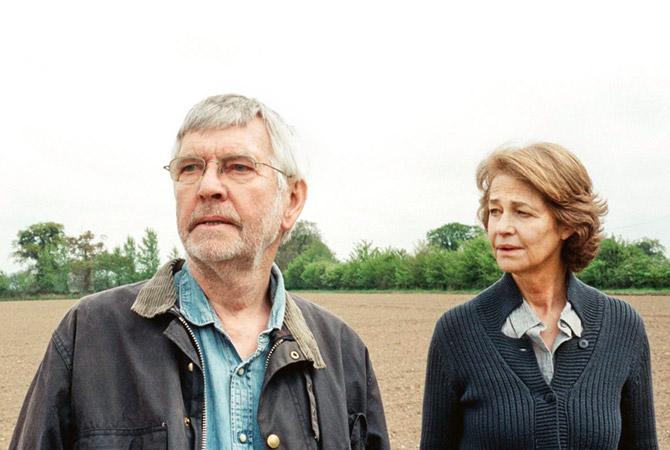 IMAGE: Charlotte Rampling and Tom Courtenat in 45 Years.
45 Years
Andrew Haigh's lovely little film about a marriage of 45 years that is tested by a little secret thrilled the jury and audiences at the Berlin Film Festival in February. The film's leads Charlotte Rampling and Tom Courtenay both won the Silver Bears in the acting category.
Since then 45 Years has been celebrated by audiences around the world (it will also play at this year's Jio MAMI festival in Mumbai).
In just three feature films director Haigh (he is also the creative force behind HBO's Looking series) has shown that he is a master of studying human relationships.
In Weekend (2011) he told a heartbreaking story of two gay men and their intense connection that happens over a weekend.
In 45 Years Haigh takes a look an older married man and woman who are about to celebrate their wedding anniversary with friends. And how a little detail from the past -- a fact kept hidden from the wife -- can change all that was built in a marriage of 45 years.
Both Rampling and Courtenay are terrific in the film. And even in a crowded year of excellent performances, Rampling deserves an Oscar nomination.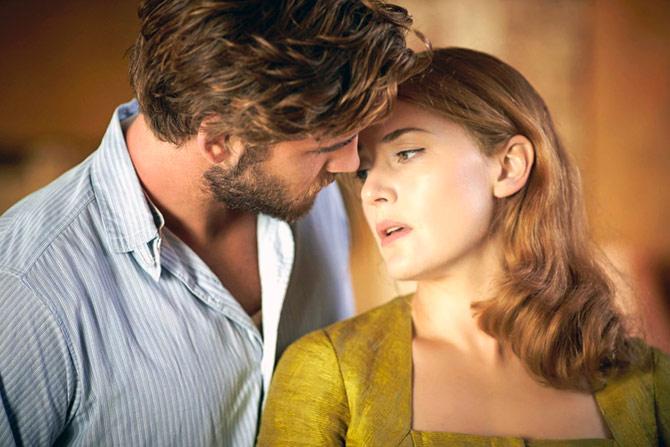 IMAGE: Kate Winslet and Liam Hemsworth in The Dressmaker.
The Dressmaker
Australian filmmaker Jocelyn Moorhouse (Proof, How to Make an American Quilt) is back as director after a long gap of 18 years. And her quirky and at times hilarious film The Dressmaker has the added benefit of strong writing by P J Hogan (the director's husband who has made many popular films including My Best Friend's Wedding and Muriel's Wedding).
Kate Winslet (who will also be seen in Steve Jobs) plays Myrtle 'Tilly' Dunnage, a glamorous designer who returns to her small run-down town with bizarre residents to change the way they look at fashion and life. Tilly has spent a long time in Melbourne and in Paris.
But she eventually comes back to this little hick town with the intention of caring for her cranky old mother (a delightful Judy Davis) and more so to find the answer to a nagging question -- did she kill a young boy when she was a child?
Tilly's arrival introduces us to an assortment of characters including a cross dressing cop (Hugo Weaving) and a charming neighbour (Liam Hemsworth from The Hunger Games films) who for a brief time becomes her lover.
The Dressmaker is fun to watch despite some sad, dark moments. And the film is surely going to get a lot of notice for its haute couture designs by Margot Wilson and Marion Boyce.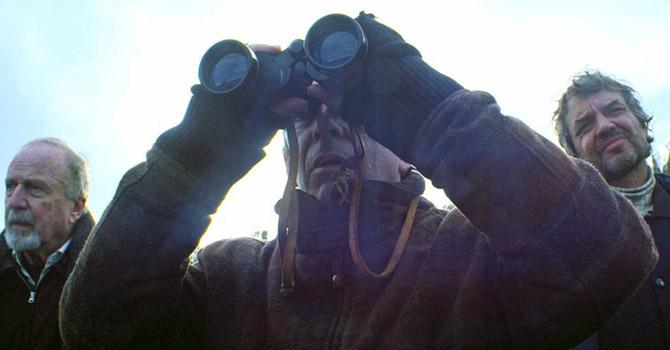 IMAGE: A scene from The Club.
The Club
While Spotlight focused on journalists investigating child sex abuse by Catholic priests in Boston, the Chilean film The Club looks at the tragedy from the perspective of the priests themselves.
In a remote town in Chile, four former priests, each accused of sex crimes, live in a little house run by a nun. While the church has sent them there so they can repent for their sins, the men spent time training dogs for races that many would consider a mild form of gambling.
The arrival of a young priest changes the situation much to the discomfort of the old residents of the house.
The Club (also showing at Jio MAMI) is a powerful and an important film that informs us what becomes of priests who are accused of disturbing crimes.
Director Pablo Larrain's 2012 film No was nominated for the foreign language Academy Award. The Club won the best director Silver Bear at the Berlin Film Festival. It was shown out of competition at Zurich.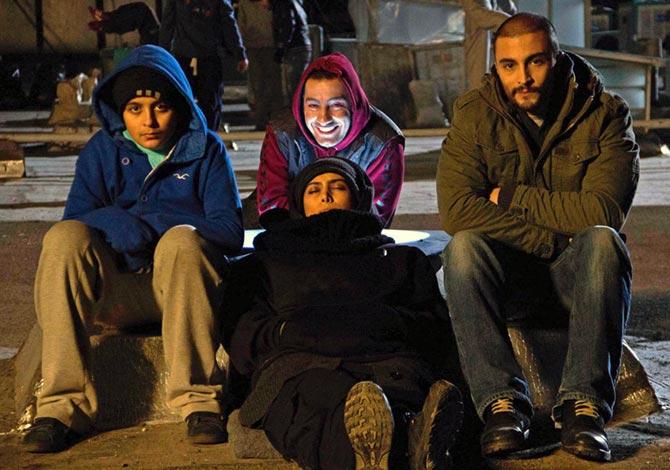 IMAGE: A scene from Hooman Seyadi's Iranian film, Sizdah /13.
Sizdah /13
Despite all of Iran's political problems and how some in the West view the country, Iranian films keep evolving, staying far ahead of other national cinemas. There was the first generation of filmmakers like Abbas Kiarostami, Mohsen Makhmalbaf and Jafar Panahi (who continues to make films despite the ban imposed on him by Iran's legal system). Their work first introduced the world to the magic and reality of Iranian cinema.
Sizdah/13 is the work of a new generation of filmmakers, who are presenting a very fresh look at Iranian society. Actor Hooman Seyadi makes his directorial debut with this bittersweet story about a 13-year-old boy Bemani whose parents are separated.
His biggest concern is that a school bully wants to beat him up, until Bemani meets up with a local gang, led by a woman, who wears a hoodie, and includes skateboarders and other social misfits in the otherwise traditional Iranian society.
Sizdah/13 could easily be a coming of age indie American film. What sets it apart is that it takes us inside a world in present day Tehran that most of us did not know about.
Sizdah/13 won the New Currents Award at the 2014 Busan International Film Festival. At Zurich it was presented as part of a special package in a section called New World View: Iran.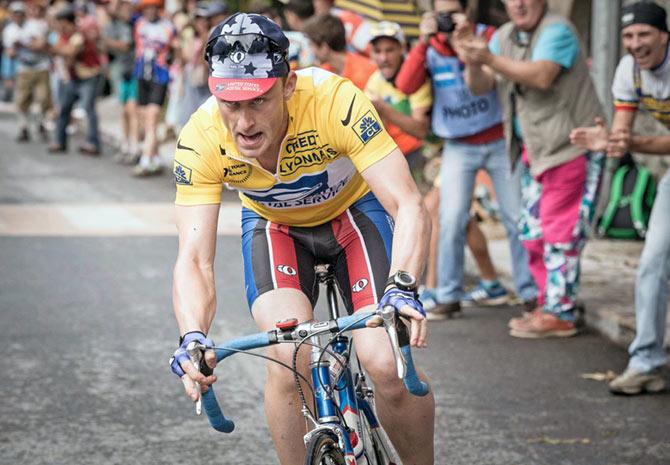 IMAGE: Ben Foster plays Lance Armstrong in Stephen Frears' The Program.
The Program
Lance Armstrong was an American hero -- a seven consecutive times Tour de France winner. He had also overcome cancer in his early 20s and became an activist for the treatment of the deadly disease.
As the world now knows, Armstrong was heavily engaged in an elaborate programme of doping. He also dragged his American co-cyclists into the plot.
In The Program, director Stephen Frears (My Beautiful Launderette, The Queen, Philomena), working on a book by Sunday Times sports writer David Walsh, creates a compelling portrayal of Armstrong, a man who always claimed he never tested positive (while the cycling sport was being hit by one doping scandal after another).
Ben Foster, who bears a close resemblance to the cyclist, plays Armstrong with such panache that we feel we are in the presence of Lance himself.
The Program is a disturbing film and a clear reminder that even heroes are mere mortals.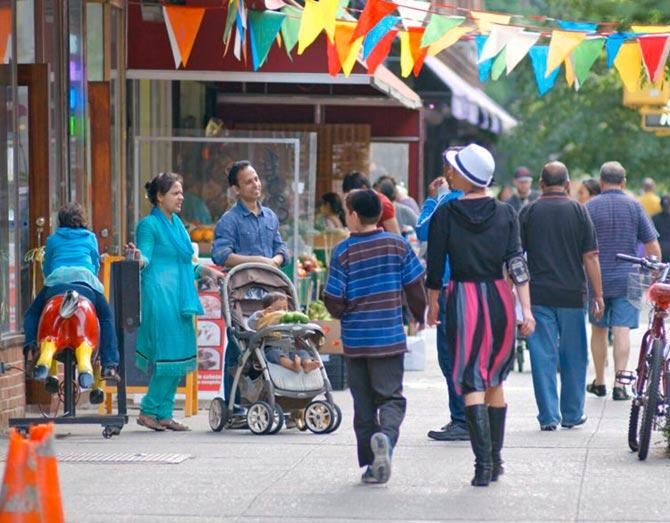 IMAGE: A scene from the documentary, In Jackson Heights.
In Jackson Heights
Veteran American documentary filmmaker Frederick Weisman tends to take an anthropological view of the subjects that he chooses. He makes no commentary, there is no message. The audience just read what they can from the images that are presented to them.
In his latest film In Jackson Heights, Wiseman captures many facets of life in the most diverse neighborhood in the Queens borough of New York City. And so the filmmaker visits and observes senior citizens, older gay men, Latino transgenders, young Muslim boys and girls studying at a madrasa, a Bangladeshi halal butcher shop (one of the most difficult sequences in the film to watch as the camera observes chickens being slaughtered in what appears to be rather unhygienic conditions), Latino illegal immigrants, local shopkeepers concerned about a mall coming up in their block, and activists of all forms.
We see neighbourhoods where parents take little kids to playgrounds and shop for fresh produce at a local farmers market, and scenes inside Jackson Heights' well-known gay and lesbian bars.
At times In Jackson Height starts to feel rather long (the film is over three hours long), as Wiseman lets the camera roll, and sometimes the speeches tend to go on for more than what the audience would want to see and hear.
But the film throws us in the middle of Jackson Heights and it is a wonderful way for us to get more than just a little of taste of life in one of the most exciting parts of New York City.