Imtiaz Ali seems to be back on ground he knows, with actors he enjoys, says Raja Sen.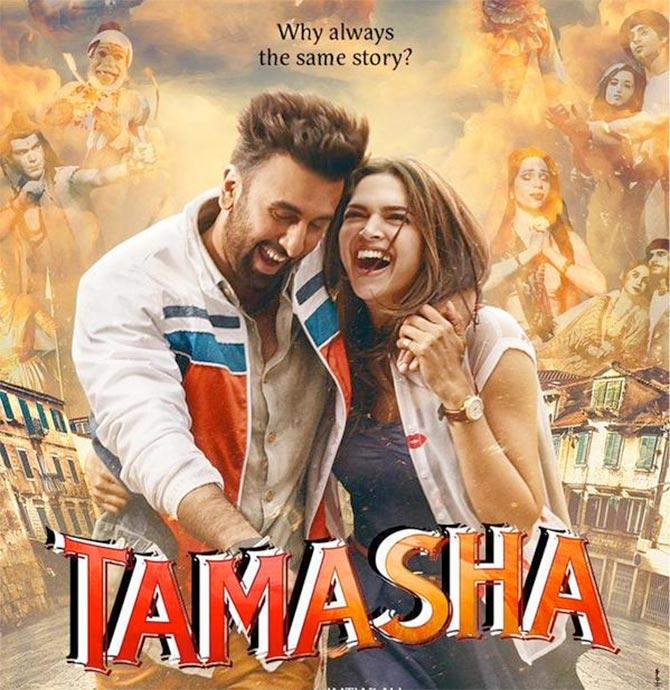 One of the most overused tropes in the modern romantic comedy is the cliched character of the Manic Pixie Dream Girl, a bohemian free spirit who takes a dull, staid protagonist and plunges his monochrome life into colour.
As I saw the trailer for Imtiaz Ali's upcoming Tamasha, it became clear that while Ali's distinctive heroines -- the ceaselessly chatty Geet from Jab We Met, most strikingly -- each have some of the MPDG characteristics, the filmmaker is the one who holds them all.
Taking an ordinary world and filling it up with an unexpected dose of the extraordinary -- with glitz and colour and good-natured tomfoolery, set to an AR Rahman soundtrack -- Imtiaz Ali is the Manic Pixie Dream Director.
The Tamasha trailer opens with Ranbir narrating just another love story to his father -- either one he has lived or one he has concocted.
It features a french-bearded Ranbir living a regimented life, forever tightening his necktie.
"And then one day, between the head and the heart, our hero found a companion," Kapoor smiles, and we cut to a flashy glossy montage of Kapoor cavorting in Corsica with a stunning Deepika Padukone.
The duo has tremendous chemistry on screen, and they seem to be burning up the screen as they behave all cutesy ("I'm Mona Darling," she introduces herself, like an Ajit moll) yet do so with actual charm ("So do I call you Mona... or Darling?" he grins.)
And then we see things go devastatingly sour.
The trailer suggests that she seems to have fallen for the roleplay and he wants to snap back to reality.
And, as is the case with all Ali's films, the hero looks a lot more tortured than the heroine.
It looks vibrant and energetic and Ali seems to be back on ground he knows, with actors he enjoys.
Tamasha, featuring a characteristically Rahman soundtrack, releases on November 27.