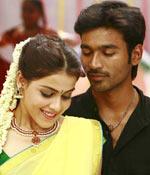 Pavithra Srinivasan reviews Uthamaputhiran. Readers can also send their reviews here.
Uthamaputhiran, directed by Mithran R Jawahar, is a remake of aTelugu hit film Ready, starring Dhanush and Genelia.

Uthamaputhiran makes no bones about the kind of film it is: the kind that takes place in beautifully erected sprawling mansions filled with gorgeous knickknacks (courtesy M Prabhakaran's art-work), a simply huge and loving family filled with uncles, aunts and innumerable cousins, a beautiful damsel in distress, shrieking villains and a hero who bashes men thrice his size.

Not that it seems this bad in the beginning. You have a pretty Kalpana (Shriya) dressed in wedding finery, readying for her marriage but secretly on the verge of eloping, assisted cheerfully by Shiva (Dhanush) who's just finished college and is the only male offspring of a large family headed by Ragupathi (K Bhagyaraj), but seems to have no job whatsoever. He becomes persona non grata at home when his part in her wedding is discovered, but aside from making random remarks about missing them, he's pretty nonchalant. Before long, another friend appears with a romantic problem; Shiva kidnaps his supposed dream-girl from a forced wedding, only to find out that Pooja (Genelia), the girl he's kidnapped, is the wrong bride.

From then on begins a cat-and-mouse game that's fairly interesting in the beginning, as Shiva and Pooja escape the clutches of various hardened bad guys; Shiva engages to take her to her friend's home in Pudukkottai. After a relatively easy fight with one sole villain (Rajendran), Shiva and Pooja are suddenly free of all shackles (!) and continue their journey. They walk through beautiful fields, hold hands, abruptly fall in love and generally have a great time until problems beset them. Once again, Shiva must protect her.

But the lengths he goes to, trying to guard her from her uncles, two super villains, Periya Muthu Kounder and Chinna Muthu Kounder, with their hordes of iron-muscled men is so ridiculous that it becomes inadvertently funny. Only the antics of his so-called mentor Emotional Ekambaram (Vivek) keep you from alternatively yawning with boredom or blinking at the logic-less sequences.

Once again, a la Padikkathavan and Kutty, Dhanush proves that he's entirely capable of shouldering a whole film, no matter how silly its script. He dances, sings, utters clichéd dialogues, smiles and charms the socks off everyone; his body language, the little nudges, winks and sly smiles are delightful, going a long way towards keeping you in your seat. He's the only reason the movie is at least halfway watchable.

Genelia is a pretty airhead, essentially performing her Santhosh Subramaniam act again. She does look very pretty though, always dressed in tasteful salwars, jeans and dresses, in perfect sync wit the plush, luxurious décor.

The uncles (Ashish Vidhyarthi and Co) are the epitome of silliness, as are the comedy sequences involving them and their families. Srinath and Co, as Dhanush's friends have nothing much to do.

Bhagyaraj is the kind and concerned father-figure whose anger never lasts long; the kind of character we've seen often. Vivek, thankfully seems to have returned to form and turns in a genuinely funny act, after quite a while.

Balasubramaniam's camera-work is fluffy, light and airy as befitting the movie; Vijay Antony's music has a strong aura of the Telugu original in it. Still, songs such as En Nenju and Ussumu Larisey are pleasant.

Mithran Jawahar usually has a knack for successfully translating a script from another language to suit Tamil audiences, but this time, the attempt fails, largely because Gopi Mohan's story isn't all that engaging. It's as old as the hills, with a set formula, plot twists you can see a mile away and predictable endings that were originally seen in the 60s.

Dhanush's genuinely engaging act and Vivek's antics are the best thing in the movie. Otherwise, Uthamaputhiran is fluffy, frothy, impossibly light and has no business with logic or reason.
Rediff Rating: