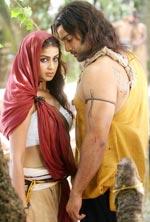 Paresh C Palicha reviews Urumi. Post YOUR reviews here!
The name Santosh Sivan is synonymous to visual extravaganza. The cinematographer-director makes everything visually enticing whether working only as a cameraman or as a director and both.
Urumi
, his latest Malayalam film starring Prithviraj, is a historical mythological film, where everything is woven together seamlessly by scriptwriter Shankar Ramakrishnan (of
Island Express
in
Kerala Café
fame), a long time associate of director Ranjith.
Every film buff worth his salt is by now aware of the one line plot of this film -- a youngster prepares to assassinate the first European explorer to touch the shores of Kerala in search of its spices, Vasco da Gama.
This film is not a historically accurate depiction of events. Folklores and legends are liberally used to make up the story. The narrative device of the characters of this era living their past lives as the historical characters gets us sucked into the whirlwind of a plot.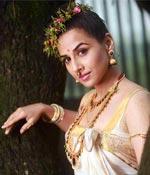 So the story begins with a pauper Krishna Das (Prithviraj) making an effort to eke out a living by running a music troupe in Goa. He comes to know that his ancestral property in Kerala leased out to a NGO by his late mother is rich in minerals and is free to be sold as the lease period has lapsed.
A multi-national mining company offers him an unimaginable sum as advance. The only hurdle is that he has to convince the people running the NGO and the tribal community living there to vacate.
When he reaches the venue, he is made aware of his heritage. Thus we go back to the 15th century and the story of Chirakkal Kelu Nayanar, the youngster who had vowed to eliminate Vasco da Gama and free his land of foreign occupation.
There are elements that are typical of a historical story; let it be secularist ideals or the 'unity in diversity' utopia aspired for. But they are not overplayed to hinder the flow of narrative in any way. The dialogues have minimal jingoism and are crisp. The only grouse we can have at the script level is the fact that some characters are underdeveloped or left in a lurch, especially Vidya Balan's much-hyped cameo and item song. Or did the editor Sreekar Prasad prune it to manage reel time better?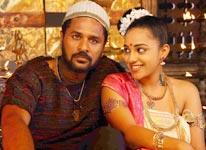 Technically, Urumi has the Santosh Sivan stamp all over it; not only angles of shots but even the gait of every actor is peculiarly choreographed so as to give the performer an individual style, sometimes stretched to the extent that we feel that they are striking a pose for a still photograph.
Prithviraj is masculinity personified with an opportunity to show off his bulging biceps throughout. Prabhu Deva's bony physique (who plays his childhood chum Vavvali) acts as contrast, as is Jagathy Sreekumar's effeminate villainous Chenichery kurup.
Genelia D'Souza, as the warrior princess Aysha, impresses.
Nithya Menon as flirtatious and childlike. Paired with Prabhu Deva, she has her moments of glory. Only Vidya Balan's presence is not justified by the story.
Urumi may have been influenced by some international films in this genre. Still, it is highly watchable for the effort that has gone into making it.
Rediff Rating: