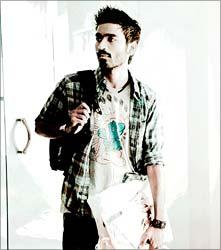 Pavithra Srinivasan feels Mayakkam Enna music is appealing. Post YOUR reviews here!
In Gemini Circuits'
Mayakkam Enna
, director Selvaraghavan teams up with his National Award winning brother Dhanush after a hiatus. The film also stars Richa Gangopadhyay. Selvaraghavan collaborates with G V Prakash once again, after
Aayirathil Oruvan.
More interesting is the fact that Dhanush and Selvaraghavan have composed all the lyrics. Here's a listen at the album:
Naresh Iyer and Saindhavi pick up the vocal reigns for
Naan Sonnadhum Mazhai Vandhucha
. It's a mixture of rural folksy music that still has a faint North Indian twang. The mood swings from despair to romance, and at places, is catchy as well, especially right at the end.
Gentle, rather mournful piano notes fill your ears as
Pirai Thedum
begins and Saindhavi's breathy voice sketches the tune in the same vein as
Vizhigalil Oru Vaanavil
, from
Deiva Thirumagal
. This time around, G V Prakash Kumar accompanies her. A pleasant and appealing number.
The first thing that grabs your attention in
Voda Voda Voda
, is Dhanush's raspy, yet appealing voice. This number, with its rough-and-ready lyrics and deceptively simple beat, is quite easily the pick of the album. Part of the appeal is the singing which lacks fine nuances, the foot-tapping
beats, and the whistle, of course.
Mayakkam Enna
's theme music, which begins with very sober piano notes, and the gentle notes of a flute wending its way through, carries anguish. A wonderful track indeed even if the final moments, filled with synthesised music spoil the effect a bit.
Ennenna Seidhom Inge
begins in slow and steady fashion with a heavy North Indian flavour, and Harish Ragavendhra's voice does justice to the tune. It also seems to have shades of a wedding, as the lyrics are very philosophical, questioning what life is all about. The whole feel is auspicious and soothing, but it's also a very familiar tune. 
It's sort of refreshing to listen to Dhanush sniffing away tears as he sings
Kaadhal Yen Kaadhal
in a hoarse voice, and it's even more of a change when the mood shifts suddenly from lamenting his loss to beating up his lover. Clearly a beat-friendly intoxication number, rhythm rules here, and the supremely colloquial lyrics are bound to have appeal. It's not spectacular, but the timbre of Dhanush's voice, hiccups and angst-ridden meanderings takes you through.
It looks like G V Prakash has tried very hard to walk away from his comfort zone and provide the kind of edgy numbers Selvaraghavan demands, and has risen to the challenge. Go for it.
Rediff Rating
: