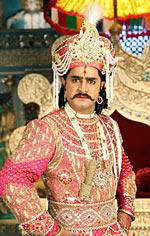 Radhika Rajamani says Telugu film Devaraya is lacklustre and ordinary.

D
evaraya
is badly made, illogical and unsatisfactory. Nani Krishna has done a disservice to Krishna
Devaraya,
who is a regal figure in Indian history, by painting a poor picture of him. Srikkanth, who plays the hero, tries to salvage it to some extent.
Dora Babu (Srikkanth) is a happy-go-lucky guy who enjoys chasing women, playing cards, boozing etc. He falls in love with Swapna (Vidisha) and wants to marry her. But her grandfather (Ranganath) is against the alliance on account of Dora Babu's nature.
An archaeologist finds some artefacts and a book dating back to the reign of Krishna Devaraya and gives it to the grandfather. It is then revealed that Dora Babu has a link to the Vijayanagara monarch. Some skeletons in the cupboard come tumbling out.
At the same time, one Jayaprakash Reddy wants to build a cement factory on temple land, to which there is some resistance.
The film
is all about Dora Babu's link with the past. For the filmmaker, it may have been interesting to trace the link and uncover the past.
However, for the audience it is quite torturous to sit through this film and a script with many loopholes. The story itself is established only in the second half.
The first half has muted dialogues (perhaps because of the vulgarity), far too many songs, poor graphics and average technical values.
The episode from Krishna Devaraya's life will only demean the monarch. Also, the director has tried to mix in a bit of religion into this part historical-part modern film.
The dialogues also seem a mish-mash, partly historical, partly modern. The end product is rather strange to see and hard to digest.
Srikkanth tries to do his bit but can go only up to a point. His dialogue delivery in the historical role is good. Both the heroines Vidisha and Meenakshi are just about okay.
Devaraya
is lacklustre and ordinary.
Rediff Rating: