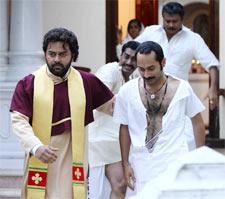 Paresh C Palicha says Amen as a film excels in all departments of filmmaking.
Amen, directed by Lijo Jose Pelllissery, who has made Nayakan (2010), and City of God (2011), is one of the first films to adopt the so-called 'New Gen' formula of multiple narratives and parallel storytelling. It also has Fahadh Faasil, the flavour of the season.
Amen is a humorous film staying true to its tag line 'a divine comedy'. The film can be seen from many angles: as a love story in the classical mould, or as a 'coming of age' of a dim-witted youngster, and then there is the premise that God is always with the righteous underdog.
There are two people at the centre of the action--Fr Vincent Vattoli (Indrajith), a priest who lands up in Kumarankari to serve a church that is in bad shape, and Solomon (Fahadh Faasil), whose job is to assist the sexton of the church.
He is a talented clarinet player but gets stage fright. He is in love with Soshanna (Swati Reddy), daughter of a rich contractor. Soshanna is the more courageous of the two in sustaining the relationship, braving opposition.
There are a couple of other tracks in the story which provide more meat to the film. There is the ideological clash between the orthodox head priest Fr Ottaplackan (Joy Mathew) and Fr Vattoli, who has a modern outlook and believes in changing with the times. Then there is Solomon's psychological block in playing the clarinet on the big stage.
The love story has a few inspired moments from Romeo and Juliet and some other classical love stories.
The supporting cast helps to create a distinct milieu given the backdrop of verdant Kuttanad.
The two male leads, Fahadh and Indrajith, can share the plaudits equally. Indrajith excels as the happy-go-lucky Fr Vattoli with the undercurrent of humour. His platonic relationship with the young Michelle (Natasha Sahgal) gives a certain depth to his personality.
Fahad as the timid Solomon has a lot more work to do but still manages to make an impact.
Swathy Reddy is able to capture our attention as the headstrong Soshanna. Rachana as Clara, Solomon's sister, makes her presence felt.
Director Lijo Jose Pelllissery can be proud of making a brilliant film that has an intelligent story, a multi-layered screenplay, excellent cinematography and powerful performances from the actors.
Rediff Rating: