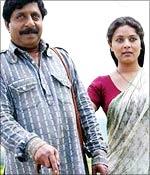 Paresh C Palicha reviews the Malayalam film, Aathmakatha.
There are a few people in the Malayalam film industry who ensure minimum standard as far as quality is concerned. They maintain an aesthetic value in the projects they are associated with. 
Actor-writer-director Sreenivasan is one such person who maintains a guaranteed standard (barring a couple of exceptions). His new venture Aathmakatha directed by newcomer Premlal adds up to the list.
The film is about a blind man with a never-say-die attitude. A character-driven story that depends on the actors to deliver rather than technical gimmickry.
Kochubaby (Sreenivasan), lives in a village and works at a candle making unit run by the church. It is established very swiftly that he is physically self-reliant with innate power to fight the odds. He keeps his life colourful by keeping alive the memory of what he had seen in his childhood before going completely blind at the age of thirteen.
The story goes that his father abandoned him just before he went completely blind. He was raised single handedly by his mother who ingrained in him a sense of calculation that is essential for any blind person to survive. He had lived doing odd jobs before meeting a priest played by Jagathy Sreekumar who offers him a permanent job. He becomes an expert candle maker in no time and thereby the favourite of other disabled members of the unit.
Enters Mary (Sharbani Mukherjee), a blind girl from an orphanage who want to learn the craft of candle making. After a brief romance the two get married and are very soon blessed with a baby girl. Just before intermission tragedy strikes.
After the intermission, the pacing slows down tremendously bringing out the real essence of what the director really wished to convey.
At some point, the script does run the risk of becoming melodramatic but the director does succeeds in keeping a tight rein on things.
The plus point of this film seems to be the casting -- Sreenivasan seems to revel in this role. He personifies Kochubaby; the gait, the movement of limbs and even the speech pattern becomes unlike typical Sreenivasan. The make up in the second half is a revelation. It gives additional depth to the character.
Jagathy Sreekumar excels as Father Poonoos. His priestly acts are becoming lucky mascots for films in recent times.
Sharbani Mukherjee looks pretty but has nothing much to do. On the other hand, Shafna, playing Kochubaby's teenaged daughter, has a substantial role.
All in all, Aathmakatha is credible.
Rediff Rating: