Diljit Dosanjh's striking self-possession, like the champion he's portraying, doesn't let it come in the way of a performance that screams g-o-a-l, says Sukanya Verma.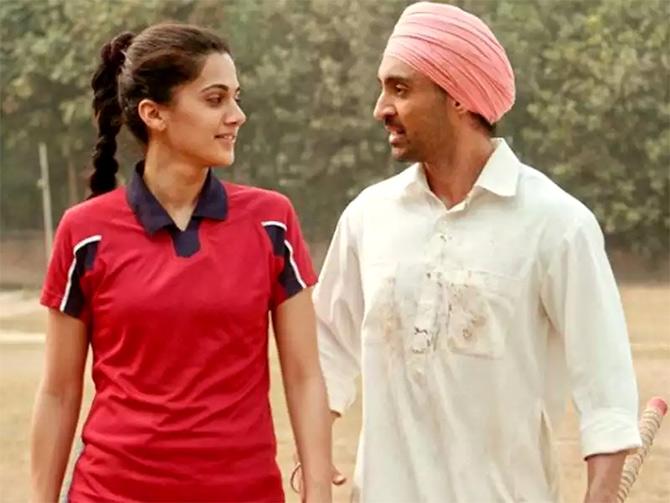 Stories about sports icons are tailor-made for inspiration. The whole idea of succeeding against all odds commands glory and awe.
Biopics draw on its vigour and hardship to create a powerful symbol of watch and learn.
But our movies have a tendency to bask in reflected glory instead of revealing the man behind the medals.
Shaad Ali's Soorma, which tells the story of ace Indian hockey player Sandeep Singh and his phenomenal return to form after a bullet left him incapacitated, does not make that mistake.
There's a hands-on approach in Diljit Dosanjh's delivery as Singh that makes it easy to invest in his character's remarkable real life and his dramatized depiction endearing.
Whether it's his naiveté as a lad genuinely surprised to learn his bird-shooing action is a bonafide hockey move or amusing logic in persuading the coach to let him play despite an injury or hilarious embarrassment after coming down heavily at a kabbadi player, Dosanjh plays out various stages of Singh coming into his own with nuance and simplicity.
Though far from perfect, Soorma benefits from the winsome appeal of its wonderful cast in telling a story that's as much about starry-eyed romantics as it is about steel-willed resolution.
Set in a small town of Punjab where hockey is religion, Soorma centres on a young Singh's renewed interest in the sport after sparks fly off between him and a pretty, plucky athlete, Harpreet (Taapsee Pannu is a combination of Singh's wife and former girlfriend).
All flush and flirtations, the chemistry between these two is so sweet and substantial; the screen appears to have turned a shade of beetroot. Common local trainer and advocate of corporal punishment (a waspy Danish Hussain) grab every chance to growl with disapproval.
Although he starts out playing purely to woo his ladylove, Singh's naturally dazzling drag flicker quickly realises its star potential amidst impressed new teachers and hockey bigwigs. And so a delightful Vijay Raaz struts into the frame mouthing crowd-pleasing threats like, 'Bihari hain hum, thookh ke maatha chhed kar denge' and Kulbhushan Kharbanda sounds like he's waited all his life since Shaan to deliver his most badass line 'Main hi federation hoon.'
The humour is abundant.
So is the heart -- in Taapsee's trusty warmth, Angad Bedi's solid turn as Singh's big brother and Satish Kaushik's simple-minded daddy bear. Often it lends Singh's rise more meat than the cursory glance at his victories deemed worthy of exploring only when playing against an ever-hostile Pakistan.
I cannot claim to have much knowledge of the game. But Soorma takes it for granted you do.
If it has deep grudges about cricket hogging all the limelight, it only mildly expresses. If it resents the lack of medical care and respect accorded to hockey players, it only fleetingly complains.
Hockey isn't particularly cinematic to watch. Chirantan Das's flatly shot sequences are anything but breakthrough and fail to whip up any excitement.
The blandness would be a lot more glaring if not for Shankar-Ehsaan-Loy's pulsating soundtrack to Gulzar's lively lyrics. The composer trio are masters of bucking your spirits up and Soorma's playlist reflects that amply.
The biopic hits some high notes right until mid point, especially its depiction of the ill-fated moment when an accidentally fired bullet in a train compartment pierced through Singh's back and leaves him paralysed waist down for two years.
It's a deftly shot moment that avoids the typical ominous set-up to bring out the casual, completely unexpected nature of the incident.
What comes across is far more horrific than deliberate drama.
The second half of Soorma wallows in heartbreak, pity and a drastic decline of fortunes until 'Flicker Singh' resolves to put an end to the humiliation and get back on his feet.
Too much dependence on songs, gratuitous drama and formulas negates a great deal of good that Shaad's earlier impulses have accomplished.
But Diljit Dosanjh's striking self-possession, like the champion he's portraying, doesn't let it come in the way of a performance that screams g-o-a-l.
Rediff Rating: