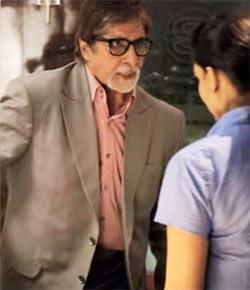 It's all very well to have an ailing hero, but Yudh needs a bit more heroism, rants Raja Sen.
Things picked up pace in episodes 5-8 of Yudh, with a sudden clarity of focus and a couple of new conspiracies to focus on.
There are actually things happening in Yudh right now, and it all feels noticably better than the inert first week.
However, it might be a case of too little too late, as the basic problem of amateurish writing continues to bog the narrative down.
Even when the scenes aren't longwinded like in week 1, every episode still feels like a compilation of scenes that take too much time to get to the point.
As a result, even when some urgency is allowed to build up, things get deflated almost immediately afterwards as people talk slowly and circuitously. It's hard to shake off the feeling that this show could work much better as a half-hour series.
Things are clearer this week.
Yudh's daughter Taruni has a boyfriend who can conjure up a weak British accent, Anand likes watching science-fiction on television with his developmentally disabled son, and the incurable disease Amitabh Bachchan's Yudh is suffering from is called Huntington's Disease, and he's gone public with it instead of allowing his enemies to blackmail him about it further.
Meanwhile his doctor's been killed, and his PR officer Mona coerces a television news editor to drop news against their company by.... Well, allowing her to stroke Mona's face in public, it seems like.
Actually that should be elaborated upon.
Mona's tryst with the channel girl is quite bizarre for a variety of reasons, primary of which might be the way the newswoman is wearing baggy-fitting men's suits instead of well-cut women's ones. She also appears to be coaxing Mona into some sort of clandestine moment, but all of this is handled with laughable amateurishness.
It is this very amateurishness that continues to be the bugbear of this TV series.
There's nothing wrong with a slowburn series, an intense drama that ticks slowly like a time bomb, but Yudh lacks this ferocity of narrative.
It is, in fact, a show you have to watch with extreme indulgence, because right now there is no single character whose story is compelling enough.
Taruni could be a good protagonist, but her character is too easily overwhelmed.
As is Yudh, actually.
It's all very well to have an ailing hero, but Yudh needs a bit more heroism. We are done with over a third of the show, and by this time we really should have more reason to root for a character other than the fact that he's being played by Mr Bachchan.
Otherwise we might as well wait to cheer for for Amitabh Bachchan, gameshow host.
Rediff Rating: