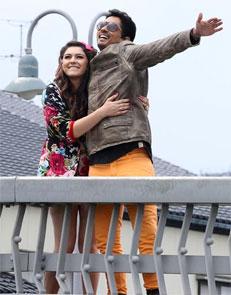 Director Sundar C's Tamil film Theeya Velai Seyyanum Kumaru is quite unremarkable with average performances, writes S Saraswathi.

Following the grand success of Kalakalappu, UTV Motion Pictures and Kushboo's Avni Cinemax have come together again to produce a romantic comedy entertainer titled Theeya Velai Seyyanum Kumaru (TVSK).

Directed by ace director, Sundar C, the film is a bilingual, and both TVSK and the Telugu version, Something Something, hit the screens on the same day.

The film stars Siddharth, Hansika Motwani, Santhanam and Ganesh Venkatram in the lead roles along with RJ Balaji, Jennifer, Devadarshini, Chitra Lakshmanan, Delhi Ganesh, Bosskey forming the rest of the cast. The film also has cameos by actor Vishal, yesteryear actress, Kushboo, and Samantha.

In the opening scene, we are introduced to a family who are staunch supporters of love. Everyone in the family, starting from the great grandfather, has had love marriages.

Kumar (Siddharth) and his three sisters are a part of the present generation of this family. Blessed with successful love marriages, his two older sisters are constantly after him to find someone to love. But Kumar is totally against this notion. We learn of his aversion to love and women in general through some entertaining flashbacks.

Kumar is an IT professional and more of a geek, who is constantly teased by his colleagues at work. George (Ganesh Venkatram) is the Operations Manager of the company and is the complete opposite of Kumar. Extremely handsome and confident, George is every woman's dream and every man's nightmare.

Kumar's resolution to remain a bachelor shatters when he has a glimpse of the glamorous, Sanjana (Hansika Motwani), a new employee in their company. George who is also impressed by Sanjana courts her and finally wins her affections.

Meanwhile, Kumar, who is desperate for Sanjana's love engages the services of Mokia (Santhanam), a reputed love guru, who though expensive has an excellent success record. The first half of the movie ends with Sanjana and George getting engaged. So how does Mokia help Kumar to accomplish the impossible task of the getting the gorgeous Sanjana to fall in love with him. Though the end does seem quite predictable, Santhanam is hilarious with ingenious schemes and entertaining plots to bring them together.

As far as performances are concerned, only Santhanam stands out.
Hansika looks radiant and as pretty as ever, but has nothing new to offer.
Siddharth, as a geek, is totally unsuited to the role. Even when he makes the transition from geek to Romeo, he does not make much of an impression. There seems to be absolutely no chemistry between Siddharth and Hansika, and this in a movie touted to be a great romantic movie is truly disappointing.

Santhanam is the saving grace of the movie and is more of a hero than either Siddharth or Ganesh. There is laughter every time he is on the screen and with his typical style of dialogue delivery, he effortlessly engages the audience.

C Sathya of Engeyum Eppodhum fame has composed the music for the film with lyrics by Pa. Vijay. And though not chartbusters, they are fun and quite entertaining.

Theeya Velai Seyyanum Kumaru fails on many counts, the primary being the lead actors and their lackluster performance. Though a refreshing concept, that of a love guru, instead of the usual hero's buddy, who hangs around with him, giving useless tips to woo the girl, the film is still quite boring and predictable. Though the lead actors fail, Santhanam does manage to make an otherwise dull and average script watchable.

Rediff Review: