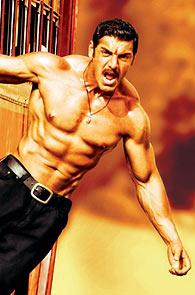 Shootout At Wadala fails on all counts, writes Ankur Pathak.

Sanjay Gupta's new film Shootout at Wadala documents the rise of crime in 1970s Mumbai and how, after local cops gunned down feared gansgter Manya Surve, the term 'encounter' entered the police lexicon.

However, instead of engaging the viewers with a well-written screenplay, the film's story runs all over the place with horrendous dialogues peppered with crass expletives that sound more inconsequential than sinister.

John Abraham plays Manya Surve, a bright student with a promising future who turns against the system after being wrongly framed in a murder case.

This dramatic transition in character and an overnight shift in ideologies -- as a student he wouldn't even cheat during exams -- is one of the many flaws of the movie.

After his stint in jail where he bulks up with the help of a trainer (who, by the way, looks more like a poor man's Hulk Hogan), Manya escapes prison not as a reformed man but as a maniac armed with Tusshar Kapoor for a sidekick.

More petty thieves are picked up along the way to paint the city a bloody red.

Anil Kapoor, Ronit Roy and Mahesh Manjrekar play the cops while Manoj Bajpayee and Sonu Sood are rival mob-bosses who appear on screen as infrequently as ghosts
in a Vikram Bhatt film.
Irrespective of what the scene demands, Kangna Ranaut plays one expression for the entire duration of the film.
In the middle of all the gory scenes where everyone kills everyone else because they are in a Sanjay Gupta movie, three women in bizarre clothing -- Priyanka Chopra, Sunny Leone and Sophie Choudry -- gyrate to songs that sound similar.
Yet another standout element that fails to work in the film's favour is the dialogue. It's difficult to determine exactly what the writers were aiming for with dialogues like "
Inkee tehzeeb mein bhi tezaab hai
" and "
Maafi ke pehle do aksharon mein bhi MAA hai
."
The exaggerated action scenes and over-the-top violence makes it difficult to believe that the film is inspired from journalist S Hussain Zaidi's non-fiction book
Dongri to Dubai
.
To top it all, Gupta, quite audaciously, rips off one of the most iconic scenes in cinema history -- Sonny Corleone's assassination in
The Godfather
.
As far as performances are concerned, John Abraham lives up to expectations by adding a realistic mustache. Rest of the cast is average, with only Sonu Sood standing out.
Master filmmaker Christopher Nolan once said, "The mind is the scene of crime."
Instead of this self-indulgent gore-fest, we would have appreciated a little more focus on the gangsters' psyche.
Rediff Rating: No stars