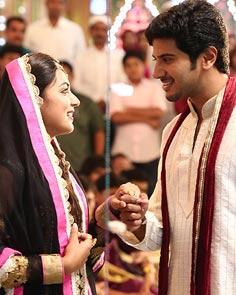 Salala Mobiles is an average film, according to Paresh C Palicha.

Salala Mobiles, written and directed by Sharath A Haridasan, a newcomer, with Dulquer Salmaan and Nazriya Nazim in the lead lacks even the basic ingredients of a love story.

The lovers hardly talk to each other, let alone share their feelings for each other till the very end. This does not help us get emotionally involved with them.

Afzal (Dulquer Salmaan) is a lazy youngster who does nothing other than eating and sleeping. He opens a cell phone shop with the help of his uncle who has invested the money he earned toiling in Salalah, Oman.

He has only one condition, that the shop should be named after the place that made him rich. The comedy is supplied by Jacob Gregory, who plays Afzal's sidekick and utters a few funny lines here and there.

Afzal sees Shahana (Nazriya Nazim) standing at a bus stop opposite his shop and instantly falls in love with her. As luck (or the whim of the filmmaker) would have it, she comes to his shop to recharge her phone connection.

Afzal gets software for tapping phones from Alagasamy (Santhanam, in a cameo) from Coimbatore and the two friends spend their nights listening to mostly raunchy conversations between couples having an illicit relationship. They also manage to save the government by accidentally unearthing a conspiracy by rebel MLAs.

Most of Shahana's story is revealed through this eavesdropping. She comes from a broken home and we hear her talking to her father in the middle of the night.

The story wanders from romance, to comedy and tries to convey a message, but does not give us an opportunity to feel involved in it.
The performances are static, and the situations keep repeating themselves without building up the characters or adding to the story. Dulquer has to look silly as a person who could fall in love at first sight and he does this pretty well.

Nazriya has to just look beautiful and that does not require much effort.

Jacob Gregory is the typical sidekick giving funny punch lines at opportune moments. He should thank his lucky stars that he is not kicked and slapped every few minutes as others of his ilk are.

Geetha plays the role of Afzal's mother but it's not a meaty role. Siddique as a police officer does his usual act.

Salala Mobiles is a love story without intensity and is just average.

Rediff Rating: