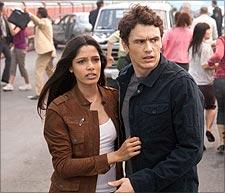 Sukanya Verma feels Rise of the Planet of the Apes is an awesome film with breathtaking visuals. Post YOUR reviews here!

This ongoing strife between Hollywood producers and multiplexes over monetary contention has to end. Rise of the Planet of the Apes is its latest victim, which translates to less than handful shows in single screen theatres.

It also means, scampering through a substantial 64 km (an additional 30 because they cancelled a show owing to technical failure) in this wet monsoon to catch a screening.

Hardly a frame of mind to watch a high-profile, potential blockbuster, you'd think? Only it turns out that supposedly stupid and stale adage, 'No pain, no gain' still holds some good since the revived and revised edition of Planet of the Apes franchise, inspired by French author Pierre Boulle's La Planète des singes is, what do you know, awesome.
I say that, I suppose, with a hint of surprise. I mean, the last time, about 10 years ago, an Ape movie came to down, I found it to be bizarre, boring and my least favourite Tim Burton.
British director Rupert Wyatt's adaptation is anything but. And there's no reason to miss it. Here's why:
After Batman and X-Men, Hollywood explores the back story around Ape origins and their subsequent metamorphosis from instinctive to intelligent without making it explicitly allegorical.

Though it bears no resemblance to the 1968 classic, starring Charlton Heston, references to the original loom large with ingenious acknowledgement or reproduction of iconic scenes and lines. But these are cleverly incorporated slivers that writers Rick Jaffa and Amanda Silver bring into play only to underline the intensity of a scene. Even as a standalone or spin-off, Rise of the Planet of the Apes offers enough personality to fascinate.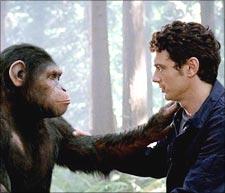 The philosophy remains unchanged. Man, beast, two sides of the same coin yet genes apart. How one's intolerance is another's pride. Tamper and tease with nature or its set pattern and mayhem will ensue. Geneticist Will Rodman (James Franco) lets his ambitions get the better of him and San Francisco when his experiments transform his loveable pet chimpanzee Caesar (Andy Serkis) into a sharp, thinking ape with exceptional leadership skills.
Like Shankar's Chitti in Endhiran, this deadly combination of brains and brawn begins to reject his enforced designation in the world of men, triggering off an unforeseen Ape revolution, setting the stage for some glorious CGI generated conflict after an army of hostile chimpanzees, gorillas and orangutans rampage the landmarks of San Francisco. This is where Rise of the Planet of Apes true calling lies.
Weta Digital, the VFX gem responsible for The Lord of the Rings Trilogy, Avatar and King Kong, assemble powerful, believable and breathtaking visuals that ought to stick in public memory until a brand new spectacle catches our fancy.
 
The ideology behind conducting breakthroughs in medical science by messing about the genetic pattern of abducted apes leads to insane pandemonium in this story.
Ironically, the technology man has devised to articulate this very inhumane ethic is beyond inspiring. The virtue of motion capture is not new. Andy Serkins imparted a tangible uniqueness to Peter Jackson's Gollum and King Kong. Here too he's the man, um, ape.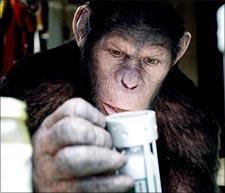 The whole premise, no thanks to a feeble, unimpressive Franco and Freida Pinto who's no more than a pretty distraction, banks on Serkins's brilliant insights to communicate the cuteness, curiosity, confusion, anxiety, rage and realisation of Caesar's ever-changing emotional graph.

Rise of the Planet of the Apes is no classic but, decidedly, a cut above standard summer blockbusters. It may not conceal its aspiration to rock the box office but is dignified enough to proffer credibility before staking claim. For it has several grand moments, and momentous they are, that level the thrill experienced only when watching memorable cinema.
So... bring it on, apes! Yeah, even the damned, dirty ones.
Rediff Rating: