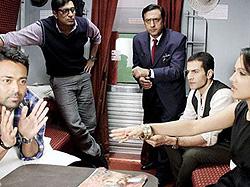 Ankur Pathak feels Rajdhani Express doesn't have a plot but pretends to be a racy thriller.

It is impossible for me to process how this works.
And it probably is beyond the realm of human comprehension to understand the rationale that goes behind funding these kinds of films.
There has to be a definite motive, and at times like this, it isn't very obvious -- like to shame the Railway Ministry, or worse, the Anti-Terrorism Squad.
Rajdhani Express
, directed by Ashok Kohli, is a train-wreck of a movie that has a non-existent plot, but pretends as if it is a racy thriller.
It's got a group of four lunatics and they are enough to convince you to never board the country's flagship train ever again.
The cast includes a suave fashion designer (Sudhanshu Pandey) who looks more like a struggling model, a Bollywood item-girl (Puja Bose) who takes that title very seriously, a Bengali scriptwriter (Priyanshu Chatterjee) who confesses to his own acts of plagiarism, and a final nail in the coffin -- Tennis star Leander Paes -- who plays a creep, and should be made accountable for agreeing to buy a ticket for this doomed train.
Just why would he do this to himself? Paes plays a man with an unexplainable inferiority complex and is anti-social.
He's been molested as a child, abused as a young man, beaten up and looked down upon by anybody and everybody ("You dirty parasite!"), all
of which has irreparably damaged him.
Although he is a difficult character to accept right from the very start -- he single-handedly hijacks the titular train (to be precise, the bogie with the fashion designer, script-writer, item-girl) -- but later, when he realises he's been handed a toy-gun instead of an AK-47 or something, the man goes berserk.
He giggles like someone who's on the run from an asylum (there's a possibility that he escaped from Shutter Island, the house for the criminally insane) and creepily stares at his co-stars, as well as the audience (I caught him breaking the fourth wall twice).
But we can perhaps believe why he goes insane -- the protagonists are unbelievably dumb and their arguments are the stuff flop-comedy is made of. 
The performances in this movie are so laughably amateur that one can probably consider it as a study in non-acting. 
At some point, Jimmy Shergil joins the circus, as a police inspector, hanging out in Mumbai who has been assigned the task to 'look into the matter' of the scandal train.
But he has his own vendetta to take care of, and the said train becomes the perfect venue for him to sort his personal issues with a certain Home Minister.
So yes, dear viewer, if the above text made any sense to you, you may enjoy this train ride, but if much of it didn't,
Rajdhani Express
could be such a fatal blow to your collective consciousness that you'd want to recommend the film to your worst enemies and seek comfort in the fact that they are going to be irreparably traumatised.
No Rating