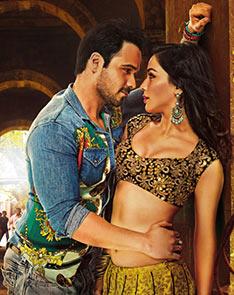 Since debutant Yuvan Shankar Raja brings in new sounds with this album, he deserves a few hearings, writes Joginder Tuteja.
Yuvan Shankar Raja, who has composed for over 100 films down South, makes his Bollywood debut with the Emraan Hashmi-starrer Raja Natwarlal.
The album begins on an energetic note with Dukki Tikki. If you like Gandi Baat from R... Rajkumar, you will like this one.
Emraan Hashmi is establishing his character of Raja Natwarlal here. A good situational number, Dukki Tikki is unabashed 1990s and good fun.
A quintessential Emraan Hashmi number is Tere Hoke Rahengay. The beginning reminds us of Be-inteha (from Race 2). But that's just for the first 10 seconds.
Yuvan Shankar Raja soon brings his own magic into play by spinning the kind of tune that has its origins in modern day Tamil melodies, while merging really well with the requirements of Bollywood music.
Surprisingly, it is the female rendition that comes first, from Shweta Pandit, who does exceedingly well before Arijit Singh takes over.
One doesn't expect an item number in an Emraan Hashmi film, but this is what happens as Mamta Sharma ignites the scene with Namak Paare.
Thankfully, unlike quite a few template versions that one has heard in this genre of late, Yuvan Shankar Raja tries to bring some variety to the proceedings.
He brings a good collage of instruments into play. A decent track, which also has Anupam Amod coming onto the scene, its impact will depend on the manner in which it is picturised.
The album concludes with a couple of Benny Dayal numbers. The title of the first, Kabhi Ruhani Kabhi Rumani, suggests it may fall into Emraan Hashmi space. As it turns out, though, it is more Yuvan Shankar Raja than Hashmi.
There is a distinct touch of the composer here, even as the song seeps well into the Sufi genre.
While Benny does well, if A R Rahman had sung this piece (or at the other extreme, Sonu Nigam), Kabhi Ruhani Kabhi Rumani would have been on a different level altogether.
Benny is on much more familiar territory with Flip Your Collar Back, a rare tapori number featuring Emraan Hashmi.
It is his own version of Aati Kya Khandala, with a South touch to it, peppered by a fusion of Indian and Western instruments.
This fun number, which is rendered quite well by Benny, has good potential if the visuals compliment the mood, stage and setting of the film.
Dukki Tikki is an instant winner, but the other numbers from the soundtrack take time to grow on one. Since debutant Yuvan Shankar Raja brings in a new sound with this album, he deserves a few hearings before one pronounces judgment.
Rediff Rating: