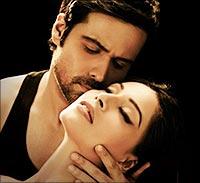 There is too much cliché, too much sleaze and too much predictability in Vikram Bhatt's Raaz 3, writes Preeti Arora.
Pioneer of recent films such as
Haunted
and
Dangerous Ishqq --
both of which were critically received quite badly -- Vikram Bhatt doesn't really qualify as an auteur. And Bipasha Basu and Emraan Hashmi aren't exactly in the running for an Oscar either.
So what would you get when you pair a rather mediocre director with a couple of mediocre actors? No prizes for guessing, you get a mediocre film; best exemplified among this week's releases by
Raaz 3
.
Teeming with campy elements of 1990s horror, popularised by American classics like Wishmaster and Faust,
Raaz 3
is a typical Vikram Bhatt outing that would do brilliantly in a small town where television shows like
Aahat
are a rage, if such places still exist. At least,
Aahat
was scary enough to stir up nightmares in the minds of impressionable children.
Raaz 3's
A certification applies, if anything, only to the sleazy sex scenes. The rest of the film could have been slightly scary, if only Vikram Bhatt had bothered to plagiarize things correctly in the first place.
Shanaya (Bipasha Basu) is a narcissistic actress, who has trouble coping with her loss of stardom and the success of her younger half-sister Sanjana (Esha Gupta).
Shanaya meets an old man one day who takes her to meet an evil spirit which basically leads to a lot of evil things. She seduces her director (Emraan Hashmi), and convinces him (while in bed) to be her ally in the witchcraft she plans on using against her sister.
It's only a matter of time before Hashmi seduces Sanjana -- a little after they witness some random character getting beheaded -- and then shifts his allegiance, saving Sanjana's life and becoming the hero.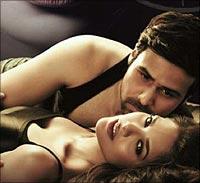 Really, if there's anyone who can use jaadu-tona, kaali-vidya and

black magic as bedroom talk, it's Vikram Bhatt; seems like the director has a weird fancy for depicting sexual perversions in his movies. Haunted 3D somehow managed to turn the sex drive of a ghost hell bent on raping an innocent girl into the premise of a whole movie.

 

In Raaz 3, probably the most repelling scene is when Taradutt, a 'pret-aatma' who looks like an exhumed corpse, propositions Bipasha Basu to sleep with him... and she accepts. There is a very sincere attempt at constructing more stylized, urbane characters with 'F' words making appearances in the dialogue every now and then. Only, it sounds corny.

 

These sexual bizarre-isms aside, there is a fundamental flaw that pervades most of Vikram Bhatt's work. His films lack reason. Things just seem to happen from out of nowhere either for the sake of convenience.

 

There is a serious dearth of anything creative, genuine or even mildly engaging in Raaz 3. Too much cliché, too much sleaze, too much predictability and too much of everything that makes a bad movie.

 

Here's a relevant question for you to think about: Is there something worse than an outright plagiarist? Perhaps someone unoriginal who doesn't realise the limits of their own skill? That is something Vikram Bhatt should seriously consider before he decides to let loose another half baked, corpse-like aatma on us.

 

Rediff Rating: