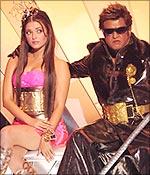 Sumit Bhattacharya reviews the music of Robot.
Chitti Dance Showcase, the third song on the Hindi soundtrack for the Rajnikanth-Aishwarya Rai Bachchan starrer Robot, has A R Rahman written all over it in large, sonic letters.
Despite the track crediting additional arrangements and programming to Pravin Mani, the incendiary cocktail of break-beats, drum 'n bass, bol-scatting and a soaring string break that would befit a western classical symphony is something only the Mozart of Madras can serve up.
And macha, you can bet your last paisa that the Showcase will have some killer moves by Rajni, which generations in Chennai bylanes will pick up and to which's Boom Boom Robo Da refrain many an Andhra guy will breakdance to.
But why start a music review with the third track? Because there's not much else to write to you about Robot's music. Sorry if that sounds blasphemous.
The album begins with Naina Miley, sung by Rahman, Suzanne DMello, Lady Kash n' Krissy. It lies somewhere between Lady Gaga and Cher's Antares auto tune vocal effect (Believe) territory. It throbs, booms and is not entirely bad, but then that's about it.
Pagal Anukan begins with swirling guitars, and is sung with apt sweetness by Mohit Chauhan and Shreya Ghoshal. It's a nice song, with smart Rahman touches and lyrics like neutron electron bolo naino me kitney hai.
After Chitti Dance Showcase comes Arima Arima, heavy on dramatic arrangement, sung by Hariharan, Sadhana Sargam, Benny Dayal and Naresh Iyer, and with lyrics like Atlantic pe dubah jakey agni par na bujhey. And despite the marching feel and distorted guitar dives that give it a suitable 'robotic' feel leading up to a melodic expanse, it isn't a song you will hum for the next two days.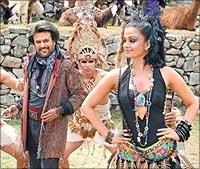 Next up is Kilimanjaro -- robot goes to Africa or what? -- which again has rather strange lyrics like 'Kilimanjaro, ladki parbat ki yaro' and a strictly so-so melody.
Isaac Newton ki leela hai robo, declares track six, Boom Boom Robo Da, which seems to fuse everything from Punjabi folk to hip hop to power chord-guitar riffing to nylon string sophistication, and yet fails to sooth or excite.
Last up is O Naye Insaan, sung by Srinivas D and Khatija Rahman (the maestro's daughter), which has a rather sparse, bubbling beneath the surface feel. Like the rest of the soundtrack, it's intelligent, but lacking in emotion.
Which is a pity, because Robot's storyline -- which seems a bit like Bicenntenial Man, starring Robin Williams -- is all about a mechanical creation discovering human emotions.
Rediff Rating: