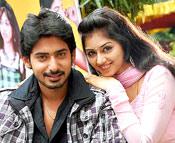 Shruti Indira Lakshminarayana reviews Murli Meets Meera. 
Post YOUR reviews here!
After
Sanju Weds Geetha
comes another romantic film
Murli Meets Meera
. The film directed by Mahesh Rao stars Prajwal Devraj, Reema Vohra and Harishika Poonacha.
The film opens with Meera hitching a ride with Murli, a stranger. Meera spells trouble from the word go. First Murli loses his bike, next he looses his mobile and wallet. But situations force the two to stick together. To have the night pass by, Murli starts narrating his love story with Shweta (
Harshika Poonacha
).  But is Meera really the carefree and happy go lucky girl that Murli was always on the lookout for?
The story takes place over one night but there is enough space for song and fight sequences. The narration is different and it does manage to hold your curiosity but with every twist entangling itself you feel you have seen this sequence before. Attempt to suicide episodes now seem to be the film industry's latest love catalyst. And with this film too having the same plot, it is sure to remind you of
Jab we Met
and
Anjaana Anjaani
in some places.
The film aims at being a romantic comedy and has A-list comedians on board. But while Sharan and Sadhu Kokhila don't impress much. In fact the lead characters are better off humouring you.
Coming to the lead actors, the casting is good. Prajwal continues to play the lover boy and does an decent job. It is the leading ladies who come out with fine performances. Harshika has a small role to play, but she makes her presence felt. She is charming and very expressive. Reema Vohra who has played significant roles in
Shourya
and
Gubbi,
gets a meaty role this time too. She is good as the motor mouth Meera. Only the dubbing artiste fails in adding value to the character. 
Actors like Achyutanand and Ashwath Ninasam have hardly anything to do. 
Abhiman Roy's music is soothing, but it is not compelling enough to make way into your mp3 players.  Lighting and camera work add weightage to the film.
Murli Meets Meera is a love story sans sleaze and compulsive romantic film watchers may consider giving the film a try.
Rediff Rating: