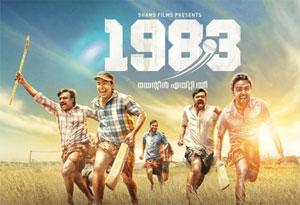 Debutante director Abrid Shine depicts the transformation of Indian society towards the importance of sports in his film 1983, writes Paresh C Palicha.

The 1983 Cricket World Cup win for India sparked a new passion for the game among youngsters in rural areas. The result has been youngsters from smaller towns making it to the national team.

First time director Abrid Shine depicts this phenomenon in his first film 1983, with Nivin Pauly in the lead.

Ramesan (Nivin Pauly) is an above average student, whose parents want him to become a mechanical engineer. He just scrapes through his tenth class and joins a parallel college for pre-degree and flunks. His childhood flame Manjula (Nikki Galrani) goes on to do her postgraduate in science. He obviously loses her.

The director who has co-written the screenplay with Bipin Chandran has balanced sentimentalism with humour and simplicity of a bygone era where youngsters pursued something just because they liked it and not to prove a point.

The film shows the transformation of Indian society in the last 30 years. Parents then thought that sports was a waste of time and academics was the only way to excel in life. Today, parents will go to any extent to nurture talent in their children as if they are realising their own dreams through their kids.

So, while Ramesan's father Gopi (Joy Mathew) insisted that Ramesan took his studies seriously, Ramesan himself goes in search of a professional coach even before his son Kannan becomes a teenager, and does everything for him that could be useful for him as a cricketer.

Woven into the story are the ups and downs of Indian cricket, particularly Sachin Tendulkar's (who is in the same age group as Ramesan).
The supporting cast plays an important role in a story dealing with a team sport. Dinesh, Kalabhavan Prajod and others add to the lustre of the film, but the plum goes to Jacob Gregory in a cameo as Tendulkar's namesake.
Anoop Menon who appears as the motivating coach impresses as this role suits him well.

Srinda Ashab as Ramesan's ignorant wife Susheela, who knows nothing about Tendulkar, brings the house down in the couple's first night scene.

Overall, 1983 is quite moving and goes beyond the typical sports film. Abrid Shine is someone to watch out for in the future.

Rediff Rating: