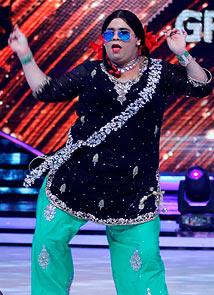 Are you all set for Palak Dikhhla Jaa, asks Raja Sen.
It's not what I expected, that's for sure.
Madhuri Dixit, Akshay Kumar, Karan Johar, Alia Bhatt and various (mostly weak) dancers were all in attendance during the two-night marathon Jhalak Dikhhla Jaa opening ceremony, but none of those folks could be singled out as the star of the show.
In what I'm assuming is a switch for reality programming, the star wasn't a person at all, but a character.
Kiku Sharda, a hefty comedian who also plays Constable Mulayam Singh Gulgule on a sitcom called FIR, dresses up in drag as a girl called Palak for the variety entertainment show Comedy Nights With Kapil.
Essentially a rotund version of, as far as I can tell, Kajol from Kuch Kuch Hota Hai, Palak is a boisterous girl oblivious to her own obnoxiousness, with catchphrases like "talk to the hand."
Palak thinks she's stunning, Palak thinks she can "rock" everything, and Palak is man-crazy. Sharda is an amusing, quick-witted performer, but this is comedy at its broadest: as the nearly-naked Chinaman said in The Hangover, "It's funny because he's fat."
Alas, not just does the Colors channel flog an old joke to death, it puts lipstick on the casket and pretends its real. Thus, in an incredibly inane act of self-promotion, Palak is an official participant in Jhalak Dikhhla Jaa 7, and going by the amount of airtime spent watching a heavyset man play a feisty girl, I wager she's likely to win the show.
The show is peculiar in itself.
Contestants perform dances which are so elaborate "in concept" that some of them aren't even performed on stage -- instead taking place on, say, a distant lake. None of it feels like a live event, though the most inadvertently hilarious thing about the show was watching a pair of chubby dancers squirm -- as they sat amid fellow performers -- still wearing their skintight glitter-covered bodysuits.
A fun performance came from television actor Ashish Sharma, who performed some weird but entertaining Mortal Kombat moves aided by holograms.
But the show's standout performer is a young dancer called Shakti Mohan who, trying her feet at ballet (set to sufi music, naturally), was quite impressive. None of the others come close.
The worst? It's hard to choose from VJ Andy wearing goblin ears, Sophie Chaudhry making bizarre faces, and Sukhwinder Singh bringing a microphone and forgetting that this is a show about dancing. Which, to be fair, seems like an honest mistake, given that a big chunk of the episode was devoted to cricketer Sreesanth tossing tennis balls for Akshay Kumar to hit.
Also, Alia Bhatt sang. Egad.
It doesn't even attempt to look like a live stage show. Performers who are supposed to take the stage are shown clapping in their seats (for themselves), costumes are changed in the blink of an edit, and none of the criticism comes close to being real. Simon Cowell would be ashamed.
Following each performance, the judges weigh in, pretty much in unison.
Choreographer Remo tries to appear technical and classify the dances into genres but says things like "yeh electric style dance hai" -- which, while daft, seems reasonable if you consider that 90 percent of the dances are touchyfeely samba/salsa variants climaxing in women flaunting the blingy lycra bloomers under their dresses.
The otherwise eloquent Karan Johar embarrasses himself by tossing out so many adjectives I bet he's bored out of his skull, in effusive autopilot and utterly unaware of what he's saying.
Madhuri Dixit, god bless her soul, says things like "you're killing it." But that grin takes some of the edge off the inanity.
Dixit, it must be said, is looking like a million bucks. She dazzled in a gold dress, and, when she finally took the stage, scorched things up significantly with a Dhoom Macha Le performance that was hotter than anyone anticipated, honestly.
But sexy as it was, it wasn't worth sitting through three hours of assorted tripe -- most of which was awarded a 9/10 by the judges. Nothing really is. Just watch the Dixit song on the Net and let the show be. Unless you're all set for Palak Dikhhla Jaa.
Rediff Rating: